How to Organize Your ESL Classroom Effectively?
Effective classroom management broadly refers to the overall success of the lessons you are teaching. For a class to run effectively, the teacher must establish the skills required to provide a clear, controlled and inspiring lesson. This includes managing all stages of each lesson, and dealing with any problem behavior should it arise. Classroom management is vital to sustaining meaningful academic learning. A chaotic classroom will not only negatively impact a student's ability and motivation to learn, but it will also increase teacher stress and the formation of negative student-teacher relationships.
This post was written by our TEFL certification graduate Fiona R. Please note that this blog post might not necessarily represent the beliefs or opinions of ITTT.
Pre-plan
In my opinion, effective classroom management starts before a lesson has even begun. The teacher should be organized for a lesson in advance, ensuring all materials are relevant to the topic and the abilities of the students. These organization skills should be maintained throughout the engage, study and activate stages of the lesson to decrease the opportunity for students to become distracted or disinterested in the lesson. Considering the layout of the classroom and the activities you will be undertaking during the class will enable the teacher to predict and plan for any issues that may arise. These classroom arrangements should take into consideration the age and personalities of the students.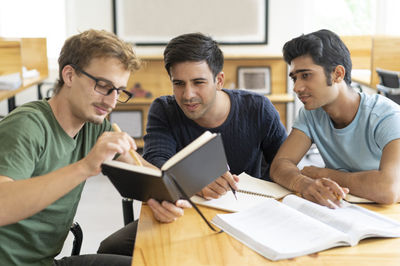 Also Read: How much can I earn teaching English in Chile?
Attitude and Demeanor
When the lesson has started, the attitude and demeanor of the teacher will have a profound effect on the students learning. Having a positive attitude and establishing rapport with the students will ultimately produce a comfortable environment for learning. The teacher must inspire confidence in students and create a friendly environment where students won't feel scared to answer questions. Using student's names and learning about their personalities during the 'Engage' section of a lesson will be beneficial to maintain the engagement throughout.
Also Read: What does TEFL mean?
Lesson structure
Classroom management can also refer to the structure of the lesson. It will be essential to maintain an orderly environment throughout the quieter 'study' sessions and the noisier 'activate' sessions. Managing the amount of teacher talk time and student talk time should decrease the potential for students to become unmotivated. Using clear, concise instructions and providing examples where necessary will also assist in maintaining class order. These instructions should include good eye contact and gestures to ensure students fully understand what is being asked of them. If students are not given clear instructions, there is potential for confusion and frustration to arise.
Also Read: Whats the best way to apply for TEFL jobs?
Anticipating problems
Should problems arise during a lesson, the teacher needs to act immediately to de-escalate such situations. It would be important to keep calm and focus on the behavior, whilst changing the classroom arrangements if necessary.
Do you want to teach English abroad? Take a TEFL course!
In conclusion, there are many factors involved in maintaining effective classroom management during lessons. Engaging content and materials, positive body language and a well-organized plan will help to create the ultimate classroom experience for each individual involved. Effective classroom management lies mainly with the teacher. Having engaging body language, being punctual and showing respect to all learners will lay the foundations for a great lesson. Without effective classroom management, students could become uninterested, confused and even intimidated. This, in turn, will obstruct their ability to learn confidently and accurately.
Apply now & get certified to teach english abroad!
Speak with an ITTT advisor today to put together your personal plan for teaching English abroad.
Send us an email or call us toll-free at 1-800-490-0531 to speak with an ITTT advisor today.
Related Articles:
---
---