How to Help Younger Children Learn Grammar Effectively?
Being inspired by the once-famous quote at a very young age: "To learn another language is to have one more window from which to look at the world," Chinese Proverb, I soon realized that a second language is essential. As a result, ever since I was a little girl, I always want to be an English teacher to help other people who have a dream to extend their world. After many years of teaching English, I have recognized that Grammar is one of the most struggle things when students learn a foreign language. However, Grammar is the basic base that each learner needs to master if they want to use the language fluently. This essay will mainly discuss how to maximize the effectiveness of teaching English Grammar to children.
This post was written by our TEFL certification graduate Bich N. Please note that this blog post might not necessarily represent the beliefs or opinions of ITTT.
Attitude towards grammar
Nowadays, most students think that English Grammar is tedious and difficult to study. Nevertheless, through my teaching experience, teachers can make their English Grammar Teaching methods for children to become extraordinarily flexible and scientific. As a result, children will learn it in new and exciting ways.
Also Read: How long does a TEFL course take?
Active learning
Firstly, people should encourage their children to have active learning habits. They should let the children actively learn English grammar in a spirit of self-discipline. For learning to be most effective, self-discipline is a deciding factor. Children will feel that they do not have to learn English as a meaningless task but their joy. Thus, children will absorb more effectively, more actively instead of feeling like learning to "cope." However, to gain the spirit of self-study English Grammar, children should be encouraged with games, prizes, stories by their parents.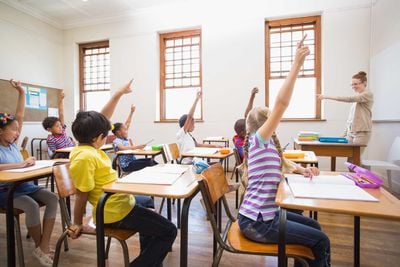 Games
Secondly, learning English Grammar through games. Since the grammatical theory is one of the acridest and challenging parts of learning in English, teachers can mix English games while teaching their students. Usually, young students often enjoy learning while playing. Therefore, children will not feel the pressure of complicated English formulas and remember them naturally. Teachers need to be persistent and regularly refine the old knowledge for children because English Grammar is always difficult to remember even for adults, not just children.
Besides, Teachers can have the students play games in English as a reward. If those children learn English grammar well, remember all the goals, encourage them with exciting English games. This will make the child more determined to conquer English. English games also contribute to supplementing English knowledge, English vocabulary for children.
Also Read: 3 Steps For Dealing With a Student With Challenging Behavior
Grammar on practice
Thirdly, learning by applying Grammar in practice. Another effective way to teach English Grammar to children in modern society is to put them in a foreign environment for practicing. For example, taking children to age-appropriate English clubs or weekly extracurricular activities where they can speak English to friends and foreigners. English is, after all, a language for children to communicate. Children can memorize all English formulas and Grammar but do not know how to apply them in practice, lack of confidence, their English will always be in books and tests. Consider allowing children to increase their confidence and flexibility when using English Grammar by involving children in extracurricular English activities and clubs if the parents can afford it.
Teaching approaches
Last but not least, the combination of English Teaching methods. This way of teaching is a combination of the advantages of three forms of learning: traditional learning, online learning, and personalized learning. Outside of class time, supplement students with online English courses at home. If the children have days off from class, parents can use that time to let them learn by themselves thanks to the development of information technology. Also, personalizing learning time can be time for doing homework in English or reading books and comics in English. Thanks to the combination of these three forms, children will have a "thick" English exposure environment to be able to meet the English structures they have learned. Thus, children will remember longer and apply English grammar better.
Do you want to teach English abroad? Take a TEFL course!
In conclusion, grammar is one of the most important elements when learning English. Although it is tough for most learners, we can still make it easier if we have the appropriate method of learning.
Apply now & get certified to teach english abroad!
Speak with an ITTT advisor today to put together your personal plan for teaching English abroad.
Send us an email or call us toll-free at 1-800-490-0531 to speak with an ITTT advisor today.
Related Articles: