How to Get Hired as a Teacher in China: Why the Right Attitude is Essential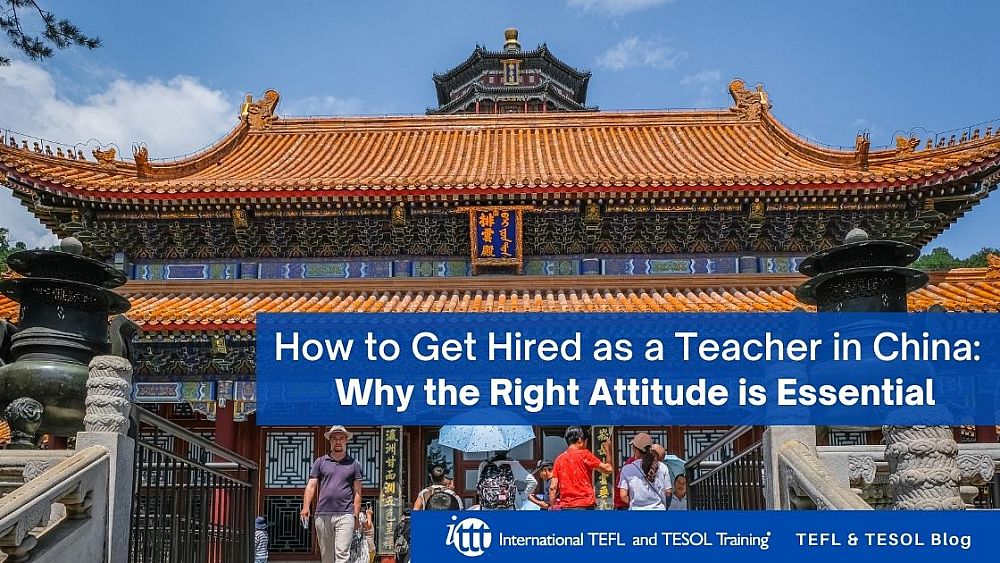 Being in China for over ten years, I've worked at more than 30 places, combining schools and training centers, kindergartens and private classes, etc. For the past five years, working as a recruiter, I would like to give you a few valuable tips on getting hired for your dream job.
Don't jump on the first job offer!
Moving to a new country could be stressful enough, so make sure to do your research about the schools and places before signing the contract.
What kind of job are you looking for?
First of all, I'd like to ask you, mainly as a new teacher, to think about what kind of school is suitable for you? Keep in mind that different institutions have different requirements.
Types of schools
There are several institutions you can choose to work at, for example:
Daycares
Kindergartens
Primary/Middle/High schools
International schools
Training centers
Universities, etc.
Before you choose a place, make sure you have suitable qualifications. For instance, if you'd only taken a TEFL course but don't have proper education, your chances to get a job in a higher institution, like University, are close to null.
Make sure your documents meet school visa requirements as well to work legally and safely.
Let's get hired!
As diplomas and certificates are important, they don't guaranty certain employment. When it comes to China, the school or agent will first ask for your CV and introduction video.
Make sure you're video is fun and lively!
No one wants to hear you talk for 3 minutes in a dull and monotonic manner.
Must have:1) Good lighting and background2) Clean and tidy appearance 3) Good sound and clear pronunciation 4) Smile5) If you already been working for some time, add some videos or pictures from your lessons too
Remember! The video shouldn't exceed 3 minutes!
Second, the Interview part.When the school invites you to have an interview, they already liked the way you look and sound, checked your work experience and qualifications. At this point, they've invited you to take a look at your attitudes!
What kind of person are you? Will children accept you? Will you be an excellent fit for the team? And so on.
I've seen it plenty of times when, for example, the candidate is very qualified on paper. Still, in person, they are very closed up or vice versa; the person isn't qualified but makes unreasonable demands on the first minute of the interview. As one can guess, in both cases, they didn't get the job.
When the employer sees that the teacher has good attitudes towards work, but lucks in experience, they will choose him over experienced but hard to talk and work with a person, remember that! It's much easier to teach you a few things instead of putting up with attitudes and demands.
The final part is The Demo.
Each school will ask the teacher to make a demo class if the first two steps go well. It's always important to be prepared. Some places won't inform you about the required demo, so it's better to ask them about it before heading to the interview or have a few ready to go, just in case. Why few? Because they should be age-appropriate and fun. For example, if you're working with teenagers, doing a demo about colors won't be interesting or exciting for them. But to do the same demo for preschoolers can go exceptionally well. So it's better to have at hand at list three demo classes ready: for preschoolers, primary students, and older students.Example.
Let's take, for example, a demo for preschoolers. Usually, the teacher will be required to do a 10-20 min demo, depends on the school. As soon as you walk in, make sure to make a connection with the students. Be open and friendly, give students greetings, or if they are too afraid, try talking about the toys around the classroom, just for a minute, to break the ice. For the class itself, have your flashcards, songs, videos, and manipulatives prepared. That will make you look professional and more confident in your lesson. The ready teacher will always leave a good impression. Don't be afraid to interact with kids closely, but if they are too scared of the new face, give them some space and don't force them to participate.
Sometimes, in training centers, the students might not be in yet, when you have an interview, so the school staff will pretend to be students instead. Don't be discouraged when you have to talk to many adults who pretend to be three-year-olds. Some would even try to act like naughty children. They will do it on purpose to see how the teacher deals with challenging students. Stay on track and play along. Try to turn it to your advantage.
In conclusion, when looking for a job, make sure your documents and video are in order, your demo is ready, and most importantly, don't forget to bring your positive attitude!
Are you ready to teach English abroad or online?
Apply now & get certified to teach english abroad!
Speak with an ITTT advisor today to put together your personal plan for teaching English abroad!
Send us an email or call us toll-free at 1-800-490-0531 to speak with an ITTT advisor today.
Related Articles:
Check out what our course grads say in our many video testimonials!
---
---