How to Develop the Speaking Abilities of Kindergarten Level Students
Benjamin Franklin quoted "Tell me and I forget. Teach me and I remember. Involve me and I learn."
Verbal communication is one of the most essential abilities that a student can lead both for social and educational achievement. It can consider the introductory stage of learning. It is indispensable to cultivate communication skills for the development of young learners so that he/she can carry out of articulating him or herself. Throughout the day students process and convey in a diverse means such as making requests, asking questions, receiving and exchanging new information, expressing ideas, sharing opinions, giving instructions, and interacting with peers.
This post was written by our TEFL certification graduate Sadaf E. Please note that this blog post might not necessarily represent the beliefs or opinions of ITTT.
No wonder, kindergarten is the basic year for speaking language development. A teacher not only has to apprehend, but also to have ability and competency. Thus, it is a teacher's responsibility to create an environment and enable language skills in the classroom. Speaking development requires a closer look and teachers should keep in mind while teaching that she/he may have mixed ability class in terms of language levels, motivations, expectations, knowledge, different learning patterns, etc. Some children can speak in complete sentences, and others only respond in one-word or express in phrases. Hence, as an educator, it needs to use manifold approaches and give various prospects to make the class find a bit to hold on to, develop, and produce.
There are effective techniques that can apply during lessons to sustenance the growth of strong speaking skills among students. According to my teaching and learning experience, here are a few methods that support and benefit for speaking development in students. These teaching approaches can aid students with specific language building and can lift the speaking skills of kindergarten level students.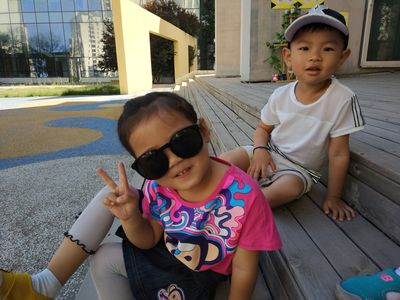 Also read: TEFL Breakdown - What Subjects Will Your TEFL Course Cover?
Conversation
Social interaction provides the opportunity to exercise language. Students need to involve in conversational activities, for instance, design large group oral language activities including answering questions sessions, reading simple sentences, show-and-tell. Make small groups or pairs, give them a chance to talk such as to look at a picture and describe it to each other. Role-play is an effective kindergarten activity that enhances language development. Engage students in imaginative play, they naturally make an effort to make up conversations with their peers. Create an environment where the teacher asks questions, rephrase the student's responses, and give prompts that reassure conversations to continue. Teachers can also try out this method e.g., place the pictures, action words, or topics in the box and ask students to choose one that is interesting to them. The teachers can show a picture with multiple choices on the language focus and encourage students to pick one of them even give them choice to their own opinion.
Also Read: My Unexpected Discovery in TEFL Teaching
Support Oral Conversation
Certainly, kindergarten students are their best learning stage. They are developing their oral language skills so as a facilitator, give them full attention when a child speaks i.e., show interest through facial expressions, and keep up eye contact too. Give students time to think of a word when he/she gets stuck while talking. This support makes a child put her/his thoughts into words. Interruption or immediately corrections can upset a child. A teacher can say the same sentence using the correct word instead of rephrasing by labeling him/her.
Listening activities
Kindergarten students can develop their vocabulary and learn how oral language works through listening activities. Students do a lot of listening during the day, but they need to design particular activities to emphasize listening skills such as reading aloud is an interesting way to build listening abilities. Select different types of books to inculcate fresh vocabulary words and develop the students' understanding. While reading the book, discuss the meanings of unfamiliar words and arrange an opportunity for the child to retell the story in a group or pairs. Additional way to play audio and video on informative material that will be interesting for students.
Also Read: What's the best way to apply for TEFL jobs?
Interactive storytelling activities'
Asking questions before and after reading any story helps to sharpen oral language skills, it also supports students to think about what they're reading and absorbing information from the words. Start a story's introduction by asking standard questions i.e., Where does the story begin? What kind of story is this? Why do you think so etc.? What will happen? Let the students predict outcomes. Once the reading completes, now inquire students about their predictions whether it was correct or not, who were the characters? What were the plot and the outcome? What was the main idea? Give a chance to students to summarize the story in his/her own words. Questions answer sessions is an important strategy to build up a student's interest. This will boost their confidence and allow applying new words that they learned or absorbed whilst listening to the story.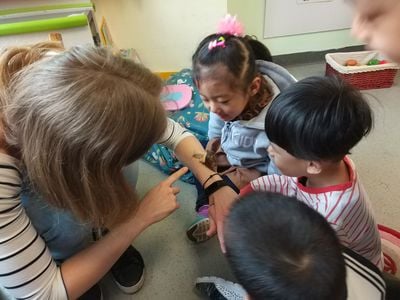 Vocabulary enhancement
No doubt, Kindergarten students have a range of abilities when coming to school i.e., the ability to speak and applying a variety of words. Now, it's a teacher's part to introduce new vocabulary words intentionally and expand their word banks. Using novel words in the classroom and explaining their meaning is an easy and simple way to improve vocabulary. The following activities may help to build up a student's vocabulary.
Expressive activities also way to expand vocabulary. Rehearse descriptive words to explain how an object looks. Children need to practice describing different objects.
Assemble a booklet of students' phrases. Supposed, give them sentences to complete i.e., "When floppy got lost Biff looked…" students complete the sentence by adding e.g., in the garden, at the grocery store, under the table. Encourage them to record in a booklet by writing and illustrating their phrases. Far ahead students can practice reading all the phrases.Children learn abstract concept words such as before, after, and sequences such as days of the week or months of the year. Reinforcement using multiple practice ways is also required for learners.
Incorporate a 'question of the day'. Initiate with simple questions like what is your favorite food? Better to write on the board so students may read and start thinking about their answers. If a student doesn't answer in a complete sentence, the teacher needs to model and ask them to repeat it. Once children, start responding to simple questions in complete sentences, change to a broader part of questions that entail more complex responses such as What is your favorite toy? Why do you like it? How does it look etc.?
Also Read: 8 Personality Types to Help You Understand Your Students' Needs
Poems, Rhymes, and Games
Poems and rhymes are a magnificent way of making students sing and unintentionally it also works at their grammar, vocabulary, pronunciation. Students are extremely enthusiastic about singing poems. It is mainly on the teacher what and how to amend rhymes. After telling them the new stanzas let the students try to arise with their version. Purposeful playing games are applicable teaching techniques in the young learner classroom. Teachers can generate several kinds of games such as Memory games, Guess games, Tongue Twisters, etc. These games can use to teach pronunciation entertainingly.
I believe, speaking is one of the most important skills to develop and enhance effective communication. Speaking skill is one of the most difficult aspects of language learning especially teaching to kindergarten. It is a hard, challenging, and responsible task for the teachers. However, if the teachers understand children's need for developing speaking skills.
Do you want to teach English abroad? Take a TEFL course!
It is recommended that combining the approaches, changing the cognitive styles, collaborating various tools, providing most variety (in turn) and opportunities in communicative situations will shape a solid foundation for speaking acquisition.
Apply now & get certified to teach english abroad!
Speak with an ITTT advisor today to put together your personal plan for teaching English abroad.
Send us an email or call us toll-free at 1-800-490-0531 to speak with an ITTT advisor today.
Related Articles: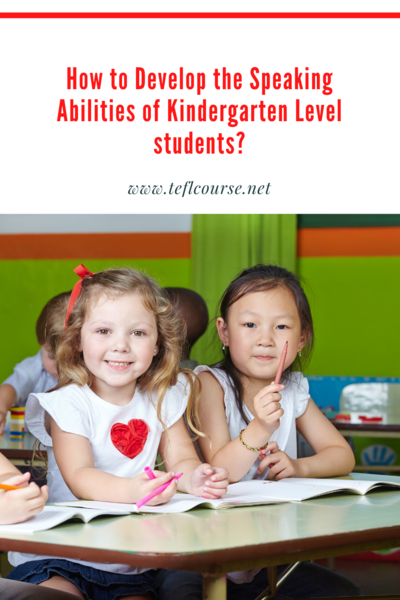 ---
---