How Online Education Bridges Learning Gaps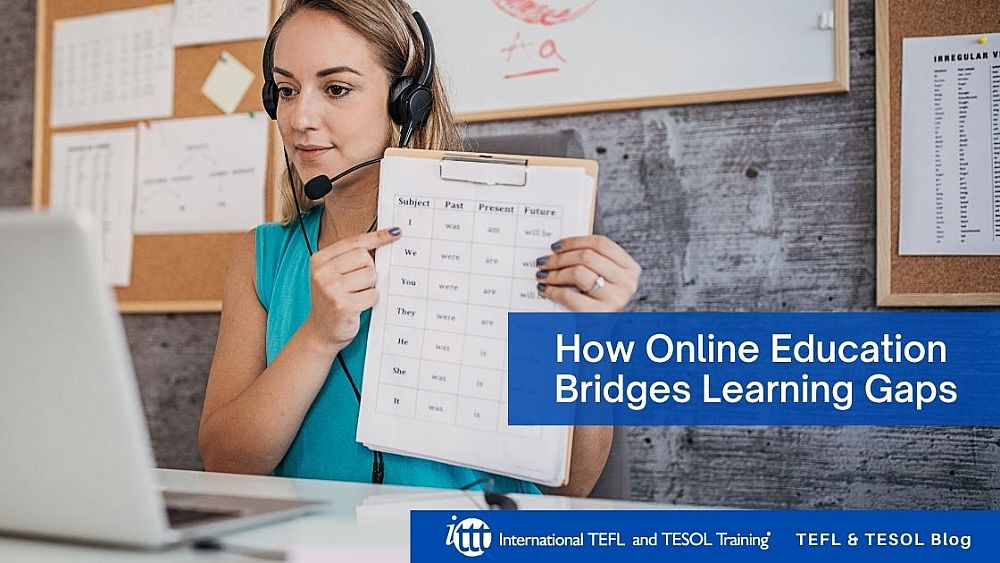 Nothing can undoubtedly match the experience of face-to-face classrooms. An offline or physical set of an educational platform is an indispensable part of a student's life since it is essential for their growth in all aspects. However, the potentiality of technology in education also plays an equally important part. Virtual or online learning represents a set of new learning opportunities. Technology gives this opportunity to teachers and students to enjoy more enchantment in lesson plans and provides a multi-dimensional chance to the classrooms.
What are the positive features?
The most positive and primary side of involving technology in everyday education is that STUDENTS became the heart of the online teaching-learning process; in other words, every individual student is shifted to be the main emphasis of learning rather than teachers! Online or virtual learning makes a possible bridge by creating a space for more conversation among the students.
Unlike traditional classes, online learning delivers a vast amount of channels such as mail, online chat, and video conferences by which learners and teachers can interact with each other. Online education is a great opportunity, especially for students, to share their ideas without being afraid of judgment, leading to a deeper understanding of the topics without any boundaries. It allows students to facilitate and be accountable for their learning process. Yet this may not be true based on the traditional form of education.
As mentioned before, online learning fills the gap between the educator and the instructor, the content viability, and the advancement in technology used for education. Another aspect of online education is blended learning on-site, in which students can attend parallel learning activities remotely. This blended learning aids teachers in recognizing the different strengths of their students, leading to more personalized instructions and multiple ways of representing the information.
What are the capabilities of online learning?
1 The main benefit of online learning is that students feel a sense of responsibility and purpose of ownership toward the materials they use in their learning process. They become eager and learn to seek help at the time of need. Whatsmore? Students can revisit the materials anytime, anywhere, which helps them to learn at their speed.
2 Throughout the evolution of technology, it is more accessible nowadays for students to distinguish their learning styles and automatically pursue their goals. Online courses offer students a choice, allowing them to alter approaches to fit them based on their own needs.
3 You can imagine how a class may become interesting when the textbook is aligned to some videos and online pictures presented at the same time, which as a result, leads to a more professional and deep evaluation framework and reporting ability.
4 Exploring topics online is far more attractive than textbooks or paper sheets in an offline class. They stay focused and amused for a more extended period. Online assessment, besides books, enhances students' engagement, the information is more preserved, and they can apply the knowledge they have learned more easily.
5 Online quizzes are effective since they uncover students' weaknesses in every chapter they cover previously. The activities are closely dependent on the student's quiz score. Using online platforms for measurement is helpful since it gives personal feedback to students. You may ask how? Automatically, applying technology to analytical measurements of a classroom generates statistics of, for instance, a quiz score to review the patterns, common mistakes or errors, etc.
6 Another positive aspect of online education is the engagement of parents in their child's learning process. Automated reports, digital resources, question banks, and class performance charts and graphs can all be shared with parents giving parents a crystal-clear perspective of their child's growth and enhancement.
7 Online learning permits an associated approach for students disregarding the geographical location. The main benefit would be for countries to stop or subside the brain drain each year (especially in developing countries).
8 Throughout virtual learning, students directly connect with groups of discussion. This connectivity may lead to a broader range of points of view and helps them to improve their multi-cultural understandings. It gives them more cultural awareness and connects people with a person's creativity. Furthermore, it is helpful in the time of employment. It enhances the invention of the person by exposing the ideas of professionals from other cultures.
9 Last but not least, online courses are ordinarily cost-effective since they charge lower than the fee paid in brick-and-mortar schools! In addition, the study materials are also provided on online platforms and are affordable; it is worth mentioning that they are also environmentally beneficial. In consequence, it eliminates the accommodation expenses for students as well.
Conclusion
To sum up, one of the main goals of educational research is to understand and enhance the quality of the learning process. Online learning bridges the gap by offering a balance for an effective and efficient learning experience for both educators and learners. As mentioned above, it provides the education system with several efficient approaches. It is a flexible learning system that allows every individual to learn via the internet and at the personal speed.
In addition to flexibility, there are other valuable benefits such as a wide range of program choices, time efficiency, broader forms of assessments, and more involvement of parents, which have increased the attractiveness of online learning at the current time. Moreover, virtual learning provides learners with the right skills to preserve and face success within their workplace.
Are you ready to teach English abroad or online?
Apply now & get certified to teach english abroad!
Speak with an ITTT advisor today to put together your personal plan for teaching English abroad!
Send us an email or call us toll-free at 1-800-490-0531 to speak with an ITTT advisor today.
Related Articles:
Check out what our course grads say in our many video testimonials!
---
---