Can I teach English with just a TEFL or TESOL certificate?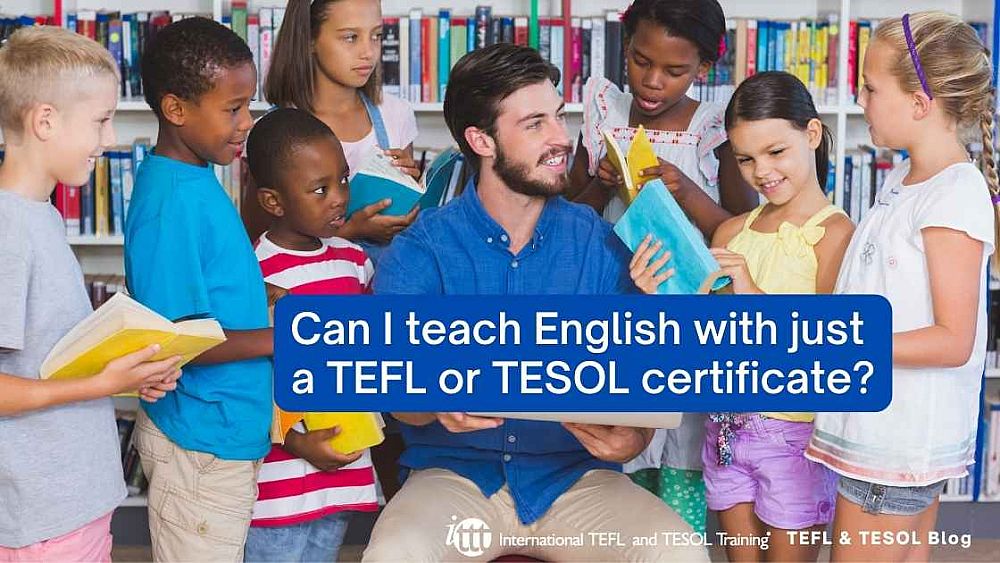 Embarking on a career in English language teaching can be an incredibly rewarding journey. However, if you lack a university degree, you might wonder if this path is open to you. The good news is that with a TEFL or TESOL certificate and the right approach, you can find exciting teaching opportunities worldwide, even without a degree. In this guide, we'll explore regions where you can teach English as a foreign language, highlighting the options available and shedding light on how you can make this dream a reality.
Table of Contents
Where can I teach EFL without a university degree?
Are you ready to teach English as a foreign language?
Check out what our course grads say in our many video testimonials!
Providing you are flexible in your destinations and realistic in your job options, you will find many opportunities available once you have a TEFL or TESOL certificate, even if you have no degree or equivalent qualifications. As we will see later, undertaking volunteering or internship programs are examples of such flexibility.
The main point here is that you can teach in many countries without a degree, provided you do have some other attributes or qualifications that employers are looking for, and one of the most important of these is a TEFL/TESOL certificate.
You can also enhance your entry-level 120-hour certification with an EFL specialism. There are three specialist areas you can consider:
• Teaching English Online• Teaching Young Learners• Teaching Business English
Where can I teach EFL without a university degree?
Many online companies only require that you have TEFL certification. The second option is a job in a country that does not require a degree, and the three continents of Latin America, Asia, and Europe offer the majority of EFL jobs worldwide, and you will find employment on each of these continents with just a TEFL certification.
Latin America
In Latin America, salaries for EFL teachers are generally higher than average earnings for the population of the countries, and there are few restrictions for teachers without a degree. Most of the jobs, as you would expect, are in the larger cities of each country. You will find many opportunities in Argentina, Brazil, Chile, Colombia, Ecuador, Mexico, and Uruguay.
Asia
Asia has some of the fastest-growing markets for EFL teachers. China is going through some changes, and you should look at specific opportunities to find out exactly what is required. Cambodia is one of the fastest-growing markets in Asia, and there is no requirement for teachers to have a degree. Other countries with similar conditions include Vietnam and Indonesia.
Europe
There are good options for those who have a TEFL certification. Spain (see below) and Italy are both very popular and have no official requirements for degrees. Other good options include the Czech Republic and Turkey. The further east you move in Europe, generally, the easier the restrictions become.
Each nationality will need different documentation to be eligible to teach in Europe, so you will need to check these out on government websites.
European example: Spain
Most employers in Spain generally require their employees to possess a TEFL certificate. This applies to language schools and people looking to hire a private English tutor. Since Brexit, UK applicants will need to follow the latest advice from Spanish government websites. Canadians and Australians can get a working holiday visa that allows them to work for a set period of time. Again, it is recommended that you check out the most up-to-date requirements of this option via the Spanish embassy in your home country. One way for US passport holders to work in Spain is to obtain a student visa, which allows you to work a certain number of hours a week while also being enrolled in a course studying Spanish.
Finally, consider internship programs or volunteering. These two options are great, even for countries where teaching usually requires a degree. Typical programs last six months to a year and often include basic accommodation and some meals. As a way to gain experience in teaching and to get to know the real culture of a country, these two options are a very useful choice.
Conclusion
In your quest to teach English abroad or online without a degree, remember that determination, professional development, and adaptability are your allies. The TEFL and TESOL field offers a diverse range of opportunities for dedicated educators, and by considering regions like Latin America, Asia, and Europe, or by diving into specialized areas, you can carve a fulfilling career path. Don't forget the value of internships and volunteering as stepping stones to build your experience. As you gain confidence and expertise, you'll discover that the world is your classroom, and your impact as an English language teacher knows no bounds.
Are you ready to teach English as a foreign language?
Apply now & get certified to teach english abroad!
Speak with an ITTT advisor today to put together your personal plan for teaching English abroad!
Send us an email or call us toll-free at 1-800-490-0531 to speak with an ITTT advisor today.
Related Articles:
Check out what our course grads say in our many video testimonials!
---
---