Building Rapport: ✅ How to Connect with Students
Being a teacher is more than teaching the subject matter that you are paid to deliver. We have a lot of impact on the kids that enter through our classroom doors and reside in our halls. Teaching is made easier when a teacher forms a strong connection with her students. Now, a teacher will not connect with every one of her students- some students just do not care about school, do not care about teachers, or simply like other classes better. However, making those connections with specific students will help you as a teacher have a better classroom and strengthen relationships with the rest of your class.
Connecting Inside the Class
You're spending most of your time with your students inside the classroom. Here are some tips on how you can work on building rapport with them while you are all together.
Learn your students' names!
There are a couple of ways you can connect with your students. The first way is through ice breakers of some sort, especially at the beginning of the year. As a teacher, we will meet a ton of new faces every year. Sometimes, up to 120 students per semester! This is a lot of kids and a lot of faces to remember. Playing name games is the easiest way to make the first connection! Your name represents who you are, and if a teacher forgets it constantly, it is a sign of disrespect and may indicate to the students that their presence does not matter in your class.
Have short ice breakers at the beginning of every class
Another idea is to have a fun activity that lasts less than 5 minutes at the beginning of each class. This is usually called a "Bellringer" or a "Do Now." These activities can easily be tied to the subject matter you teach. When you do that, it makes the class entertaining, makes it fun for your student, and gets them ready for the day. This makes it easy to get to know them.
Figure out their interests
One final idea to connect with your kids is to give questions about them on your assignments. For example, at the end of math homework, ask them what their favorite food is or what they like to do for fun. When you grade, make comments on it and see what you have in common with your students! This shows that you have an interest in them and want to learn more about your students.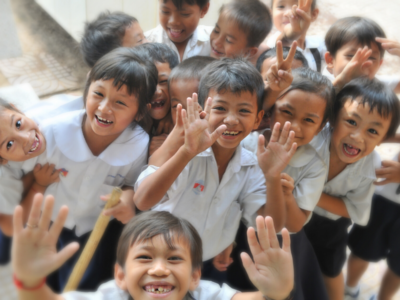 Connecting Outside the Class
Great connections are formed outside the classroom. It is when you step out of the teacher role and become a coach or a lunch monitor, or a hallway monitor that having casual conversations with your students can become moments you cherish the most. In this realm outside the classroom, there are so many options to connect!
Join in on activities
The first way to connect is to join in on your kids' activities when you are not in class. Whether that be having extra 10 minutes at the end of class to spare or seeing them on their lunch break, your students will show you easily what they love. Most of my students enjoy Tik Tok and Billie Eilish right now. So, over quarantine as many other millennial teachers, I joined Tik Tok to see what the "hype" was about. I also learned some of their dances, so when we are in class, and Tik Tok phrases come up, I can jump in and understand. I care about their interest, and it has a positive effect on their learning.
Chat with your students in the hall
Other times, students will stop by just to talk. Sometimes, our reaction as teachers is to turn them away because we just want some quiet during our chaotic days. But some days, when we do welcome students to our classrooms, it becomes a great learning opportunity. This is when students who know me come catch me up on their lives, or they help come clean my classroom, or others come for extra help. It is in that time that I fulfill their needs, whether that is being a friend, a confidant, or a tutor.
Are you ready to teach English as a foreign language?
All in all, connecting with students is a real possibility but requires a little effort from the teacher. Connecting really makes a difference in the discipline of your classroom so consider it an important part of your job!
Apply now & get certified to teach english abroad!
Speak with an ITTT advisor today to put together your personal plan for teaching English abroad.
Send us an email or call us toll-free at 1-800-490-0531 to speak with an ITTT advisor today.
Related Articles:
Check out what our course grads say in our many video testimonials!
---
---