10 Amazing Music Festivals Around The World
Teaching English abroad isn't all about working - it's mostly about fun and exploring the world! Here are 10 amazing music festivals around the world you must check out when teaching English abroad.
COACHELLA VALLEY MUSIC AND ARTS FESTIVAL (USA)
Coachella is one of the best music festivals in the world and has been a true celeb hotspot in recent years. Everyone who is someone (and those who think they are) show up at Coachella and the world watches. Attending this music festival is definitely an amazing experience that you will never forget.
Where: Indio, CaliforniaWhen: Annually in April
Apply for our TEFL in-class course in California to get certified.
MEADOWS IN THE MOUNTAINS (BULGARIA)
If you love eco-friendly partying with ambiance, Meadows in the Mountains is definitely your thing! Raking place in the beautiful Bulgarian mountains, this festival aims to help the local community and offers some fantastic music artist.
Where: Rhodopes Mountains, BulgariaWhen: Annually in June
MAWAZINE (MOROCCO)
Mawazine is excellent if you enjoy brilliantly varied music from across the globe. This being said, the festival usually attracts big international acts as well as huge African musicians. This unique combination of different music genres makes this festival so special.
Where: Rabat, MoroccoWhen: Annually in June
BAHIDORÁ (MEXICO)
Bahidorá is all about revelling in the color, energy and feathers of a carnival. Besides dancing and having a good time to amazing musical acts, visitors to this festival can also kayak down the river, learn curcus skills and enjoy Mexican carnival traditions.
Where: Cuautla, MexicoWhen: Annually in February
Apply for our TEFL in-class course in Mexico to get certified.
SUNBURN FESTIVAL (INDIA)
Some of the best international DJs can be found at the Sunburn festival in India every December. Innovative EDM shows and inredible lights and sound attract millions of fans every year.
Where: Pune, IndiaWhen: Anually in December
Apply for our TEFL in-class course in India to get certified.
FIB BENICASSIM (SPAIN)
FIB is the perfect music festival to combine with a truly fantastic summer vacation in Spain. Enjoy the beautiful city of Benicàssim and its amazing beaches during the day, and watch some of the finest musical acts in the evening!
Where: Benicàssim, SpainWhen: Annually in July
Apply for our TEFL in-class course in Spain to get certified.
FUJI ROCK FESTIVAL (JAPAN)
Fuji Rock Festival is one of the largest music festivals in Japan. It's set in the middle of beautiful moutains at the Naeba Ski Resort in Niigata. Visitors get to enjoy a wide range of top musicians perform - both international and local Japanese.
Where: Naeba Ski Resort, Niigata Prefecture (Tip: not Mt Fuji!!) When: Annually in June
Apply for our TEFL in-class course in Japan to get certified.
SUMMERFEST
Summerfest is the largest music festival in the USA and also one of the cheapest, with day tickets at only $20. Over a period of 11 days, the festival hosts over 800 acts of a variety of genres. This means, there's truly something for everyone at Summerfest!
Where: Milwaukee, Wisconsin, USA When: Annually in late June to early July
Apply for our TEFL in-class course in Wisconsin to get certified.
DONAUINSELFEST
It's not surprise that Vienna is home to one of the most amazing music festivals in the world. Donauinselfest attracts millions of visitors every year because of it's over 200 top class acts and free admission. If you're in Europe in June, be sure to check out this festival.
Where: Vienna, Austria When: Annually in June
SZIGET
Just around the corner from Vienna takes place another one of Europe's largest music festivals: Sziget. With its roots in student unrest and political upheaval, Sziget has become a household name for week-long summer fun. Some of the best performers, including Rhianna, Muse, and Sia, have played the stages of Sziget and will continue to do so.
Where: Budapest, Hungary When: Annually in August
Are you ready to teach English around the world?
Apply now & get certified to teach english abroad!
Speak with an ITTT advisor today to put together your personal plan for teaching English abroad.
Send us an email or call us toll-free at 1-800-490-0531 to speak with an ITTT advisor today.
Related Articles: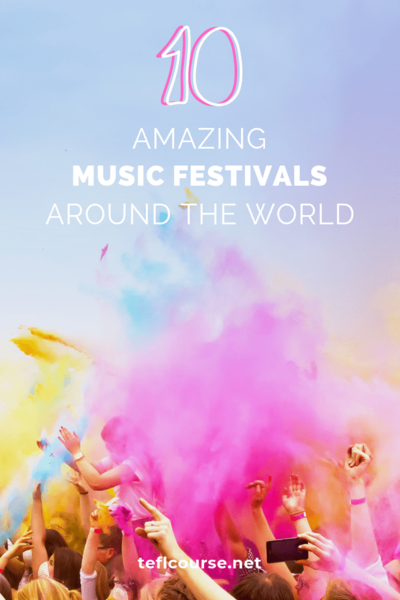 ---
---