Check out our Special
Offer for this
course!
Make a deposit payment to secure your place on a course before the end of the month and qualify for a free advanced level online course. You can choose from the 50-hour young learners (CTEYL) or business English (CTBE) certificate courses or the 250-hour online diploma course.
Location / Thailand / Ban Phe / Accommodation
Ban Phe TEFL Course Accommodation | TEFL Courses Thailand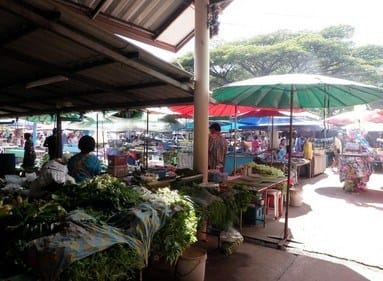 There are plenty of convenient accommodation options available for your TEFL course in Ban Phe.
Mac Garden Resort & Restaurant
This option provides a standard room from 800 baht per night, which covers two people in the room and includes American breakfast. The same room for a full month is around 10,000 baht which also covers two people. Room cleaning is provided once a week, but breakfast is not included.
Bedrock Guesthouse
A fan room is available here for around 200 baht per night with a shared bathroom, while an air conditioned room costs around 650 baht per night with a private bathroom. Monthly rates for TEFL students are 3999 baht per month for a fan room, or 18,000 baht per month for a room with air conditioning. Guests at the Bedrock Guesthouse have access to free Wi-Fi internet and use of the onsite bar, cable TV, a western grill for steaks, hamburgers etc, along with a Thai Kitchen for traditional Thai food. Reservations are based on advanced bookings only.
Koh Kaew Resort
Should you prefer a small, private bungalow in a garden setting during your TEFL course, this resort may be what you are looking for. Some bungalows have air conditioning and some have electric fans. Unfortunately we cannot pre-arrange this option for you, but we will assist you in visiting these bungalows before the course starts. Prices start at 5,500 baht per month for air conditioned bungalows, and around 4,000 baht per month for fan bungalows.
Tawan Inn
Tawan Inn is conveniently located, 100 meters from the bus station and opposite the municipality pier to Ko Samet. Just a few hundred meters from the sea, this Ban Phe guest house has two single rooms available: with fan, at 500 baht per night, and with air conditioning at 650 baht per night. The rooms also have a convenient terrace. There are additional room options available at extra cost.
Please be assured that any special requests or requirements regarding accommodation will be taken into account and we will do all we can to assist you in making the right choice to suit your needs.
Please note: At 12:00 noon on the Saturday prior to the course start date, we can provide transportation from Suvarnabhumi Airport in Bangkok to your accommodation in Ban Phe.
Apply Now!
---
;