Thanks to its enviable location in the tropics of South America, Ecuador is growing ever more popular with tourists and those looking to teach English Abroad.

As well as the great weather, you will also find breathtaking natural scenery and plenty of great opportunities to view up-close some of the world's most amazing animals.

Furthermore, English language teaching jobs are plentiful in the capital city, Quito, as well as in many other areas around the country.

If you want to find out more about one of the region's most beautiful countries take a look at the following guides.


Nestled between Colombia and Peru, Ecuador is a popular location for tourists and expats due to its diverse wildlife and use of the US dollar as the national currency.
View this infographic for ideas of when to visit and what to do once you arrive.

One of only 17 megadiverse countries in the world, Ecuador has the Amazon rainforest in the east, the mountainous Andes through the middle and the UNESCO world heritage listed Galapagos Islands just a short plane ride off the west coast.
It also provides a list of foods to try, some basic Spanish words, inoculations you should have before setting off, and a guide to tipping, table manners and local etiquette.
SOURCE: traveltipsandyou . com/totally-random-travel-tips/
---
A teaching stint in Ecuador wouldn't be complete without a visit to the UNESCO world heritage listed Galapagos Islands.
Among the most popular animals to look out for are the marine and land iguana, the giant tortoise, the blue footed booby, the green sea turtle, the waved albatross, penguins, sea lions and humpback whales.

The following infographic is a great guide to the habits of the most popular animals in the archipelago and what you may see during different months of the year.
What you may not know is that the Galapagos Islands are also home to a population of over 25,000 people, including many ESL teachers who live and teach on the 4 inhabited islands full-time.
SOURCE: www . intrepidtravel . com/adventures/best-worst-times-visit-galapagos-infographic/
---
Would you like to teach English in a Spanish speaking country that uses the US dollar as its national currency?
One of the country's most appealing factors is its close proximity to the USA.
On top of that, good quality healthcare and real estate in the larger cities are available at a fraction of the cost of most developed countries.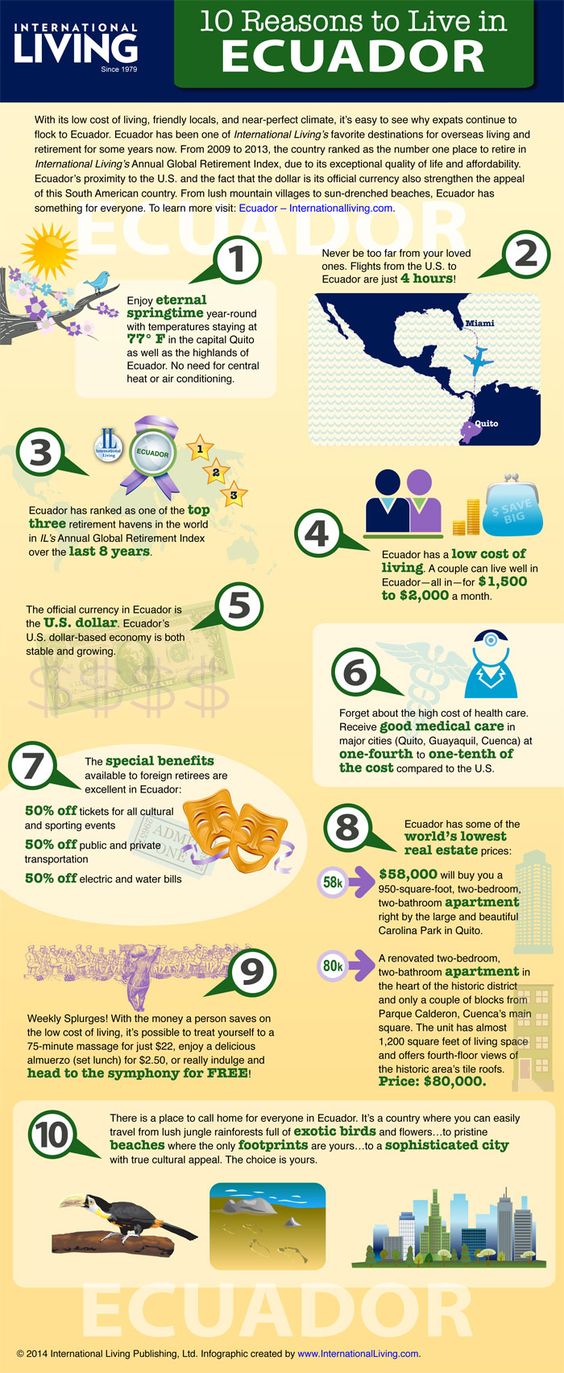 If so, take a look at these 10 reasons why Ecuador might be an ideal location for you to teach in South America.
It is also situated on the equator which ensures it receives pleasant weather conditions throughout the year.
In order to live a comfortable lifestyle in Ecuador a couple only needs to earn a joint salary of US$1,500 - US$2,000 per month.
SOURCE: signup . internationalliving . com/X120RB01
---