Why it is Important to Volunteer Teach ESL Learners
The general importance of volunteering is known by most people. Volunteering helps people, causes, and organizations that typically cannot afford resources, and so greatly benefit from volunteers and donations. Volunteer teaching, particularly teaching ESL learners, is no different. Private tutors are expensive and not all can afford to send their children or themselves to one, and so I want to emphasize the importance of volunteering at centers or schools that teach ESL learners.
This post was written by our TEFL certification graduate Kayla C. Please note that this blog post might not necessarily represent the beliefs or opinions of ITTT.
Personal Experience
I have personally volunteered to teach ESL learners, and I know the value of taking time out of one's life to help such students. At the literacy center that I volunteered at for more than two years, I worked with ESL learners from various backgrounds. Some were young and taking courses at one of the local universities while others had lived in the city for years and were hoping to improve their language skills for either personal or professional reasons. While the enthusiasm varied from student to student, overall each one was eager to learn and they made a commitment to attend a minimum of one class each week. It tends to be far more difficult to learn a second language when we are older, and so the adult learners that scheduled tutoring sessions with me were making a significant commitment by taking the time out of their lives to study and learn. Luckily, such places at the center I worked at exist so that motivated students have the chance to learn English when otherwise they could not.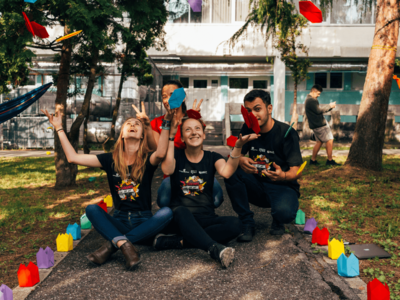 Also Read: What types of school hire English teachers abroad?
Demand
Language centers that rely on volunteers are ideal places for ESL learners. The advantages for students include no tuition or fees, the flexibility to choose hours that are convenient for their work schedules and to have a learning experience that is tailored to their specific needs. Such advantages were crucial for the students I taught as they could not afford a private tutor. It was also beneficial for them to work with me as I could determine what aspects of English they needed more practice with or they could ask me for guidance on specific points they wanted to advance toward. While ESL students benefitted from my volunteer services, there are advantages for volunteer tutors as well.
Also Read: Who will my students be when teaching English abroad?
Benefits
One of the advantages of working with adult language learners is that tutors can get to know them on a more personal level. And so I learned about their past difficulties with life in America, their goals for the future, and it made the teaching experience far more rewarding to know them on a personal level. Teaching conversation skills were made far easier by this dynamic. It also allows tutors to enhance their teaching skills if they choose to pursue a teaching career in the future.
Do you want to teach English abroad? Take a TEFL course!
When I began to volunteer at an ESL center I was recently graduated and just beginning my teaching career. I was nervous, unsure and afraid that I would somehow fail my students. I quickly learned that many of my students felt this way, learning a language they were not truly comfortable with yet. It was a sobering experience, and spending my time teaching students who wanted and needed my assistance was invaluable. To volunteer to teach ESL students is time-consuming, but for anyone who truly loves to teach, taking the time out one's life to work with students
Apply now & get certified to teach english abroad!
Speak with an ITTT advisor today to put together your personal plan for teaching English abroad.
Send us an email or call us toll-free at 1-800-490-0531 to speak with an ITTT advisor today.
Related Articles: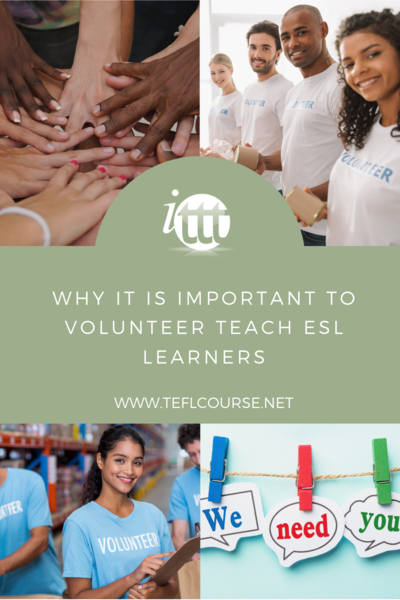 ---
---