Why Is Motivation Important in the Classroom?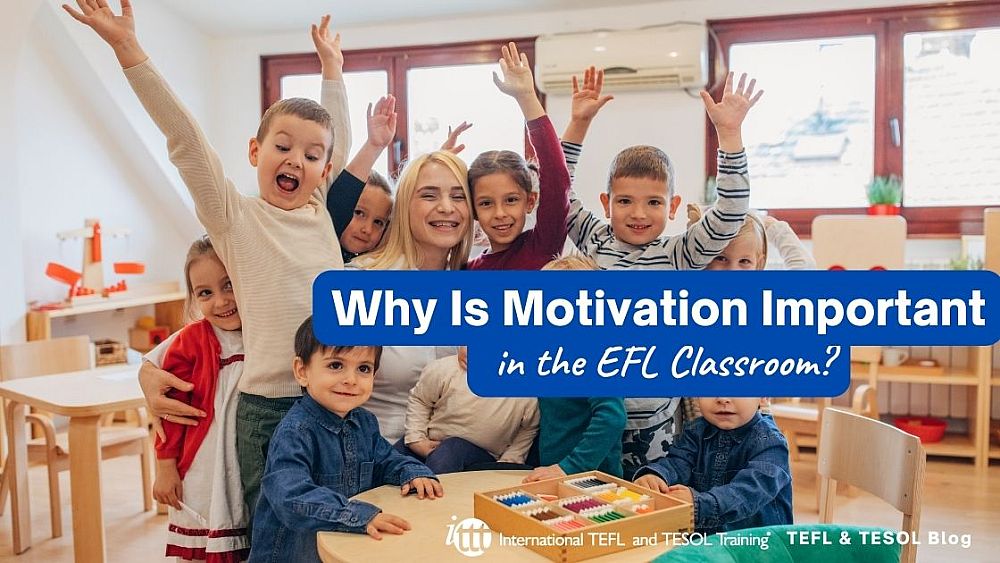 One of the biggest challenges in schools today is the task of motivating students and creating interesting lessons for them. To achieve this, several key factors come into play.
Disclaimer: The views and opinions expressed in this blog post are solely those of the author, an alumni of ITTT (International TEFL and TESOL Training). They do not necessarily reflect the views or opinions of ITTT. The content provided in this post is for informational purposes only and should not be considered as official endorsement or representation by ITTT.
Building Relationships and Trust
The first concern is making students feel comfortable during the lesson and emphasizing their importance while building relationships. Learning their names and showing genuine interest in their lives can help establish trust and increase their interest in learning from you. When students perceive your care and support, it becomes easier for them to engage in the learning process.
Personal Perspective
Although I lack teaching experience, I empathize with others by putting myself in their shoes. As a mother of four children, I witness their scholastic needs and daily difficulties. Creating a positive environment requires students to feel heard and respected. Additionally, smiling and radiating positive energy can make a significant difference.
Setting Goals and Clear Program
Setting goals and having a clear program from the start is crucial. Through this course, I found it useful to learn how to prepare a lesson and define clear objectives. Knowing your expectations allows you to achieve the best results and stay focused as a teacher.
Individual Motivation
In my opinion, motivating students individually is easier as it allows for a better understanding of their specific needs and enables focused attention. However, the students' age plays a significant role in how to motivate them. For instance, nursery school and young learners often respond well to praise and enjoy rewards such as sweets and candies accompanied by positive encouragement. On the other hand, adult learners, who may be tired due to work, require concrete and enthusiastic lessons with clear explanations.
Maintaining Dynamic Lessons
Regardless of age, encouraging students and correcting them help boost their self-esteem in terms of language learning. Furthermore, maintaining dynamic lessons is another essential aspect of student motivation. If students become bored, it is easier to lose their attention.
Teaching Methodologies
In this course, we were provided with numerous excellent examples of how lessons can and should be conducted. We learned about different teaching methodologies, such as ESA (Engage, Study, Activate), which I particularly like. Applying specific methods adds vibrancy to lessons and accommodates the various learning styles of students, considering that each student learns differently. It is the teacher's responsibility to discover the most effective approach and apply it to each specific group of learners.
Variation and Engagement
Teachers must assist each student in finding their own path and discovering their full potential. Offering variation and engaging activities is a fantastic way to foster interest in the lesson. Naturally, teachers must stay creative in continuously achieving this. The course also presented an abundance of resources where teachers can find ideas for the classroom.
Interesting Materials and Activities
The materials and activities used in the classroom should be interesting and capture students' attention, whether they are working individually, in pairs, or in groups. Examples include positive competitions and games that demonstrate knowledge and skills. In a nursery school, younger children can be motivated through activities such as singing, coloring, and simple drills. Nevertheless, enthusiasm, along with a smile and positive language, remains the foundation of motivation.
The Importance of Motivation
For me, motivation holds essential importance in teaching, as it not only leads to better results but also encourages students to participate willingly and retain information in the long run. I aspire to deliver dynamic and well-prepared lessons, and this course has provided me with a better understanding of lesson organization and how to apply it to motivate students.
Are you ready to teach English as a foreign language?
Apply now & get certified to teach english abroad!
Speak with an ITTT advisor today to put together your personal plan for teaching English abroad!
Send us an email or call us toll-free at 1-800-490-0531 to speak with an ITTT advisor today.
Related Articles:
Check out what our course grads say in our many video testimonials!
---
---