Why Buenos Aires is the Ideal Place to Teach English
Argentina is divided into 24 districts, 23 provinces plus the Autonomous City of Buenos Aires, which is also the capital of the country and where the federal government is located. Buenos Aires is without a doubt the most cosmopolitan city in South America and a city that was built by immigrants from all over the world.
Buenos Aires is a city of contrasts. The traditional and the modern coexist everywhere you look. Buenos Aires' one-of-a-kind vibe is something you won't find anywhere else. Here's why Buenos Aires is the ideal place to teach English abroad.
For the best possible start to your teaching adventure in Argentina take our in-class TEFL certification course in Buenos Aires.
Listen to this blog post:
Unique Culture
Tango at its Birthplace
Born along the coast of Rio de La Plata in the XIX century, this worldwide popular dance is a fusion between African culture, local cultures from Gauchos and aboriginal people with a taste of the many European and Middle-Eastern immigrants who also made it their home.
As you probably realize by now, Buenos Aires is the vivid image of those who came from afar to live in the new world. The visual identity of this port city is a mix of foreign influences that built a unique place in the world.
Inspiration and Art
Your TEFL classes can have as many approaches and directions as the cultures you'll find; Spanish, Italians, French, British, Russians, Japanese, Chinese, Brazilians, and Peruvians, among many others. You'll find inspiration in every corner of the city, in its architecture, its food and the way porteños speak and live.
There are many reasons why Buenos Aires is a city drenched in culture: you'll find 380 libraries, 287 theaters and over 150 museums here.
The Colón Theater located in the heart of the city center is one of the four top historical lyrical theaters in the world. Fileteado, the Porteño style of painting, has been recognized by UNESCO as an intangible cultural heritage, and Corrientes Avenue bears witness to the golden days of the tango. You will soon see that in Buenos Aires, anything can act as a canvas in a rush of inspiration.
You can't leave Buenos Aires without visiting the neighborhood of La Boca with its iconic outdoor museum and traditional colorful surroundings of Caminito. There's no place like Caminito anywhere else in the world. The precarious popular buildings known as Conventillos are unique to the area since it's origins in the late 1800s. These are houses and small apartment-like buildings made of wood and metal sheets, painted in bright colors. Nowadays Caminito is a happy and beautiful 150-meter long street with different artworks and street markets where you can get your hands on paintings, souvenirs and collages with many historical photos of La Boca.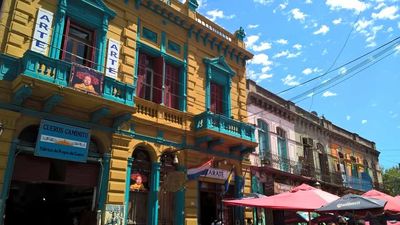 Unique Food Options
The cooking style of Buenos Aires is the essence of this melting pot of cultures. Filled with creole recipes from Spain, Italy, Germany and the amazing food styles from other bordering countries.
The unique cuisine of Argentina is acknowledged worldwide. Buenos Aires' Asado, the city's own style of pizza, empanadas, dulce de leche, alfajores, churros and of course, the traditional beverage, mate, are all must-tries when visiting Buenos Aires.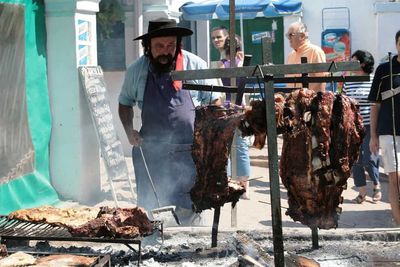 EFL In Argentina
Argentina is the highest ranking country in Latin America in terms of English proficiency. In the 4th edition of the English Proficiency Index in 2015, Argentina ranked 15th in the global ranking, way above many European countries and 1st place in the Latin American region.In Buenos Aires the bond between the English language and the economy is undeniable.
English is a must in any work environment in Buenos Aires. With a demand that has been growing around 20% each year for the past 5 years, the demand for EFL teachers in Argentina is higher than ever.
You can find courses such as English for restaurant waiters, for business English, and English to travel. If you can think about a course, you can find it in Buenos Aires.
Technology plays a fundamental role in today's world and language exposure has become an incentive for people to start studying the language. Adults in Buenos Aires are more and more uninhibited and instead of feeling limited by the effort required to learn a new language, they embrace the challenge and strive for progress.
This is encouraged by the city's Ministry of Education. In 2006, the national education law made teaching a second foreign language mandatory for all schools in the primary and secondary levels of the country. In 2009 the government of the City of Buenos Aires included English as a main and mandatory subject from 1st grade and increased the amount of EFL teaching at all levels.
What does this mean? It means that today, over 90% of the 440 public and private schools located in Buenos Aires, with about 120.000 students learn English on a daily basis.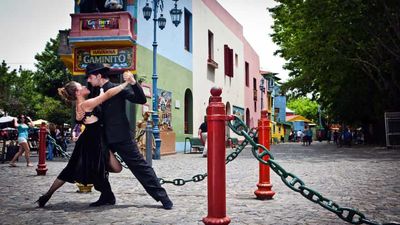 What are you waiting for?
Come to Buenos Aires and live in a city that never sleeps with people from all over the world and with something new to see, teach and learn every day.
For the best possible start to your teaching adventure in Argentina take our in-class TEFL certification course in Buenos Aires.
Apply now & get certified to teach english abroad!
Speak with an ITTT advisor today to put together your personal plan for teaching English abroad.
Send us an email or call us toll-free at 1-800-490-0531 to speak with an ITTT advisor today.
Related Articles: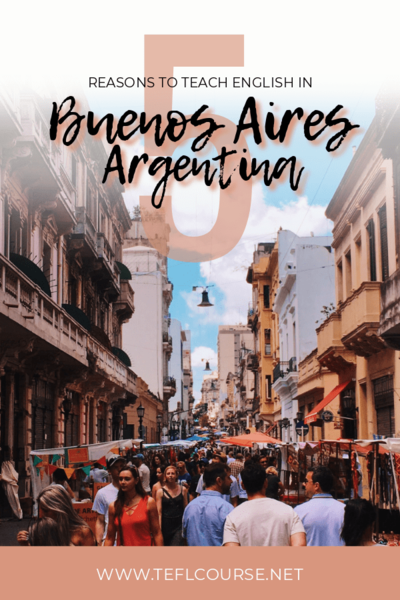 Check out what our course grads say in our many video testimonials!
---
---