Which TEFL/TESOL Course is Best if I Want to Teach ESL Online?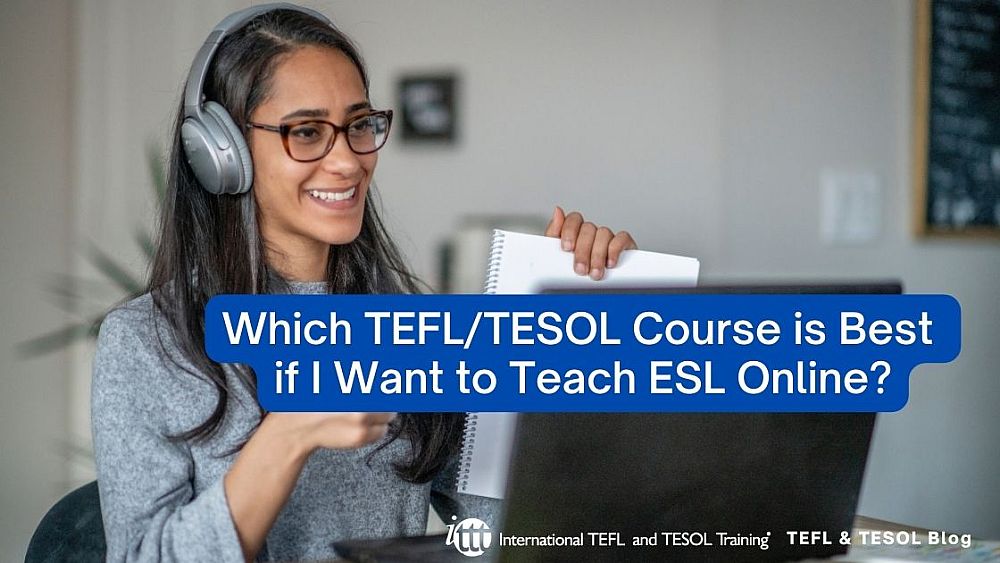 In today's interconnected world, the demand for English language proficiency continues to rise, opening up a world of opportunities for those who can teach it effectively. Whether you're an aspiring English teacher or considering a career change, understanding the nuances of TEFL (Teaching English as a Foreign Language) and TESOL (Teaching English to Speakers of Other Languages) certifications is crucial.
These certifications serve as passports to a fulfilling career in teaching English, both in traditional classrooms and the burgeoning realm of online education. In this comprehensive guide, we'll demystify the differences between TEFL and TESOL, explore the various certification options, and shed light on what it takes to excel in the ever-evolving landscape of English language education. Let's embark on this educational journey together and unlock the doors to a world of teaching possibilities.
TEFL or TESOL: What are they, and what's the difference?
The two terms are effectively used interchangeably throughout the industry, though there is an actual difference between the two definitions.Teaching English as a Foreign Language (TEFL) refers to the teaching of English to non-native English speakers in a country where English is not the native language. Teaching Japanese students English in Japan is an example.
Teaching English to Speakers of Other Languages (TESOL) refers to the teaching of English to non-native English speakers in a country where English is or is not the native language. This could be teaching Japanese students English in the USA or in Japan. As far as teaching English online is concerned, companies will view these two certifications as the same thing.
Types of TEFL or TESOL courses
In order to obtain the certification required to teach English online, you have a number of options available as to how you gain this certification. There are three general types:
In-Class TEFL/TESOL Courses
Here, you would travel to a training center at a worldwide location. These courses typically take 4 weeks, and you will gain a 120-hour certification. These courses require you to travel, stay in accommodation for the period of the training, and are therefore typically the most expensive of the three options.
Online TEFL/TESOL Courses
Here, you can take the course from your own home or while traveling. They give a 120-hour certification and can usually be completed in under a month. As you do not need to travel or use accommodation, these are generally the cheapest of the three options.
Combined TEFL/TESOL Courses
Here, you take a combination of the previous two options. The theory section of the course is taken online, and the practical teaching part at a worldwide training center. The overall course can take about a month for the online section and ten to fourteen days for the onsite section. Typically, these courses are mid-ranged in price. They give the same 120-hour certification.
Is teaching online different from in-class?
Teaching English online requires all the same knowledge and skills required for teaching in a regular face-to-face classroom, so there is no specific training required for this job. Having the training to teach in-class, which is what most training courses teach, will provide you with everything you need to know in order to teach in a range of teaching scenarios. TEFL and TESOL training courses usually consist of two main areas: Teaching skills and Language awareness (Grammar knowledge).
With the subject matter (grammar) knowledge and some idea of how to teach, you will be well-prepared to teach online. Many online teaching companies provide not only the curriculum but often have their own teaching platforms (systems) and provide lesson plans and materials. Teaching online very often consists of one-to-one teaching, so you should be prepared for only having one student at a time.
In Summary:
✅ TEFL and TESOL certifications are basically the same.
✅ There are three pathways to certification, all giving the same type of certification.
✅ Online teaching requires the same knowledge and skills as teaching regular classes.
✅ Most online teaching is done through companies that have their own platforms, curriculum, and materials.
Are you ready to teach English as a foreign language?
Apply now & get certified to teach english abroad!
Speak with an ITTT advisor today to put together your personal plan for teaching English abroad!
Send us an email or call us toll-free at 1-800-490-0531 to speak with an ITTT advisor today.
Related Articles:
Check out what our course grads say in our many video testimonials!
---
---