What are some useful ESL teaching resource books?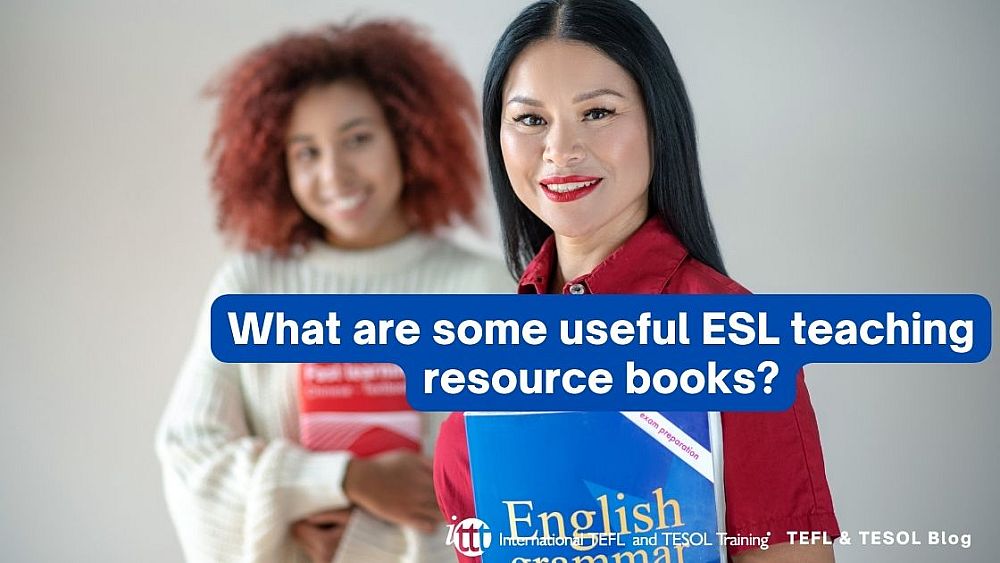 The market for ESL teaching books is very large and all the major publishers have some form of involvement in the production and selling of these resources. There are many different types of books and resources that are used in ESL teaching and we will consider three main categories.1) General teaching theory books2) ESL book series3) Activity resource books
General teaching theory books
As an ESL teacher unless you spend your entire career teaching kindergarten, you are going to have to teach English grammar. There are many books that cover this well and you would normally cover much of the required material needed in any reputable TEFL or TESOL course. A selection of books that cover these grammar aspects very well are:• Raymond Murphy, English Grammar in Use• Michael Swan, Practical English UsageIn addition to grammar theory you will need some practical guides to teaching skills and a wide range of practice activities for grammar items. A number of useful resources covering these two areas include:• Jeremy Harmer, How to teach English• Penny Ur, Grammar Practice Activities• Peter Watcyn-Jones, Grammar Games and Activities
ESL book series
Generally speaking ESL classes are taught at five levels and the ESL book series typically are set at the five levels most often taught. These levels are Starter or Beginner, Elementary, Pre-Intermediate, Intermediate, and Upper-Intermediate.Often a book series at each level will contain three corresponding books, these being the teacher book, student book and resources book. The teacher book gives an overall coverage of the syllabus and generally breaks each topic down into a series of lessons. Each lesson topic covered in the teacher book has corresponding references the two other books (student and resource books) where the teacher can find the materials needed such as worksheets and activity ideas, for each lesson.
Typical examples of book series of this type which cover CEFR levels A1-C2 are:• New Total English Publisher Pearson• Cutting Edge Series Publisher Pearson• Inside Out Series Publisher Macmillan• Let's Go Publisher Oxford University Press• New Headway Series Publisher Oxford University Press• English Unlimited Series Publisher Cambridge University Press
It is worth doing an internet search on each of these titles, where you will be able to find examples from each part of the series to see how the books work.
Activity Resource books
There are a huge number of free resources available on the internet and we would suggest you search the term 'free ESL teaching resources' where you will find many examples.
The following are typical of what (correct at the time of writing) your search may come up with;
• https://en.islcollective.com/• https://www.esl-lounge.com/• https://www.esl-galaxy.com/• https://www.twinkl.co.th/• https://www.eslkidstuff.com/
Although these resources have been specifically designed for ESL students and will be at a certain ESL level, you should always check through any such resource to ensure that it matches your students' needs.
Also keep in mind that the worksheets presented by these resource sites should be considered as a basis of an activity sheet and you can adapt and personalize them for your classes as needed.
Finally, be aware that some information that may be culturally acceptable in one country may not be the same in the country that you are in.
Are you ready to teach English as a foreign language?
Apply now & get certified to teach english abroad!
Speak with an ITTT advisor today to put together your personal plan for teaching English abroad!
Send us an email or call us toll-free at 1-800-490-0531 to speak with an ITTT advisor today.
Related Articles:
Check out what our course grads say in our many video testimonials!
---
---