Unquestionable Reasons to Get TEFL Certified
There are many reasons as to why you should get a Tefl. I'm not going to list every possible reason for the simple fact that it would take too long, and it is simply unnecessary to list every reason. My main three reasons as to why you should get a Tefl is because it helps anybody learn more than anybody thinks they may and or may not have known, it is highly beneficial to whatever kind of students anybody may teach, and it also helps you learn whether or not if this is a job that you truly desire to have.
This post was written by our TEFL certification graduate Andrew G. Please note that this blog post might not necessarily represent the beliefs or opinions of ITTT.
English proficiency
To start, many people (that study English, or is a native English speaker) in today's time don't realize what they do and don't know to the full extent. This is why taking the Tefl course is a really good and obligated idea because (in the general idea) people end up learning a lot and taking in a tremendous amount of knowledge compared to whatever knowledge they received and kept from high school that they were learning from (assuming that high school was the last form of education being received). When taking the Tefl, there are a lot of materials inside of the tests being taken that are simply not mentioned when learning all the things people do when they are in high school in fact, even if it is mentioned it is not a whole lesson or unit being reviewed about that specific idea of what is being taught. If high school was not the last form of education received, the Tefl is still a really good review for anything that anybody did or didn't learn. This is how the Tefl teaches more than a basic received education or is a good jog for the memory for what anybody has learned.
Also Read: Will I get health insurance when teaching English abroad?
Approach to teaching
Secondly, another really good reason why anybody should get a Tefl is that you don't know what kind of students you will receive whenever you go to teach. So, because you don't know what students you could be teaching, TEFL has a couple of units that can help you recognize what you should do in situations like these. Not only will it help you know what you can do for certain situations, but it can also help you with students of different ages, different levels of knowledge, and so much more involving things that have to do with the type(s) of the student(s) you are teaching. It gives so many different options to choose from based on what kind of situation you are in. Plus, even if you aren't actually in a situation at whatever given moment, it gives you extra insiders that could still help you in the future in case you ever get stuck with a unique kind of learner that puts you on a challenge. Since the Tefl has a pretty decent amount of knowledge to give you, it is not only beneficial to you but also the students you would be teaching.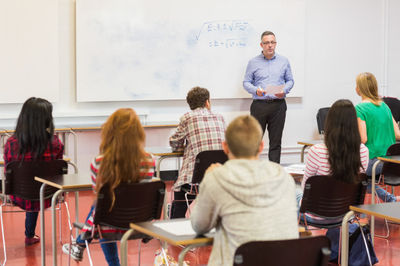 Also Read: How much can I earn teaching English in Poland?
Career path
Lastly, the Tefl can also help you make that choice whether you are certain or not you want to have this kind of career. The way it helps you finalize the decision you are trying to make when considering you want to be a teacher or not is, as well as the others, also done in an abundance of ways. The Tefl gives you many examples that you can take in and learn from it and tells you all the different things you could have to do yourself someday. Some classes you could struggle with, simply because it was a unit on the Tefl that you also struggled with, and that could lead anybody to a rough day at work. Adults might be more challenging to teach, teens could be easier to teach, and much younger students may even seem the easiest to teach, each one can vary depending on the circumstances of what is going on for that day. Adults could be tired, teens can be irritating, and kids can be crazy, but it all depends on you. This job can seem difficult, but it can be a rewarding job at the same time. You can see progress in any of the kinds of students you are teaching, and that can be a reward itself. Then there's also an indefinite possibility of growing a bond between you and your students through time as well. It all still depends on you, and the Tefl can explain how these things happen and what you can do to make things the way you want, which is why I think it helps to decide if you want to be a teacher or not.
Also Read: Can I choose where I teach English abroad?
Do you want to teach English abroad? Take a TEFL course!
To conclude, there are many more reasons I have listed as to why you should get a Tefl. The ones I listed are here because they're reliant and helpful reasons to make you want to receive a Tefl course of your own. The Tefl can help you further or give you a great review of your education, it's helpful to you and the students you could be teaching someday, and it can make you reflect on how you think it's a good idea to be in this career field or not.
Apply now & get certified to teach english abroad!
Speak with an ITTT advisor today to put together your personal plan for teaching English abroad.
Send us an email or call us toll-free at 1-800-490-0531 to speak with an ITTT advisor today.
Related Articles: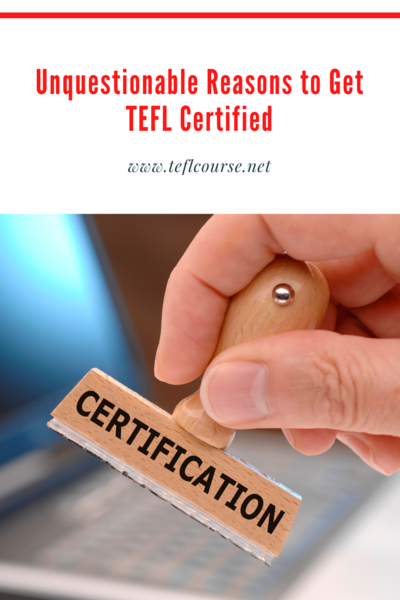 ---
---