Top 8 Misconceptions About Teaching ESL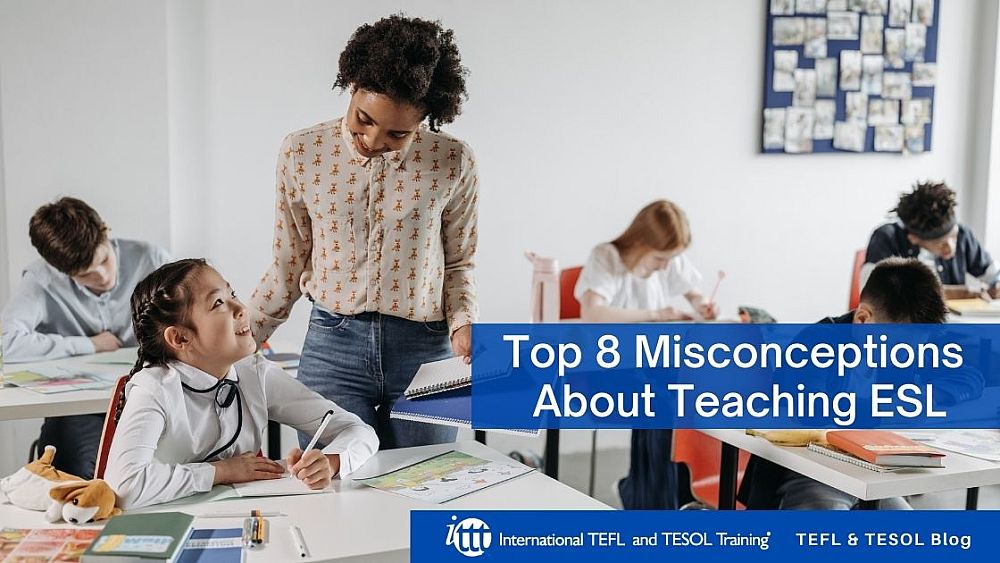 In this blog post, we will look at 8 of the most widely held misconceptions regarding the teaching of ESL worldwide.
Watch the video about this topic
Misconception #1: It's really hard to find a job
The demand for English Teachers abroad is really high and whilst it's true that it's not the easiest thing in the world to do and maybe you want to go to a country or a place that you have set your mind on a certain location maybe that doesn't work out. You just need to be a little bit more flexible. According to some estimates there are about two billion people in the world speaking and learning English (British council) and those are all potential students.
Some of the biggest companies in the ESL industry you might want to look out for when you are applying for jobs in language schools or English class lesson providers who are constantly hiring teachers all around the world include, Berlitz languages, EF Education First and InLingua international. Other companies such as, Pearson English language teaching and online providers such as Open English and Berlitz, so those are some of the biggest players in the EFL industry.
Then we have many government-funded programs that are also looking for people. The EPIK program in South Korea and the JET program in Japan and also other programs like the TAPIF program that's in France with the NET scheme in Hong Kong and there's many other programs actually that you can also apply to.
There are many other countries in the world that have implemented similar government-funded programs to attract foreign English teachers into their schools. So these are good places to start with especially if this is your first time going abroad to teach. They tend to have a very clear structure and they have a lot of support for new teachers. If you really want to go abroad you can definitely find a job depending on your background as well as other key factors. Many people with no previous experience have found work in China and South Korea who have had no previous experience, so if you are determined you can definitely make it.
Misconception #1: You need a degree to teach English abroad.
There are a lot of countries where you can actually teach without a degree. It might not be in your preferred place as we all have dream destinations, but maybe you can't go there yet maybe you need to go somewhere else first and then get teaching experience and then after a couple years you can go there. You can definitely find a teaching position if you are looking for one. Let's look at the requirements for teaching English abroad. The first thing is that they vary from place to place there are no set requirements; no set list with this is what you need. If you have a four-year degree obviously your options will be greater, you will have more options to choose from. if you don't have a degree it's more limited but it's not impossible.
If you do need a degree in the country of your choice, it often it doesn't have to be in the field of education and it doesn't have to be in English, usually it doesn't even matter what field what major you have a degree in as long as you have completed four years of university and have a bachelor's degree. Obviously if you have a bachelor's degree in teaching or in English then that's going to be a huge plus for employers, but it is typically not required.
Some other requirements we often see are; having teaching experience, however it depends on where you want to go, for example the Middle East which is a highly competitive region for English teachers because of the great opportunities and tax-free super high salaries the highest in the world that's why a lot of people want to go there their requirements are higher. Other places like South Korea or Asia in general you're not going to need any teaching experience you can do this right after college. Places like Thailand, Cambodia, Vietnam and Laos do offer jobs for people without a degree and for both native and non-native English speakers.
In Central and Latin America countries like Argentina, Brazil, Chile, Mexico Colombia, Ecuador and Uruguay offer jobs for those without a degree. Even in Europe you can find opportunities in Spain, Italy and the Czech Republic.
Disclaimer: Sometimes countries change their visa regulations so keep an eye out on that and always check first.
Misconception #3: Teaching English abroad doesn't pay well
There are no fixed Teaching English abroad salaries; they vary enormously around the world.
The salary you can make when you teach EFL depends on where you teach, what company you work for, how much experience you've had previously, your qualifications and what type of school you work in.
It is a misconception that teaching ESL doesn't pay well as you can actually make a lot of money teaching English as a foreign language. Let's take a look at some of the places with the highest teaching salaries in the world.
If you want to go to Southeast Asia you can earn up to a thousand five hundred us dollars a month, which maybe doesn't sound like much, but consider that the cost of living in this area is very low, so you're not going to have a lot of expenses when it comes to rent or food or transportation or anything like that. You can actually still live a very comfortable lifestyle in East Asia, so that is China, Japan, South Korea and also Taiwan, here you can make between 2,000 and 2,500 US$ dollars for new teachers and then up to US$ 3,000 for those with experience. The cost of living in East Asia is higher than Southeast Asia but still lower than Europe or North America, so you're still going to be able to save a lot of your paycheck.
Also you need to keep in mind is that schools in East Asia typically have a lot of benefits for their teachers including paid housing, paid airfare round trip if you stay longer than a year. You can also get pension schemes and insurances. Often you have end of contract bonuses and renewal bonuses so there's a lot of extra benefits for teaching in East Asia.
Then we have the Middle East which is the highest paying region when it comes to teaching English abroad, so here you can actually make between three thousand and five thousand US $ a month tax free. You don't have to pay any income tax that's why also this region is highly competitive actually and the requirements are a little bit higher than other places.
Then we have Latin America where salaries are among the lowest in the world. You make between US $500 and US$1,200 a month here. Next we have Europe where it varies a lot because there are so many countries. Typically salaries are between US$700 and US$2,400 a month.
So as you can see, TEFL doesn't pay well, is definitely a misconception, it depends on where you are teaching.
Misconception #4: You need to speak another language to teach ESL abroad
This question is a very common one, for example "Do I need to be able to speak Spanish to teach English in Spain" or "Do I need to be able to speak Chinese in order to teach English in China" and the answer is, no you do not need to speak another language besides English in order to teach English abroad.
However even if you do not need to know the language of the country that you're moving to, in order to teach, it can help. You would be able to communicate better with your employer and with your co-workers and just in your everyday daily life. In many schools they have an EOP (English Only Policy) so you were actually only allowed to speak to your students in English. This creates an immersive English environment so there are no expectation towards be able to speak their language.
There is a teaching program in France where they actually have as a requirement that you need at least B2 level in French to be able to do that program.
Misconception #5: You have to teach kids
Teaching children is a large part of TEFL and ESL; however it is not true that you have to teach kids.
If you are absolutely sure don't want to teach children you can also find positions where you teach maybe older children, so high school or university students or also just adults. There are many of these positions so teaching kids is not something you absolutely need to do. TEFL teaching is often divided into three areas, one is young learners, that is teaching children or kids, another one is business English and the final one is teaching online, even though you can also teach children online obviously. If you really don't want to teach children maybe consider getting a business English course additionally.
Depending on where you want to go there will probably be more positions at schools targeted at children but you can definitely still find positions for schools targeted at adults or business English. If you have a specialization like this it will greatly help you and enhance your chances. Also in places like Mexico and Latin America many jobs are targeted at teaching older people with adult classes and business professionals so if you go there you're more likely to teach adults versus when you go to Asia lot of times it is schools for children.
Misconception #6: Teaching ESL is only a job for young people
Absolutely not, a lot of older people are taking courses because they really want a change in their career or they are already retired but they are looking for something different in their retirement. They take the course and they move to teach English abroad, so this is really absolutely wrong to say that teaching ESL is only for young people.
A lot of schools are actively looking for older teachers, especially when it comes to teaching business English or also older students. For teaching children a lot of times they hire a younger teachers because they think younger teachers have more energy, but also not every school is like that. There are no general age restrictions when it comes to teaching abroad, in some countries there are upper age limits, in China there is a retirement age of 60, so if you're over 60 it might be difficult to find a job in china. In many countries there are no official limits, so if you are older and you're thinking about teaching English abroad it's definitely something you can do and many schools are looking for more mature teachers.
Misconception #7: You don't need a TEFL qualification, if you're a native English speaker
While this may have been true 20 or 30 years ago when all that was required to gain an ESL job was being from America or being from the UK, this is certainly no longer the case. Today the competition is much greater, there are a lot of people getting certified and a lot of people want to go abroad and teach. It is not something rare or something special, it's very common. Even as a native English speaker you need to get TEFL certified and you need to do everything you can to stand out from the crowd such as get extra certifications like the specializations of young learners and business English.
Schools appreciate that just being a native speaker doesn't mean you're also a good teacher. Years ago they were just able to hire a native speaker give them the textbooks and then they just let the teacher figure it out. Since the growth of ESL as a business, they now know they need certified people so that's definitely the trend. Even though there are certainly countries and places where a TEFL or TESOL certificate is not an official requirement to get a work visa, most employers still definitely request it. Also it's a huge plus if you do have one, for yourself, as you just want to be the best teacher possible for your students.
### Misconception #8: You have to be a native English speaker to be able to get a job teaching English
There are some places where native speakers are preferred but things have changed a lot in recent years and schools have realized how much of an asset non-native English speakers can actually be.
One of the reasons for this is that contrary to native English speakers, non-native English teachers have actually gone through the English learning process themselves and this experience is just something that you cannot ignore. It is a big asset of any non-native English speaker and that's what can make them stand out from native English speakers. Some schools are hiring native English speakers only from some countries for example at the moment in South Korea to get an e2 visa you need to be a citizen of and be a passport holder from one of seven countries. These are; Canada, USA, Eire, UK, South Africa, Australia and New Zealand. It is very important for non-native English teachers to have completed an English proficiency test of some sort, such as IELTS or TEOFL.
Some regions where you can actually teach as a non-native speaker include Southeast Asia, Latin America and even in Europe. For Southeast Asia we have Thailand, Cambodia, Vietnam and Laos. In Latin and South America, there is, Argentina, Brazil, Chile, Colombia, Costa Rica and Mexico. Finally in Europe we have, Turkey and Czech Republic.
Are you ready to teach English as a foreign language?
Apply now & get certified to teach english abroad!
Speak with an ITTT advisor today to put together your personal plan for teaching English abroad!
Send us an email or call us toll-free at 1-800-490-0531 to speak with an ITTT advisor today.
Related Articles:
Check out what our course grads say in our many video testimonials!
---
---