Top 5 Mistakes ESL Teachers Make And How to Avoid Them
In this article, we share the most common teaching mistakes that even experienced teachers do in their everyday work. Read what are they and how to avoid them.
1. Unlimited Teacher Talking Time
Teacher Talk Time (short: TTT) is an important teaching point and skill to practice. The more a teacher talks, the less the students have time to work on their speaking abilities during the lesson. Reducing TTT depends on proper planning, so remember to focus on preparing your lesson plan in advance.
TTT shouldn't be used as a time filler when a student prepares to answer, so it is better to accept silence and let the classroom be quiet for a moment.
2. Unclear Instructions
Lessons usually get messed up due to unclear instructions. Pay attention to the way you explain tasks and to the vocabulary you choose when instructing because it helps to avoid confusion.A great way to do this is to hang up a poster with the most common instructions and practice the words and phrases with your students.
Also Read: How to Improve English Writing Skills in Chinese Classrooms
3. Echoing
Some teachers tend to repeat what students have just said. There's actually no reason to do this and it often confuses students. It also takes away from the students' talking time.
Echoing happens due to inappropriate planning when there are no transitions between one activity and another. Therefore, you should make sure that you create a smooth lesson flow.
4. Asking "Do you understand?"
This question should be banned in every classroom. Usually, when a teacher asks this, students feel scared and answer "Yes" but in fact, it might actually be a "No".
It is much more effective to check their understanding by using a fun activity after you explained the main material.
Also Read: How to Implement the SMART Approach in Lesson Planning?
5. Not letting students finish
Students might take a lot longer to think and process words in English than you might expect. Therefore, you should avoid finishing their thoughts for them and expanding with your own ideas. If you want to help them to fulfill the task faster, try asking them questions or giving visual clues.
Do you want to teach English abroad? Take a TEFL course!
To sum up, it is important to bare in mind things mentioned above and notice when you do such mistakes. These rules will help you to carry out more effective lessons.
Apply now & get certified to teach english abroad!
Speak with an ITTT advisor today to put together your personal plan for teaching English abroad!
Send us an email or call us toll-free at 1-800-490-0531 to speak with an ITTT advisor today.
Related Articles: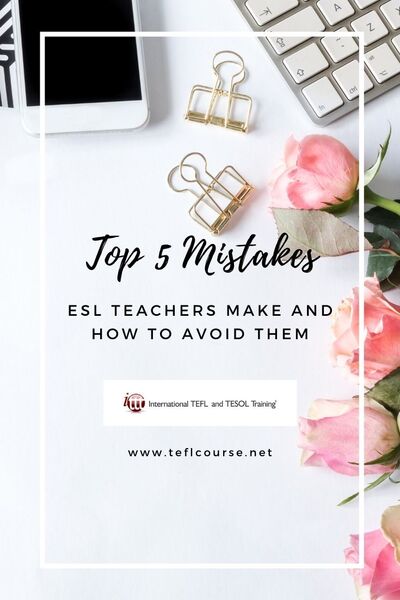 ---
---