Top 3 ESL Games for Teaching Online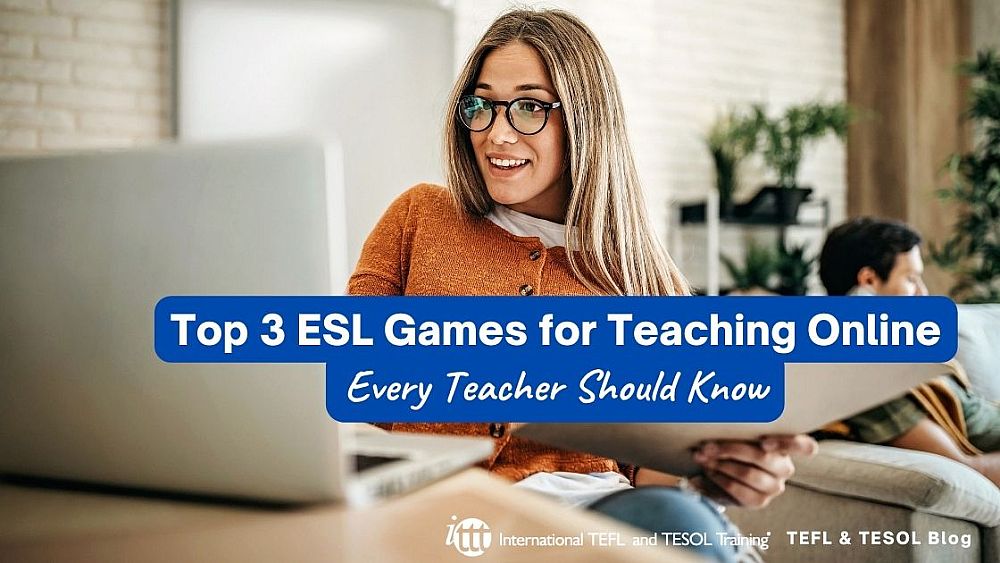 With the introduction of technology, teaching English as a foreign language has changed a lot. Computers opened many new doors for both the teacher and the students. Technology has allowed us to use many resources that were unavailable before.
With the outbreak of the pandemic, most of the language teaching and learning switched to the online variant.
Despite having all the previously stated advantages, online language teaching can be challenging as well. When the teacher is not physically present, the students can get distracted easily and lose focus fast. This can result in students' poor performance and conduct of language.
A great way to improve the classes is by playing games. These games will encourage students to participate in the activities since they are great fun. Online games can help them develop all kinds of skills such as reading, speaking, listening, and writing. Using these games can help teachers enrich their classes with interesting methods of teaching grammar and vocabulary.
Therefore, the teacher should always have some of their favorite games up their sleeve and use them as much as possible to motivate their students to acquire language.
Here is a list of some of the most popular and most interesting ESL games that can be used in online teaching:
Kahoot
Kahoot is a website that is pretty popular among both students and teachers. It is free and very convenient for the use of teachers and students which is very important to consider when choosing games that will be used in the classroom.
As already mentioned, Kahoot is very easy to use. It is designed for group classes and the students use their mobile phones to take part in the Kahoot activities. It is a great way to organize a quiz in the classroom and make a small competition among the students. The teacher can even set up an award for the winning student or the winning team such as extra point, extra grade, or some other advantage.
Kahoot offers a variety of different themes that can be used for creating activities. There are games related to movies such as Star Wars or Disney movies, science topics, history and geography, etc. Therefore, Kahoot offers topics that can be interesting for all levels and ages of students. You can even create your own game that suits your class. The students have 10, 20, or 30 seconds to give the right answer to the question. All questions are multiple choice questions. This is a great opportunity to revise certain topics that you covered with your students or to introduce something new to them.
Scavenger Hunt
This game is a great solution for young learners. Since they have a short attention span, it is important to keep them motivated and focused during the class. This is exactly what this game does. Even though it is best for young students, it can be used with older ones, too. Scavenger hunt helps them start thinking in English and wakes them up a little bit after a long time of staring at the screen.
The rules are fairly simple. You give students a category, a letter, a color and they have to find the object from their closest environment, bring it, and name it. For instance, you can tell them to find an object that starts with the letter 'G' or something in the color red. Then, they look around them to find the object, bring it, and name it. You can even set them a timer and have them think of the first word that comes to their mind when they hear your guideline.
This is a great warm up game since it will make the students think in English and encourage them to continue working in that manner.
Tow Truths One Lie
Two truths one lie is a great icebreaker activity especially if you know a little about your students.
The premise is straightforward and it is a great writing practice for the students. Additionally, it allows the students to get to know each other more personally.
The rules for the game are quite simple. Every student should write three statements or facts about themselves. Two of them should be true and one of them should be a lie. After writing their facts, one student should read all three statements and the rest of the class is supposed to guess which one is a lie.
The winner is the person who gets the biggest amount of correct guesses.
A great tip you can use is to tell your students to prepare their statements before the class. This will not only save you time, but it will also make the statements more interesting and personal since the students will have more time to think about the statements they want to write.
Even though this game can be used for all levels, it is best to use it with advanced students because they need to write facts that are convincing which might be a problem for students in lower levels.
Conclusion
Games are an amazing way to teach a language. They are engaging and interesting for students of all levels. These games enable students to have a healthy and positive competition and encourage the student to keep playing and therefore acquire many new language skills. They are motivating, engaging and a great fun in general.
Are you ready to teach English as a foreign language?
Apply now & get certified to teach english abroad!
Speak with an ITTT advisor today to put together your personal plan for teaching English abroad!
Send us an email or call us toll-free at 1-800-490-0531 to speak with an ITTT advisor today.
Related Articles:
Check out what our course grads say in our many video testimonials!
---
---