The Ways Reading Influences Language Acquisition
Reading plays an important role in language learning. It is one of the language skills that can be used to interpret a written text and discuss the given information applying speaking and listening skills as well. Reading different books, texts, advertising wallpapers, or magazines helps us gain knowledge or receive important information. Since old times books have always been one of the main sources of knowledge. While reading people could imagine themselves traveling to different places, having an amazing adventure, possessing pirates' treasure, or even solving a mystery, and at the same time learn about different countries and their cultures. In other words, reading has always provided its readers with something new.
This post was written by our TEFL certification graduate Aya A. Please note that this blog post might not necessarily represent the beliefs or opinions of ITTT.
"The more that you read, the more things you will know. The more that you learn, the more places you'll go." – Dr. Seuss
Let's find out how reading enhances the second language acquisition.
First steps in language proficiency
It is safe to say that the first acquaintance with a language starts when babies are only a few months old. Sounds, the majority of which come from an oral speech, surround children everywhere. Upon their growth, children learn how to join and pronounce their first syllables and recognize familiar patterns (phonemes). Later on, the children put words to construct simple sentences. When listening to stories read or told by grown-ups, children build up some vocabulary and also learn the meaning and pronunciation of words. It is at this period when they start to apply different reading strategies by asking questions, inferring, or making connections, thereby developing their comprehension.
Also Read: Comparing English Language to Chinese Language
Reading is a perfect tool for increasing vocabulary
Each of us has a priority in literature genres: fiction, detectives, comics, mystery, or love story. From my personal experience as an adult, I can say that we picked up something to read based on our interests even when we were very young. While reading an interesting book, we looked at bright and colorful illustrations, visualized, and gained the information that enabled us to learn new words and their meanings unconsciously. Soon some of us would enjoy reading and even develop a passion for it, simply flooding into reading, and as a result, enriched the vocabulary to a great extent. From the study in the field it can be deduced that parents or adults who follow the child's interests and use the language related to the topic will bring up their child with more advanced vocabulary.
In the process of reading, learners are exposed to new vocabulary, which they can absorb and understand or guess its meaning through various context clues. As readers come across the same words in a variety of sentences, there will be an opportunity for them to recognize a different usage of the word. Furthermore, reading develops visual memory, the reader remembers the spelling of new words and their usage in different sentences. In this way, the reader hears and sees new words in grammatically correct sentences in the context. Further, using phrases with new vocabulary, idioms, or sentences from the texts while answering questions, summarizing, and predicting will strengthen the language learner's comprehension. Also, the learner's oral speech will become richer, more coherent, and fluent.
Also Read: Where do schools provide free housing for English teachers abroad?
Reading can also improve pronunciation if supported by some special activities or techniques
Whilst learning the language, a learner needs to know how to pronounce words correctly. Choosing audible books, for instance, would be beneficial for the language learner since the reader will hear the audio first and then read the text checking the pronunciation of unfamiliar words to avoid wrong pronunciation. Also, the learner needs to practice reading aloud activities that imply repeating and drilling the new vocabulary over and over.
Do you want to teach English abroad? Take a TEFL course today!
Beyond doubt, reading brings many benefits to the second language learner, the same as to the native speaker. It boosts the vocabulary that enables the learner to comprehend competently and develops other language skills that are essential in writing, listening, and speaking. What is more, by developing all these skills the learners can raise their self-esteem, feel confident, and succeed not only in their academics, but also in their future life trying to open new doors, realizing their potential fully, and applying the acquired skills, their powerful tools.
Apply now & get certified to teach english abroad!
Speak with an ITTT advisor today to put together your personal plan for teaching English abroad!
Send us an email or call us toll-free at 1-800-490-0531 to speak with an ITTT advisor today.
Related Articles: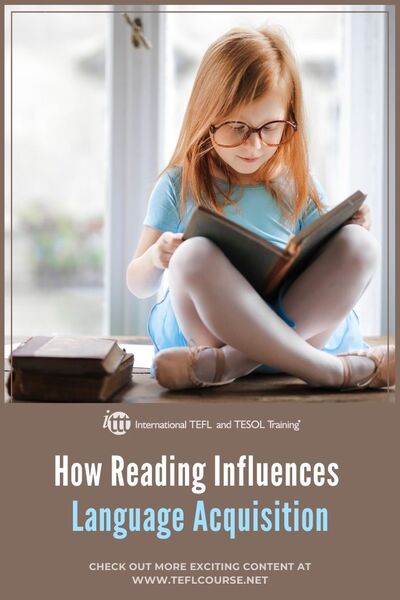 ---
---