The Importance of Stories in Teaching English to Young Learners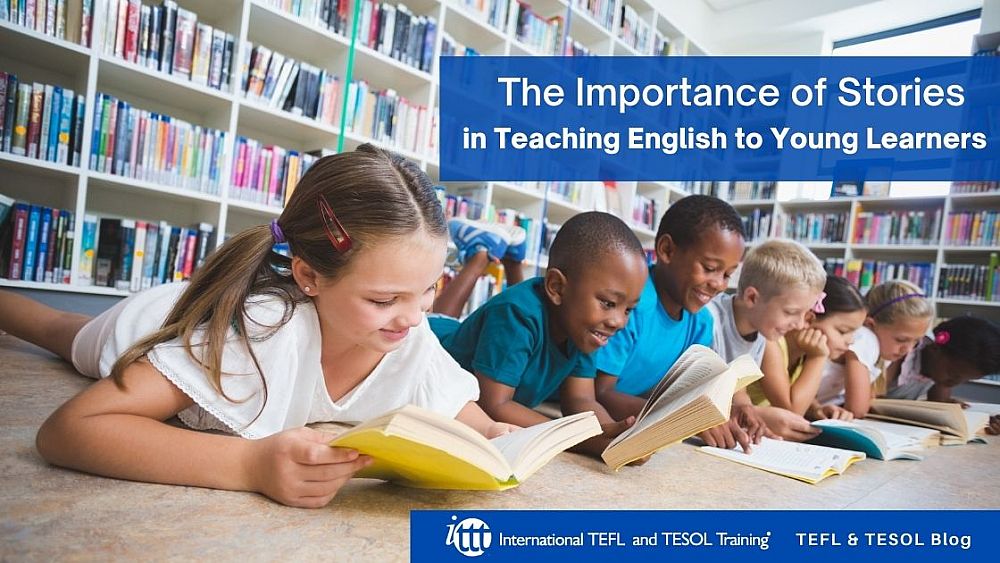 In the education world, the potential and value of using stories and storytelling techniques have always been known and recognized, especially in the context of teaching younger students. Recently, more and more EFL teachers of young learners are integrating carefully selected children's literature stories to teach English. Children's literature is such a significant part of English language literature - using it for teaching English can be a very motivating tool for young learners.
Why Use Stories in Teaching English?
Stories chosen from children's literature provide an excellent resource to develop a variety of language and learning activities, and the carefully selected materials can be appealing not only linguistically but also cognitively, socially, and culturally. Reading stories allows teachers to create a natural learning environment, where students have the opportunity to be surrounded by engaging listening and reading materials to allow them to get familiar with the foreign language.
Advantages of Stories in Teaching English to Young Learners
Research proven benefits:
A study conducted on a group of young Iranian English learners (Kalantari &Hashemian, 2015) demonstrated successful results. Once the students had been introduced to the key vocabulary using pictures and gestures, the teacher started telling the stories. Thanks to the visual presentation support used to facilitate the comprehension process, the storytelling approach to teaching vocabulary proved effective for the students.
Columbian study on using stories to teach English to learners in early elementary grades (Porras, 2010) showed increased motivation, greater participation in different activities, increased comprehension of the stories, and better acquisition of the new vocabulary.
Turkish study on story-based activities (Abasi & Soori, 2013) indicated that young learners gained meaningful input while staying highly motivated, entertained, and engaged.
Predictable Patterns and Enhanced Learning
Young children enjoy predictability: predictable patterns such as familiar sequences, repeated phrases, and rhymes are excellent for language learning. Predictable pattern books with simple text increase the young learners' confidence in understanding English and make learning through story-reading an engaging experience. Examples of predictable pattern books that could be used with young ESL students are:* The Three Little Pigs* Three Billy Goats Gruff* The Gingerbread Man* The Wheels on the Bus* Brown Bear, Brown Bear, What Do You See?* The Farmer in the Dell* If You Give a Mouse a Cookie
Better Vocabulary Acquisition Through Stories
According to Eowyn Brown, the author of Using Children's Literature with Young Learners, children's literature can be used successfully in an ESL classroom and is able to provide students with "exposure to new, illustrated vocabulary in context, provide repetition of keywords and phrases...and provide a sense of accomplishment of study that finishing a single unit in a textbook cannot provide". Stories are able to increase the students' exposure to the new language and help them build their English vocabulary in a meaningful way.
Teachers can use online stories developed by Cambridge English Online, for example, Little Red Riding Hood. It also allows teachers to print the story, as well as an activity accompanying each story, along with the answers. Such stories are ideal for learners 3-6 years old with some knowledge of English, and reading/watching the story helps the young students improve their language skills. Cambridge English Online stories are accompanied by flashcards to help children learn new words and understand the new vocabulary, along with a word quiz to practice reading and pronouncing the words.
Grammar Learning Through Stories
The sequence of the plot can be used to teach the concept of time progression and verb tenses. Through careful intonation and gestures, teachers are also able to make the concept of the use of pronouns more clear to young learners. After reading the story, the students can be engaged in placing story strips in the right sequence in order to recreate the story and practice verb tenses in a fun, engaging way.
Choosing Appropriate Stories
Colorful and memorable illustrations: Young learners are able to associate a new vocabulary word/phrase with a picture, making it much easier to remember
Simple vocabulary and grammar: Stories need to be adapted to the student's language level, and young learners often do not have advanced skills to understand a more complex plot with a more vivid vocabulary.
'Big books' - Large books with big print are effective for read alouds, because they allow the students to make connections between the pictures and the written text.
Themes suited to your audience: Young English learners seem to enjoy traditional folk literature because stories such as Hansel and Gretel or Jack and the Beanstalk are timeless tales with moral messages. Simplifying the story text might be necessary because fairy tales often do not have repetitive, easier-to-understand language.
Culturally familiar to the students: Students learn better when the stories are more culturally relevant and contain settings and themes that are familiar to them.
Conclusion: Stories as a Powerful Teaching Tool.
Concluding, children's literature stories can be very motivating for young English learners by creating an engaging and exciting learning environment. Such stories constitute a great resource for effective language learning, and English language teachers should use stories as a powerful tool in their teaching repertoire. Teachers should remember, however, to make thoughtful and careful selections of stories to adapt the stories to their student's proficiency level and decide whether they are interesting and suitable enough to allow for understanding and language skill development. Used that way, reading stories to young students can be a powerful and appealing English teaching method.
Are you ready to teach English as a foreign language?
Apply now & get certified to teach english abroad!
Speak with an ITTT advisor today to put together your personal plan for teaching English abroad!
Send us an email or call us toll-free at 1-800-490-0531 to speak with an ITTT advisor today.
Related Articles:
Check out what our course grads say in our many video testimonials!
---
---