The 10 Best Cities in Japan for Teaching English
Japan has been a popular destination for teaching English abroad for many years. This is mainly due to the country's vibrant culture, the great food and friendly locals. Japan has a lot to offer and it can be overwhelming to find the ideal city to move to. This post looks at the 10 best cities in Japan for teaching English abroad. All cities are listed in no particular order.
Table of Contents
Are you ready for your teaching adventure in Japan?
Check out what our course grads say in our many video testimonials!
Also check out our other related Japan content:* Step-By-Step Guide To Legally Teaching English in Japan* Teaching English In Japan - The Salary and Budget Guide* The Japan Exchange and Teaching (JET) Program: All You Need to Know and How to Apply* The Most Common Problems Students in Japan Face When Learning English
1. Tokyo
Living in Tokyo is a dream that many English teachers have. And yes - Tokyo is an amazing place.
Tokyo is the capital city of Japan and one of the most populous metropolitan areas in the whole world. It is also one of the most captivating cities in the world, as it is home to majestic temples as well as neo-modern areas like the bright neon lights of Shibuya.
What's great about Tokyo is that it truly has something for everyone. If you decide to teach English in Tokyo, you will have the time of your life. Plan your teaching adventure in Tokyo to perfection with our in-class TEFL course in the heart of the city or take an online TEFL course to get ready for teaching English Japan!
2. Yokohama
If you are looking for a place that combines the convenience of an urban city while still being able to find some quiet spots away from the bustling center, Yokohama is a great choice.
Since it is Japan's second most populated city located in the Tokyo urban area, you are always only a 20-minute train ride away from the fascinating city of Tokyo. You are also far enough away to enjoy a more calm atmosphere.
What's more, Yokohama is famous for its entertaining bay and Chinatown that are not to be missed by curious travelers and food lovers.
3. Kyoto
Kyoto is considered by many as the most beautiful city in Japan - and it's not hard to see why! Kyoto was the capital of Japan until the government moved to Tokyo in 1868. However, Kyoto still remains the religious center of Japan with over 1,000 Buddhist temples and shrines.
Kyoto is also home to some of the most iconic landmarks in Japan: the famous golden temple Kinkaku-ji and Fushimi Inari Taisha, the photogenic Shinto shrine with famed gates, just to name a few. Teaching English in Kyoto will be an incredible experience where you might just find your inner zen.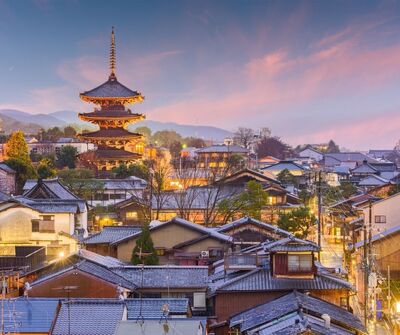 4. Osaka
Only a short train or bus ride from Kyoto is the beautiful city of Osaka. What many don't know is that Osaka is Japan's third-largest city and was the country's first capital.
Osaka is also considered a vital economic center in Japan, which is perfect for hunting for EFL jobs! Osaka is also nicknamed "the nation's kitchen" due to its culinary scene. As you can see, teaching English in Osaka will be a total adventure and you will not get bored here. Just like New York City, Osaka is a place that never sleeps.
5. Nagoya
Another great city in Japan for teaching English is Nagoya. It's not only the largest city in the central Chubu region, but also a major port in Japan. That's why there are also abundant opportunities for teaching English here.
On top of that, Nagoya is an important hub for Shinkansen bullet trains making it easy to travel around the country.
Nagoya also offers a lot of things to do from shopping to science and kid-friendly amusement parks, you won't get board teaching English in Nagoya.
6. Hiroshima
History lovers might find their perfect place in Hiroshima. The city's deep historical roots are widely evident in Hiroshima's many ancient gardens and castles and, not to mention, the reminders of the bombing during World War II.
Besides its historic sites, Hiroshima and its neighboring island of Miyajima are not only home to more than 1 million people but also a popular tourist destination in Japan.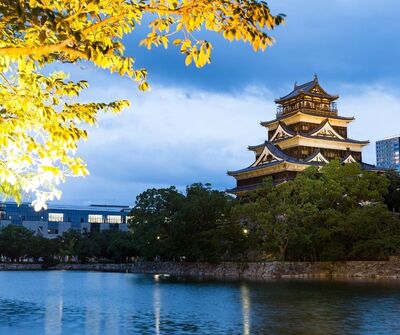 7. Fukuoka
If you are looking for a great city to teach English in the south of Japan, Fukuoka is an excellent choice. Fukuoka is not only listed among Japan's ten most populous cities but it's also the largest city on the island of Kyushu.
There is such much to see and to in Fukuoka, so you can be sure your time teaching English there will be packed with amazing travel experiences. Canal City Hakata, Fukuoka Tower, and Ohori Park are only a few of the many awesome attractions to check out in Fukuoka.
8. Kobe
Kobe is a great choice for teaching English in Japan because the city is located in an excellent location. It's close to Osaka and Kyoto and is also considered to be one of the most beautiful port cities in Japan. Kobe is enclosed by the ocean on one side and majestic mountains on the other.
As if all of this wouldn't be enough, Kobe is also famous for its delicious Kobe beef! It's delicate, flavorful, tender, and has a gorgeous fatty, well-marbled texture.
9. Sapporo
Are you a winter sports enthusiast? Then you might want to consider teaching English in Sapporo! It's the capital of the northern island of Hokkaido and is known as a mecca for winter sports and outdoor areas.
On top of that, Sapporo is the fifth-largest city in Japan and famous for its great ramen and beer. Since Sapporo is a main tourist destination in the country, English language education is booming in the region, leading to a lot of attractive job opportunities to TEFL/TESOL qualified teachers looking to teach in Japan.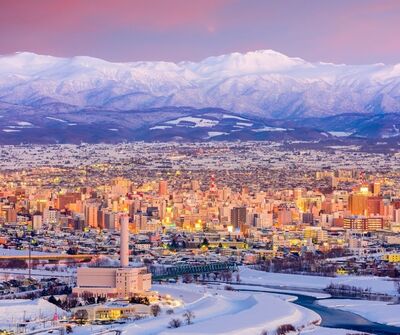 10. Takayama
Located in the heart of Japan in the area of the Japanese Alps, Takayama is a great place to experience the Japanese culture of yesterday and today. The whole area is stunning with green fields dotted with picturesque farmhouses, shrines/temples, Japanese gardens, and even castle ruins.
Takayama is a place where time seems to stand still. That's why it's ideal for anyone not into the hustle and bustle of a big city. Head to Takayama and check out some amazing historic buildings, such as Edo period houses and samurai dwellings.
Are you ready for your teaching adventure in Japan?
Teaching English in Japan is an incredible experience. We are sure one of the cities above will be the perfect fit for you - but wherever you might find yourself in Japan, you will have an incredible experience teaching English there.
Apply now & get certified to teach english abroad!
Speak with an ITTT advisor today to put together your personal plan for teaching English abroad!
Send us an email or call us toll-free at 1-800-490-0531 to speak with an ITTT advisor today.
Related Articles:
Check out what our course grads say in our many video testimonials!
---
---