TEFL Job Interviews - What to Organize Before the Interview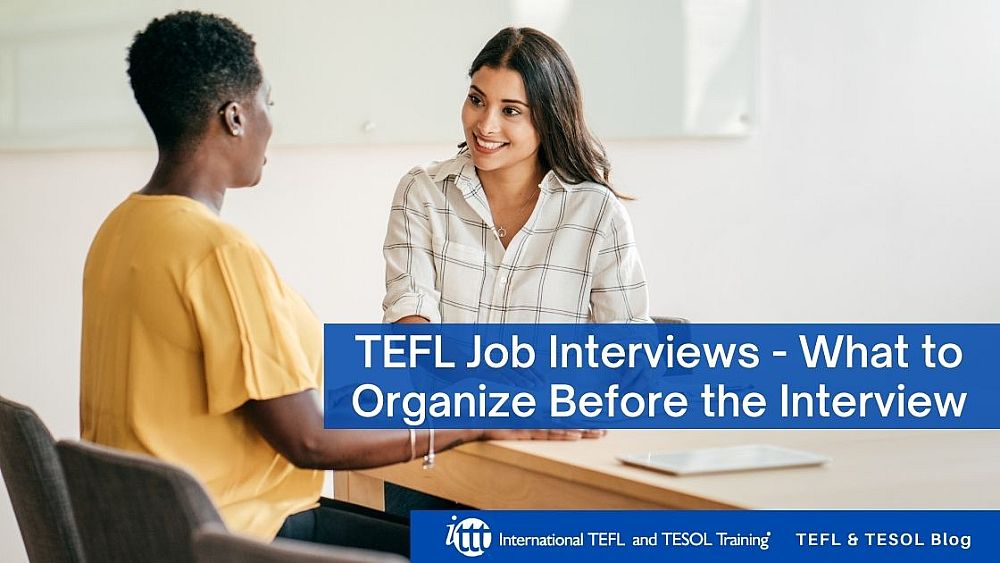 In this blog post, we will consider a pre- TEFL interview checklist, so what's really important for you to organize before you do the actual online interview?
Watch the video about this topic
Every interview is a unique experience so here we offer general advice only.
First and foremost you should find a quiet and well-lit spot.Regardless of the time of the interview (day or night) most interviews are via Skype (or similar platforms) so you will be in your home country, at home. You need to make sure that you are in a quiet and well-lit spot in your house, so that the picture and sound quality is great. If you don't have a well-lit place in your house you could buy one of those ring lights for example, they're fairly cheap, or you can just put a lamp behind the computer so that it shines on you and you can get a little bit of more light on your face that works really well.
Also if you have pets close the door so that they don't come in and photo bomb your interview. Whilst this may be acceptable on a YouTube video, it certainly would not go down well in a job interview. A follow-on from this point is to be aware of what is behind your head that will be visible to the viewer?
Make sure that you test your Skype (or other) connection, particularly if you don't use Skype frequently. Maybe test it out with a friend first, so you know it is working before you activate the real interview.
Use earphones and a microphone if you can, as it enhances the audio a lot and will be highly appreciated by the interviewer.
It is very important to make sure that you're online around 15 minutes before your interview starts. You can send them a message 10 minutes before the interview to say you are online now and ready whenever they are. You could add that you are looking forward to talking with them soon, that usually creates a good impression.
Make sure that you dress as if it were a real in-person interview, including that you are wearing nice pants/trousers or a dress a skirt. Even though they can't see the bottom half of you they might ask for something, such as, "Can we see your TEFL certificate?" and you might have to get up and get it, so you need to be fully presentable, in case that happens.
Also non-verbal communication is very important, as it is in a real in-person interview. So watch out for your body language, for example don't start playing with your hair, or making unusual facial expressions. Make sure that you keep eye contact just the same as you would in a real in-person interview.
Finally, remember that you must communicate, so you need to make sure that you speak English correctly and that you can articulate well. If you have the chance to speak to someone before the interview to practice a few answers, then this will give you added confidence and warm your brain up for these types of conversations.
Are you ready to teach English as a foreign language?
Apply now & get certified to teach english abroad!
Speak with an ITTT advisor today to put together your personal plan for teaching English abroad!
Send us an email or call us toll-free at 1-800-490-0531 to speak with an ITTT advisor today.
Related Articles:
Check out what our course grads say in our many video testimonials!
---
---