Teaching Special Groups in ESL - Teaching Individuals (One-to-One)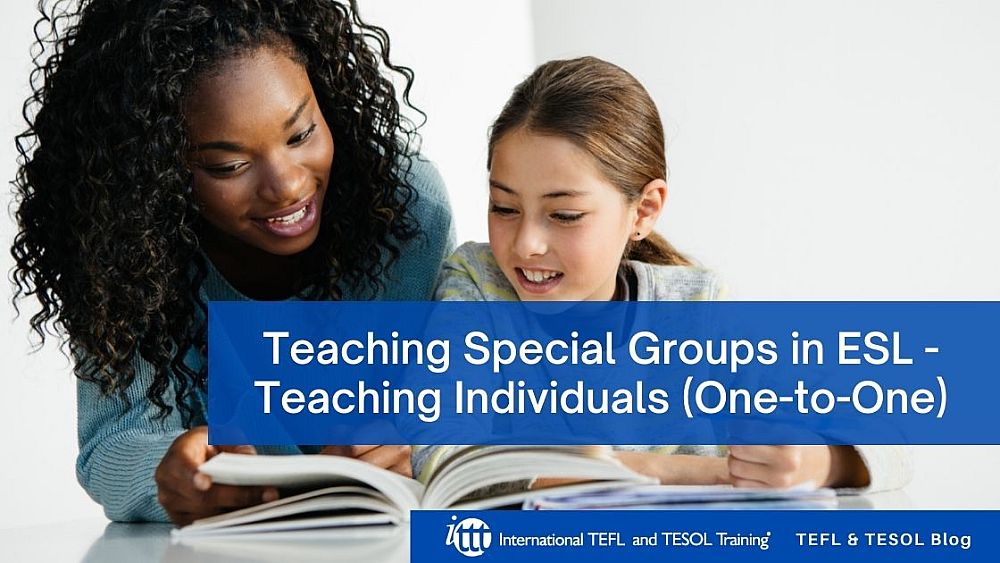 How do you teach just one student using the communicative approach? Here we discuss how you can adapt to this particular teaching situation.
Watch the video about this topic
Positives and negatives
The category of teaching individuals is also known as teaching one-to-one and it forms a very large part of the ESL teaching market. Teaching one-to-one has some positive and negatives about it. Perhaps the main positive is that because you've only got that single student you're only ever working at one learner level so there's no chance of any mixed ability.
With only one student perhaps the main potential negative point if we're not careful is that there is very little dynamic with only two people (you and the student). This means that you as the teacher will quite often have to become involved in the actual lesson process itself.
Needs analysis
So here are a few ideas just to bear in mind when you are teaching one-to-one.Firstly because you only have one student it is quite important that before you actually start the course you do some form of needs analysis.
The idea of the needs analysis is to find out what the student already knows and what they are going to need to know from their English learning program and then you can then from that, you can start to create a syllabus.
Teach to their interests
Another thing with teaching one-to-one is that it's quite important that you concentrate your teaching on their interests. There is a potential with only one student for it to become quite boring so if you focus your teaching around the areas that you know they're interested in that will help to keep your lessons exciting.
All four skills
Also despite what the student may think that they need it is important that you cover all of the skills. They may want to try to avoid listening skills but it's important for you as the teacher to make sure that they get an equal coverage of all four skills.
Vary the stimulus
As there is only one student it's also very important that you vary your activities as often as possible and within that we may even say to vary your approach not only your activities so the methodology you use to teach should be varied as often as possible to try to keep it fresh.
Are you ready to teach English as a foreign language?
Apply now & get certified to teach english abroad!
Speak with an ITTT advisor today to put together your personal plan for teaching English abroad!
Send us an email or call us toll-free at 1-800-490-0531 to speak with an ITTT advisor today.
Related Articles:
Check out what our course grads say in our many video testimonials!
---
---