Teaching Cambridge English in a Hong Kong Kindergarten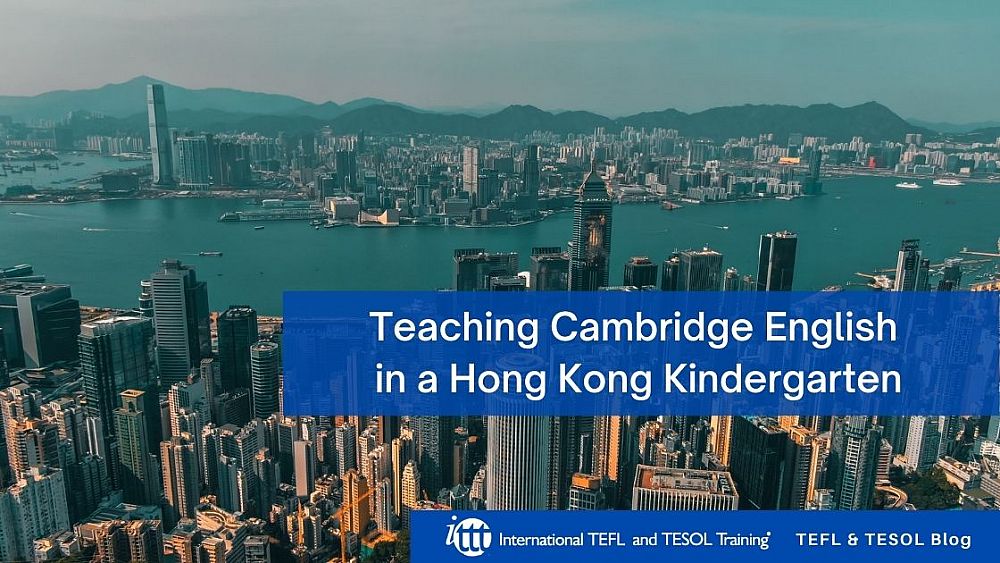 In Hong Kong, the education system is competitive where the majority of people try their utmost to study in a better school. They are also required to learn Cantonese, English, and Mandarin starting from kindergarten. In order to get into a renowned school, the Cambridge examination becomes an important criterion for getting into a famous school, and therefore, Cambridge English lessons become much more popular in Hong Kong city.
Cambridge exam: Young learners
The Cambridge English exams are designed for different levels of English learners. For children in kindergarten, Cambridge English for young learners is suitable for them. It is designed for children in primary or lower-secondary education. There are three tests in total, including Starters, Movers, and Flyers. Each test covers reading, writing, listening, and speaking.
Planning Cambridge lessons for children in kindergarten
1. Choose theme book
To plan the Cambridge lessons for children, it is advisable for you to learn about the syllabus by reading the theme book in advance. There are a lot of Cambridge theme books to choose from in the book store. For my kindergarten, we mainly use "Storyfun" for young learners (YLE) published by the Cambridge University Press.
The theme book "Storyfun" contains eight stories followed by fun activities, songs, and exam-style questions that practice grammar, vocabulary, and skills.
Other than the theme book, we also purchased mock exam papers for training and preparing the test.
2. Plan curriculum
Now we have the theme book on our hands. It is time to design and tailor made the curriculum for your children according to their levels.
Read and analyzeTo begin with, I read and analyze the English skills and exam techniques from each story. For example, the first story is about "Numbers," which contains vocabulary learning (one to ten), color matching, listening, and matching skills, etc.

Organize the themeAfter analyzing the content from the story, I examine which story and skills are the easiest for my children and put them in the first lesson.

Write curriculumAnalyzing the contents of the story helps you to set up the learning objectives in the lessons. The content and skills teaching in the story are the learning objectives, such as reading numbers (one to ten) and matching the names to the numbers.
After that, design how you wanna present the lesson by adding the story and games from the book. I usually start the lesson by singing "Hello song," followed by a story and a game afterward. Finally, there will be an exercising time for children to consolidate what they have learned in the lesson.
The procedures will be:* Welcoming* Story* Game
* Exercise
3. Prepare teaching aids
Teaching aids are a tool and equipment used in teaching as a supplement in classroom instruction to enhance the interest of students. I make fun and attractive teaching aids based on the story, like different shoes card pictures for children to count when teaching counting, vocabulary cards for reading and playing. In each theme, I selected three to four key vocabulary and printed them out in the word cards. These vocabularies are chosen based on the vocabulary list provided by the Cambridge English test.
On the other hand, I designed different worksheets for children to complete at the end of the lesson. Worksheets and exercises are designed referring to the mock paper booklets. Same as above, I first analyze the skills and content in the exercise (matching, coloring, listening, reading, speaking, etc.), and then modify the content a bit by merging the school syllabus, so it is more effective for children to learn. For instance, matching the fruit name based on the fruit theme, they are learning in school.
Teaching Cambridge in a fun way
Children love to play. Jean Piaget emphasized the importance of play in the development of abstract imaginative thinking and the realization of goals children cannot yet achieve in real life. Therefore, having games in the lesson is so important for young learners. Here are some game ideas to play with kids when teaching:
What is Missing? (Take away the objects and ask them to find them out )
Hangman (Spell the words by guessing)
Categories (Put the objects into different categories)
Bingo
Memory game (Cover some of the words and rename the words)
Resources for teachers
If you need other teaching ideas, Cambridge English provides free resources and references for teachers and learners. It includes mock paper tests, learning online games for kids, vocabulary lists, lesson plans, activities, etc. Do take a look and gather different information before planning lessons for your children!
Are you ready to teach English abroad or online?
Apply now & get certified to teach english abroad!
Speak with an ITTT advisor today to put together your personal plan for teaching English abroad!
Send us an email or call us toll-free at 1-800-490-0531 to speak with an ITTT advisor today.
Related Articles:
Check out what our course grads say in our many video testimonials!
---
---