Supporting Neurodiverse English Language Learners in the Online World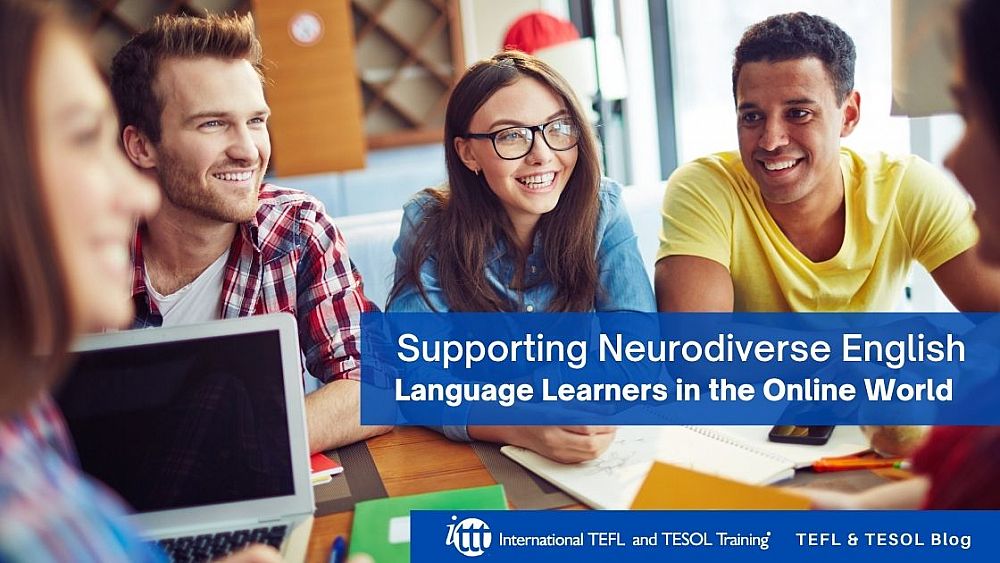 Neurodiversity celebrates the differences between our brains and as a concept in itself, it is relatively new. It was first used in a magazine back in 1998 and was coined as a term by Singer in 1999, whose son had Asperger's syndrome.
Neurodiversity describes the different ways in which brains develop, leading to different strengths and challenges related to thinking and learning.
People with dyslexia, autism and ADHD are examples of neurodivergent learners. Neurodiverse English language students are not trying to be disruptive just because we must support and have modifications in place to make the educational process more accessible to all. Some neurodivergent students may have disabilities, but others may not.
First, we must educate ourselves and learn about specific conditions that will help us support these students in their learning process. However, it is important not to stereotype or label students - all students can show neurodiversity at times, especially in new circumstances.
Then, we need to get to know our students. To do this, talk to students and their parents and find out the strengths and challenges that students are experiencing, as well as the support available at home or elsewhere. Take note of what the student can do and enjoy doing, and then start looking for the best teaching methodologies and resources; some educators call this an "individual support plan."
We may need to start thinking about modifying your teaching style, adapting how you teach specific children, and spending more time checking in with children to see how they're getting on. Student-focused learning is a broad educational approach that places students at the focus of the learning environment. This approach works very well when teaching a new language to neurodiverse students.
Here are some ideas that are low-cost and simple for online learning on how to create a more accessible online English classroom:
Use accessible fonts, colors, and contrast when designing homework, worksheets, and class announcements.
Look for opportunities for students to express and communicate their thoughts in ways that don't require language, like moving, drawing, using icons, or acting out scenarios.
Record audio versions of printed instructions for the assignment so that your students can listen to them repeatedly.
Create captions that describe both the audio and video components of multimedia activity.
Make assignments clear and check the understanding of your students.
Recommend tools to your students to organize their learning, such as folders and calendars.
Supplement text with pictures, ask them to show you manipulative objects, organize kinesthetic activities, and involve the use of all of the senses whenever possible.
Recap previously learned material or units at the start of the next module for multi-part courses.
Let students know in advance all the materials they need to participate successfully.
Using colored text helps some people learn but makes it difficult for others, so make sure you do understand how your individual students react to colored texts.
Use the audio and text together. When you explain something verbally, lean on an image.
Use social stories as much as possible.
Don't overload the PowerPoint screens with too much text.
Learn about text-to-speech and speech-to-text functions that students might have on their devices.
Although incorporating these ideas may take some extra effort, you will find that practice will make it easier. You may have to plan ahead more, but using these strategies will enable students to learn from you and go back to the activities and learning resources when you are not around.
It is very common for neurodivergent students to have specific and spectacular strengths. So, as well as working hard on the things your students find difficult, remember to praise them for those areas in which they thrive.
So the goal is to increase the inclusion of neurodivergent learners into the English Classroom and to recognize their fantastic and unique strengths. And in my opinion, that is what good teaching is all about.
Apply now & get certified to teach english abroad!
Speak with an ITTT advisor today to put together your personal plan for teaching English abroad!
Send us an email or call us toll-free at 1-800-490-0531 to speak with an ITTT advisor today.
Related Articles:
Check out what our course grads say in our many video testimonials!
---
---