Productive and Receptive Skills in the EFL Classroom - Potential Problems with Receptive Skills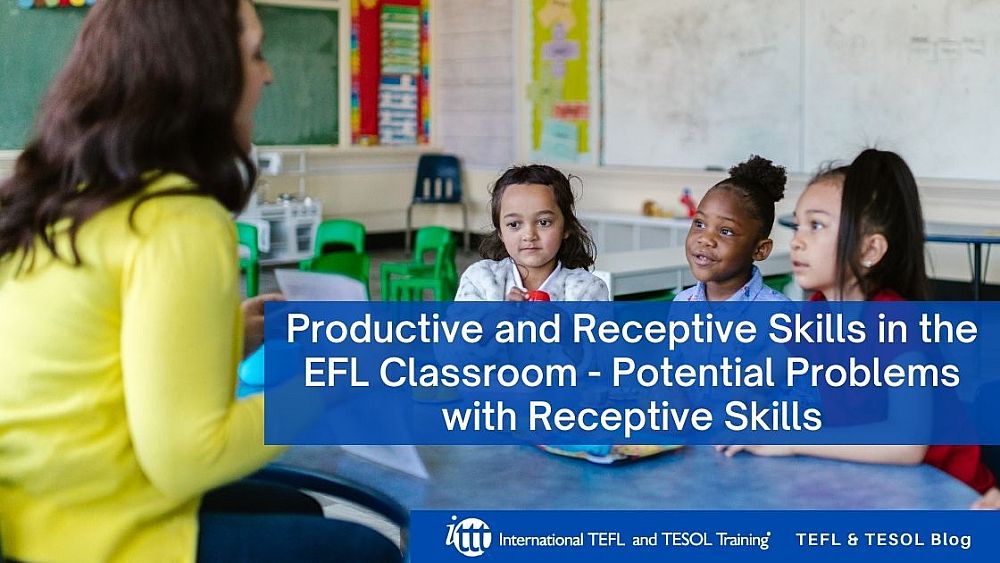 Before we start looking at the actual receptive skills lesson, it is useful to think about what potential problems there could be in these lessons.
### Watch the video about this topic
So what things could go wrong in a reading lesson?
Firstly, when the students are reading in a language that is not their native language, they tend to read every word as a separate piece and when reading word to word, it is very difficult to get an overall impression of what that particular text is saying.
Secondly we need to consider the sentence length, in a lot of articles that we will have available this can be very long and many of our students will not be used to that depth of language. So it's important to have a think about the way in which the text has actually been written and whether it will be easy to read.
The final point to consider is the actual structure of the article itself. So how is it written, is it very formal, or is it in the form of a postcard or an email where most of the students will be familiar with that type of writing.
So what things could go wrong in a listening lesson?
Perhaps the most difficult thing to overcome in a listening lesson is that the information is in the form of a continuous stream of words. This means that a certain word will enter into our ear pass through our brain and then that word is then gone. So unlike reading, where if we're scanning through and we're not sure what that word means, we can go back, in a listening lesson once something has been said, it's gone and so it's very difficult to get that information back.
Secondly a problem that can occur in a listening lesson is when the information is presented too quickly. So for many students the actual speed of speech can be a problem.
One final potential problem that could occur could be due to the teacher's accent. Very often our students are used to us as their teacher as we're speaking to them every day. But if we play some information from a CD or a tape recording of a different situation with different people, then they may not be used to those particular accents.
However having considered that there are these potential problems one thing we can then do, is to think about ways in which to avoid them.
Are you ready to teach English as a foreign language?
Apply now & get certified to teach english abroad!
Speak with an ITTT advisor today to put together your personal plan for teaching English abroad!
Send us an email or call us toll-free at 1-800-490-0531 to speak with an ITTT advisor today.
Related Articles:
Check out what our course grads say in our many video testimonials!
---
---