New at ESP? Don't get nervous!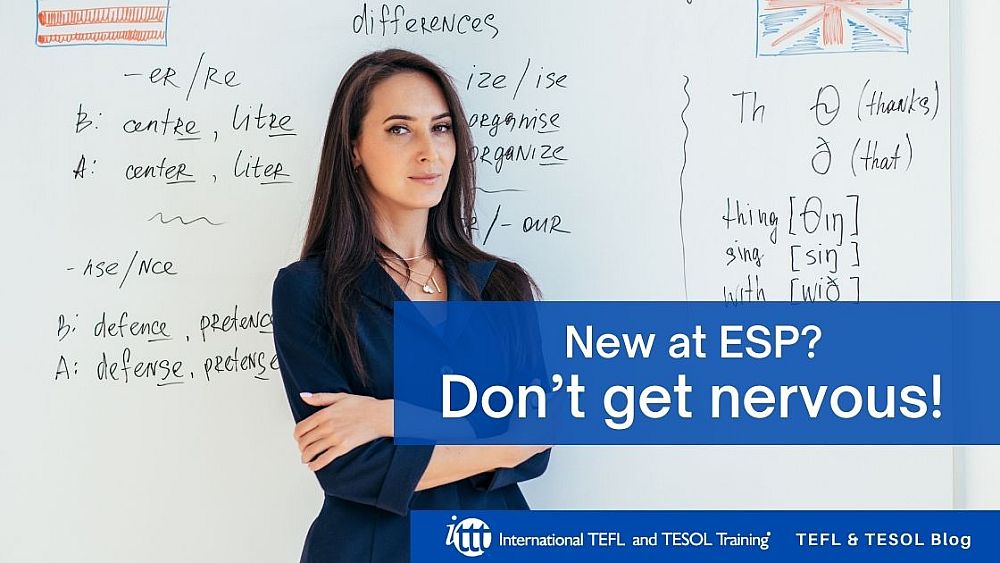 As an ESL teacher, you have probably found students looking for help to develop their English skills in a particular domain of their professional careers, or they look to increase their knowledge by focusing on language in context instead of grammar structures. Although this is a great opportunity to increase the ESL teaching experience, many of us say: "Oh, sorry, but that is not my expertise area, but I suggest asking this another teacher." This article will guide you to give the first step with private students and Online English Courses, learning advice to help any student even if you do not have experience teaching English in their professional area.
What is ESP?
The term ESP stands for English for Specific Purposes; the keyword is "Specific." English for Specific Purposes (ESP) belongs to any particular discipline, occupation, or activity. ESP is a style of teaching where the principal goal of the students is to increase their knowledge of the language applied to their professional careers or occupations (Fitria, 2020). The areas that involve ESP are, for instance:
Biologic and nature sciences
Business management
Computer science
Economics
Engineering areas
Law
Medicine
Psychology
Tourism
Etc.
Nowadays, there is a huge amount of people across the globe who wants to improve their English skills due to the key language in the fields of commerce, science, and technology. That is why ESP has become an innovative root within the Teaching English as a Foreign Language (TEFL) members (Anthony, 2007).
How to organize your ESP classes for private students and online courses?
Step 1: Identify what they need
Once you are decided to help those special students with specific English goals, it is important to do a "Needs Analysis" from your student. This Needs Analysis will help you to determine the language skills your student wants to improve or needs (Fitria, 2020).
In order to know the English skills your students want to improve, as well as the topics and vocabulary they are interested in applying on their professional careers, you can carry out one of the next activities:
Schedule a previous meeting with your prospect student(s).

Make a survey that they have to answer with key questions to identify their needs. You have to include on the survey:
Company name.
Position and responsibilities.
Which English skills are more applied?
Which English skills need more practice?
Be clever in the survey to obtain as much information as you can. Therefore, with this information, you will have identified your student's goals to learn as well as their needs for the language.
Step 2: The Syllabus
The ESP program is goal-oriented, so an ESP Syllabus must be designed appropriately based on the Needs Analysis carried out. You can consider every position or task work of your student's profession as a Topic to develop, as well as vocational demands (Javid, 2013).
For instance, if you have a student whose occupation is a Chemical engineer and he or she works in the Chemical industry, both analyzing quality and monitoring chemical reactions for their products, you can adjust general topics to be part of her or his syllabus. Some topics you can establish according to their Needs Analysis are:
Reactive chemicals.
Risk management.
Good Laboratory Practice.
Safety Facts Sheets.
You are probably thinking: "Chemical engineering? It sounds such a complicated topic!" It is not as complicated as you imagine. Regardless of the professional career or your student's occupation, you only will guide your student on the vocabulary and context acquisition of those topics in English.
Step 3: Professional material
Additional to non-authentic materials such as English books for specific careers, there are authentic materials that you can adjust to your ESP classes to make them not only innovative and integrated into students' real world but also to perform specific job-related functions during an ESP class. These authentic materials can be obtained from official websites that will help you to find scientific articles related to the professional area of your students.
Here you have a list of online platforms to obtain scientific and job-related articles, so you as your students, will get used to the technical vocabulary and context of their professional nature:
Harvard Business Review
This website shares the latest information and research about Business, Politics, Law, Science and Technology, and more. It can provide you with reading material as well as listening material such as videos and podcasts.
BBC Science
You will find articles and topics related to climate, health, business, science, arts, and the latest news about scientific facts on this platform.
ResearchGate
This is a popular website among universities and postgraduates. It is consulted by scientists, clinicians, students, engineers, public health workers, lab technicians, computer scientists, etc., so you will find very useful lectures to use and get technical vocabulary.
Academia.edu
Academia is a platform for sharing and providing academic research for free. Here you can download articles about any topic, from tourism and business to engineering and medicine.
Scribd.com
This website looks very similar to Academia.edu. Although it has more restrictions, you have access to a great number of documents from different sources, universities, and specialists of the subject you are interested in.
Google Scholar
Find interesting papers to use in your ESP classes. This website is more restricted because you can find both free papers to download and papers that you only will be able to see only if you pay for them.
Earthwatch
This website will provide you with listening material as well as reading material. You will find interesting podcasts to choose from more than 40 field research expeditions around the world related to Environmental projects, medicine, education, and more.
Step 4: Guide your students through the English language, as you already know!
Do it just the way you do! Engaging, studying, and activating the technical vocabulary you get from real content. Let the students do the rest, and they are specialists in their subject.
Conclusion
Give you the chance to start! So you will increase your experience as an English teacher in more areas. An ESP teacher must be able to switch from one professional field to another without feeling frustrated or afraid about it.
Besides, the ESP teacher should be able to make use of the students' potential knowledge in their professional area to identify keywords and phrases that will help the teacher to develop and research new material around those key phrases.
Also, you can organize speaking practices around job-related questions of the student so he or she will be able to apply the technical words you were attending during the course, taking as references the papers and official articles obtained from professional websites.
Are you ready to teach English as a foreign language?
Apply now & get certified to teach english abroad!
Speak with an ITTT advisor today to put together your personal plan for teaching English abroad!
Send us an email or call us toll-free at 1-800-490-0531 to speak with an ITTT advisor today.
Related Articles:
Check out what our course grads say in our many video testimonials!
Works Cited
Anthony, L. (2007). The teacher as student in ESP course design. In The Proceedings of 2007 International Symposium on ESP & Its Applications in Nursing and Medical English Education, 70-79.Fitria, T. N. (2020). Teaching English for Specific Purposes to the students in English Language Teaching. Journal of English Teaching Adi Buana, 55-66.Javid, C. Z. (2013). English for Specific Purposes : Its Definition , Characteristics , Scope and Purpose. European Journal of Scientific Research, 138-151.
---
---