Montessori Approach to Teach Reading to ESL Students
Reading and writing are sometimes taken for granted by adults who have mastered the skills-but looking at them from a toddler's perspective in Montessori classroom, they are skills of extraordinary difficulty. Literacy is a complicated, challenging process that includes the association of symbols with sounds, sounds with words, and words with ideas.
This post was written by our TEFL certification graduate Abuduxukuer A. Please note that this blog post might not necessarily represent the beliefs or opinions of ITTT.
Description of the Way
The Montessori approach uses a moveable alphabet, sandpaper letter, and objects to practice positive, natural learning experience to teaching reading and writing. as we know that the Montessori curriculum is carefully built around teaching children many elements of reading one by one, enjoyably by a child. take an example, here are several steps in the sequence used in a Montessori classroom to ensure that children master literacy with pleasure.
Children in a Montessori classroom learn to write first before they learn to read. first of all, they start with the sandpaper letters by using their fingers and trace the letters. teachers demonstrate them by using two fingers and trace the letters slowly. at the same time say the initial sound of each letter. the purpose of using the sandpaper latter is to learn the initial sound .and help young children to remember them by sensory. It's better to divide the children into too a few groups by considering their concentrations during the lesson. those who very active or talkative ones can team up with those who have been already adapted how to work with the teacher.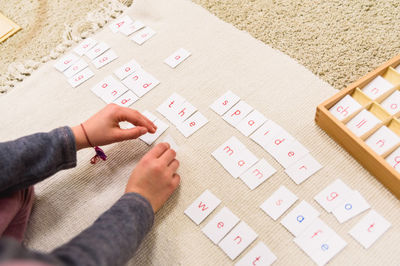 If it's possible that it's good to add an object to each letter .and teacher can create a related story that suitable for students' interests . for example, the teacher can demonstrate two or three students at one time. which has three steps to do it. first, present three letters with their initial sounds and add it's related objects. second, ask questions, such as what does the letter o sound like? and encourage the students to match it with its objects. finally, to make the learning more fun and enjoyable do a competition among students by asking them " who can show me the aa sound ?".
Also Read: Are there any age limits for TEFL teaching?
Further Steps
Once a student has mastered the sounds related to each letter, she/he will be shown the moveable Alphabet, which will create the chance her to easily put letters together, sounding them out to spell simple, then progressively more complex, words. children love to act and learn by doing. take an example, back in 2015, a two and half year- old chines girl who is named RUYI joined our class. and she is the youngest one among students. after the first week of school, she has begun to learn the sounds of the letter. she loves to use the sandpaper letter and trace them with her finger. this has continued about five weeks .and we have started to use the moveable alphabet. every time we work together she can concentrate on her work for nearly twenty minutes. it is a great way of learning to read. she learns best by physically interacting with the word.
Do you want to teach English abroad? Take a TEFL course!
The moveable alphabet allows children to begin" writing"- even before they develop the fine- motor skills to control a pencil. so does RUYI has learned how to use the letter sounds to construct words? the answer is " yes she does", she progresses towards joining words together into sentences of her construction and reads them very slowly. and from there, there is an explosion of writing ability and enthusiasm. after mastering the skills related to producing written letters and words, reading naturally comes as the next step.
Apply now & get certified to teach english abroad!
Speak with an ITTT advisor today to put together your personal plan for teaching English abroad.
Send us an email or call us toll-free at 1-800-490-0531 to speak with an ITTT advisor today.
Related Articles: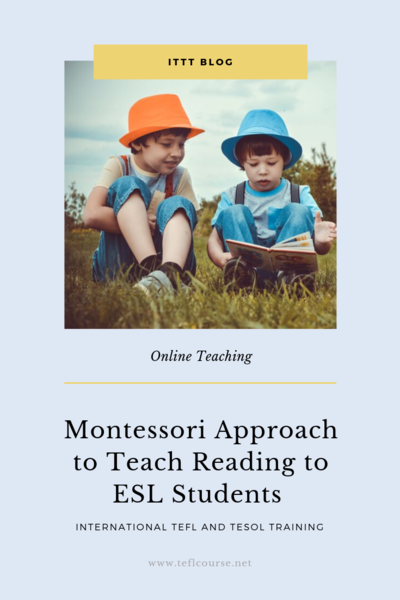 ---
---