Media Influences in Assisting with ESL Learning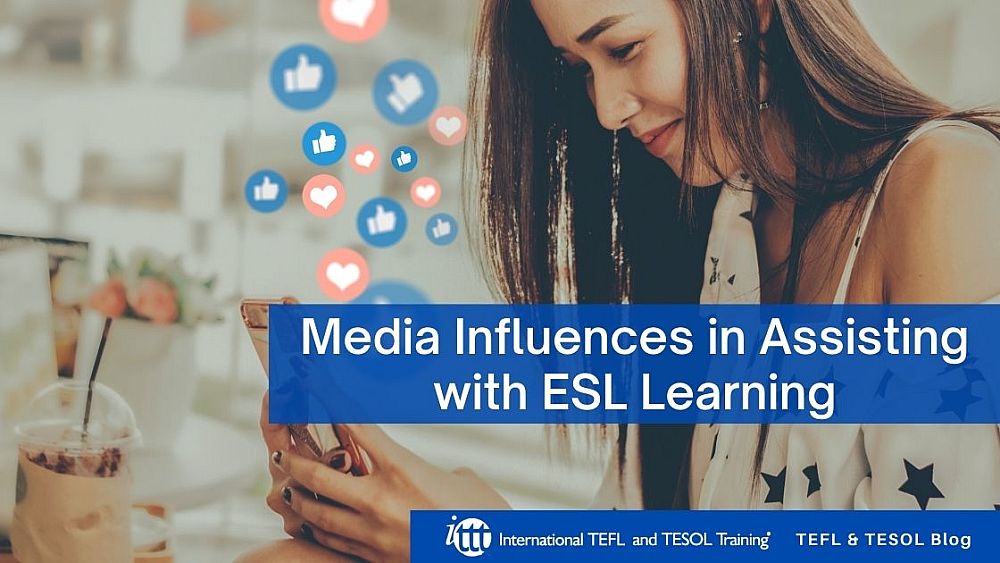 While there is great value in learning a second language, it can also be quite time-consuming. It also requires a good amount of patience and determination. Thanks to technology, the bright side is that learning doesn't always have to feel like work! Continue reading to find out ways to use media to your advantage in assisting students with enjoyable ways to gain their target language skills.
I love Spanish, and when I set out to really learn the language in 2019, I started by taking two college-level courses. These classes gave me a wealth of information on vocabulary, rules, and conjugation, but I still had no idea how to really use Spanish. I felt those classes didn't really do much to teach me much about how to "operate" the language.
Another problem I encountered was after working; it was a challenge to find enough time and energy to dedicate to learning a language. This is something I noticed to be true also when I began teaching English to Adult Learners, who, in addition to working all day, also have children or are caretakers as well.
Part of an assignment I had to do when completing one of my teaching certifications was to research how a person comes to speak their native language. Language acquisition (which is different than simply learning) is something that takes place in a natural manner; it happens subconsciously and almost intuitively with little concern for perfect grammar or pronunciation.
It reminded me of how I began to acquire Spanish and gave me a few ideas I'd like to share on what helped me to develop my language skills when I couldn't always sit down and read the lesson plans my Spanish teacher had so diligently prepared. Most of us spend a large amount of time on our phones anyway, and I decided to use it to my benefit to aid my Spanish journey.
Music
I am a person who absolutely loves music. Before I began learning Spanish, I did a lot of salsa dancing and was lured in by the upbeat tempo of the music. I discovered that when I began learning the language, I recognized many of the words already from the songs I listened to/heard in my dance class or dancing clubs. As I continued to hear words, I recognized I gained more desire to understand the context in which the words were used.
Additionally, for words that I didn't know, I was simply able to use a dictionary to find them. It also helped me to memorize these concepts better and in a way that didn't feel like work because I was actually enjoying simply listening to the music. With time, I became excited I actually understood parts of what the songs were about.
Social Media
Social media can be used as much more than just a place to start arguments with strangers.???? One of the things that helped me get an understanding of how to functionally use my target language was looking at cat memes in Spanish on Facebook and Instagram, and I think it worked wonders in helping me internalize the language. It also increased my vocabulary and reading skills.
If animals aren't your student's thing, that's fine; there are literally thousands of pages or groups available on social media about sports, nature, art, history, travel, etc. There has to be at least one that will stimulate their interests. It may be beneficial to encourage them to join/follow them.
Joining these types of groups will help them not only acquire the language because they are enjoying what they are looking at, but they will also get a more native level experience watching how native speakers talk and interact with each other. They may even get brave and join in a conversation!
YouTube
Another tool I found to be useful in my journey is YouTube. This is where I still find that watching documentaries/shows/comedies or listening to guided meditations/positive messages in my target language helps me with listening, comprehension, memorization, and gaining vocabulary. Do I always understand everything immediately? No, not always; some days are better than others. Do I get the idea of what is going on with what I am watching/listening to? Yes, and my understanding grows as I continue to watch. Again, the acquisition isn't about immediate perfection; it's about the process.
YouTube is also where I watch videos in my native language which discuss the culture/way of life/foods etc., that are popular in the countries that speak my target language. One thing that I believe is important to remember, speaking another language is more than just learning words; it's also about adopting a new culture and creating another identity for yourself apart from the one you are used to.
It is equally as important to make a connection with how the people who natively speak your target language live and see how they interact with one another. YouTube makes it possible to see all of that in living color.
Conclusion:
Learning a second language is an amazing goal, but the task can seem daunting, especially in the life of a working adult, but that doesn't have to stop someone who is otherwise motivated to learn.
These days, where media/technology seems to reign supreme, there are countless ways to use it to your advantage as an enjoyable tool in the journey to acquisition.
Are there any other ways that you believe that media can be a positive influence in attaining a second language? Which would you suggest to your students to explore in their journey?
Are you ready to teach English as a foreign language?
Apply now & get certified to teach english abroad!
Speak with an ITTT advisor today to put together your personal plan for teaching English abroad!
Send us an email or call us toll-free at 1-800-490-0531 to speak with an ITTT advisor today.
Related Articles:
Check out what our course grads say in our many video testimonials!
---
---