Lesson Planning - Part 1 - Why do we plan lessons?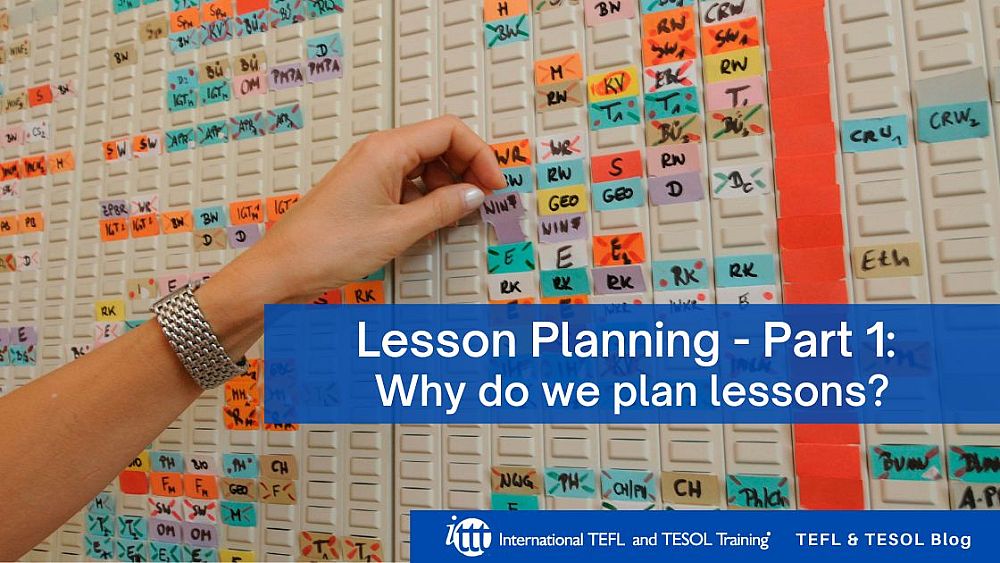 In this blog post, we are going to have a look at some of the reasons why we plan lessons. We suggest there are three main reasons why we need to plan our lessons.
Watch the video about this topic
First and foremost perhaps, is that it's going to create a logical sequence for our lessons. If we didn't have a lesson plan it is quite possible that we could go all over the place and it would become confusing for the students. By having this plan, what we've created is a structure that we can work from. In effect the lesson plan itself is a working document, which we can refer to it at various times in a lesson. If ever we're not quite sure what we're supposed to be doing next, we can just take a quick look at our plan and it tells us where we should be going.
Another important reason for planning your lessons is that it creates a record or document of what has actually been taught. This can be very useful if we are ever questioned as to whether we've covered the syllabus in all its details, then we've got our lesson plan that shows that particular topic has been done.
The final main reason why we plan a lesson is that it can be used for someone to cover your lesson. For example if you have created your lesson plans for the next week and for some reason you can't get into work, then somebody else could use your lesson plans to make sure that the students don't lose their sequence of lessons.
The reasons why we plan a lesson can give us some clues as to what we actually need to put into that plan. Basically there are two areas that we need to cover on our lesson plan in order for somebody else to be able to take that plan and adequately cover our lesson.
Firstly we need to put some general information about the class that is being taught, so how many people are going to be there, what room, the time of lesson, length of lesson and so on and so forth.
Secondly we need to indicate what should happen during the actual lesson. There is no need to script the lesson out verbatim. This is not useful for your planning time or for anyone covering. What you, or a covering teacher need, is a series of clear bullet points as to the structure and a simple board plan to indicate what will go onto the board at various stages of the lesson.
Also note that all pre-planned activities should have accompanying worksheets clearly labeled for purpose, as required by the plan.
Are you ready to teach English as a foreign language?
Apply now & get certified to teach english abroad!
Speak with an ITTT advisor today to put together your personal plan for teaching English abroad!
Send us an email or call us toll-free at 1-800-490-0531 to speak with an ITTT advisor today.
Related Articles:
Check out what our course grads say in our many video testimonials!
---
---