Is getting a TEFL or TESOL certificate difficult?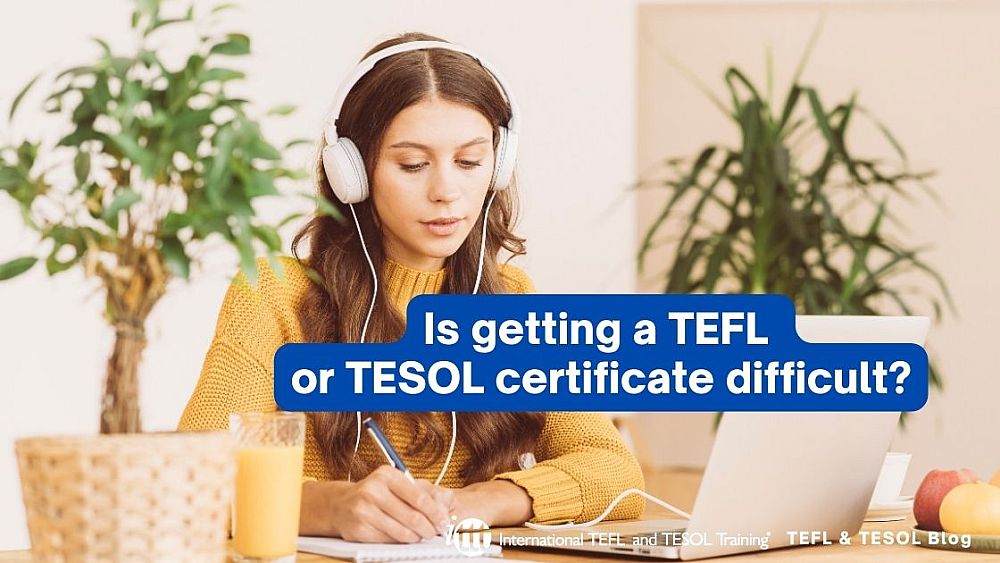 When compared to the requirements to become a regular subject teacher in a state school in most countries throughout the world, entering the TEFL/TESOL market is relatively easy. In a state school a teaching degree is normally required. Gaining a teaching degree (B.Ed) usually takes three or four years of study dedicated to gaining subject knowledge and teaching skills. Whilst the same two areas are covered in any TEFL or TESOL certification course, the time taken to complete the course is greatly reduced. The typical TEFL or TESOL course may only take 120-hours. The teaching of EFL therefore offers you the opportunity to enter the teaching profession in a very short time, compared to the regular teacher training process.
There are a number of ways in which TEFL certification can be obtained and these are described by one of three different categories.
Onsite courses:
You will find onsite TEFL and TESOL courses available throughout the world wherever English is taught as a second or foreign language. The courses typically last for around four weeks and require the trainees to complete a number of teaching practice sessions as part of the course. These courses tend to be the most expensive of the three options.
Online courses:
The growth in online learning has covered the area of TEFL and TESOL certification. You can now take an internationally recognised course from the comfort of your own home, or indeed while travelling as a digital nomad. Courses are for 120-hours certification, but as they are taken online, there is no practical teaching undertaken. These courses tend to be the cheapest of the three options.
Combined or Hybrid courses:
As the name implies this type of course is effectively a combination of the previous two types of course. Typically these courses will be covered over 120-150-hours. An online portion is usually done first, to cover all the teaching theory and language awareness and this is followed by an onsite teaching component. The onsite component is often about half the time given to an onsite course. Price wise these tend to be in the middle of the previous examples.
Training in each of these course types covers the two main areas of, grammar knowledge often called 'language awareness' and 'teaching skills' Language awareness will usually cover such areas as;
The English tense system
The parts of speech
How to teach certain language features used for reading and writing
Modals, conditionals and other structures
Advanced grammar structures, such as reported speech and transitive/intransitive structures
Teaching skills (which are required by the ESL teacher) will cover such areas as:1. How to create suitable materials for your lessons2. How to plan lessons3. The four skills of reading, writing, listening and speaking 4. Motivation of students and building rapport5. How to arrange students for optimum learning
Conclusion
In summary, the ability to enter the teaching world as an ESL teacher having completed only 120-hours of training is remarkable and remains one of the few examples where entry to a profession within such as short time is possible. There are typically three modes of training available to gain certification, which are, onsite courses, online courses and combined courses. Each mode of training typically results in a 120-hour certification, which can be used worldwide wherever ESL teachers are employed.
Are you ready to teach English as a foreign language?
Apply now & get certified to teach english abroad!
Speak with an ITTT advisor today to put together your personal plan for teaching English abroad!
Send us an email or call us toll-free at 1-800-490-0531 to speak with an ITTT advisor today.
Related Articles:
Check out what our course grads say in our many video testimonials!
---
---