Hybrid Classrooms: The Way Towards The Future
It's almost been many months since we started the process of transitioning towards online education due to the COVID-19 outbreak. In fact, there has been a complete shift from the traditional way of teaching to a virtual method. The world has come to believe, and more so understand, that virtual classrooms remain the need of today.
Listen to this blog post:
Initially, it seemed a rather uphill task for many but with time and effort, teachers around the world have jumped on the bandwagon of teaching online. This remodeling of our classrooms has generated new innovative methods of teaching which, even in the post lockdown period, should not be forgotten or done away with.
In this blog post, we discuss some of these useful methods and learn how we can incorporate them into our schools. This new model, merging virtual and physical teaching, will be termed under the umbrella of 'hybrid classrooms'.
1. The habit of research
One of the best habits developed by teachers during the lockdown was the many great ways of teaching the content they had planned online. This exposed them to limitless opportunities to be explored for better teaching of their class. This is one very relevant habit which we should carry forward in our hybrid classrooms.
2. Using suitable and relevant technology in the classroom
While we explored, we learned what is applicable in our online class and what is not working for us. This helped us in many ways to remain effective and interesting to our students so that we retain their attention to the content on hand. This effectiveness of revisiting the strategy aided with technology is worth incorporating in our future classrooms.
Also Read: What to Watch Out for Before Signing Your TEFL Contract in China
3. Ensuring better preparation of material
Of course with online teaching, there is a void of any physical activities and active discussions that were restrained due to the limitations of virtual students' existence. Hence other opportunities to make that connection were explored and preparation was made likewise. Preparation of material to display was crucial and this is something which should be incorporated in our 'hybrid classrooms' of the future.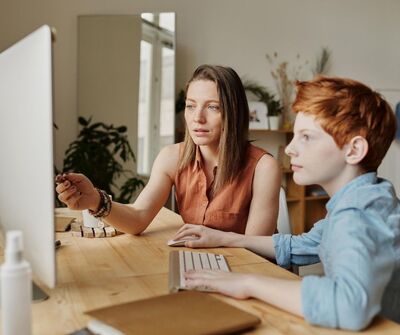 4. Clear instructions for classwork and homework
Since it was always very clear who was speaking in a virtual set up, the instructions for class and homework were quite clear. In the classroom, they are often missed when the students don't pay attention and start interacting with their friends when the bell rings. With platforms like Google Classrooms, the systematic method and auto-generated systems bring uniformity in instructions and for retrieval of material.
5. Following rules and discipline
With the raising of hands on Zoom or the flexibility of add-ons on G Suite, certain standards and procedures were effectively followed to ensure a better classroom. We need a revision of some Standard Operating Procedures in our hybrid classrooms to make them more effective.
Also Read: Teaching English In Japan - The Salary and Budget Guide
6. Testing methods could be improved
Before COVID-19 who would have thought of using apps like Padlet in their classrooms? Today many teachers would like to use testing platforms and many other applications in their normal classroom setting to create an effective cusp of both online and physical classrooms.
7. Retention of students was considered more
In an online class, we are usually very attentive to the reception of students, which, to a certain extent, has been taken for granted in a natural classroom setting. I think we will need a revision to the attention we pay to students in our physical classrooms which hopefully will remain in the hybrid setting as well!
Do you want to teach English abroad or online? Take a TEFL course!
Apply now & get certified to teach english abroad!
Speak with an ITTT advisor today to put together your personal plan for teaching English abroad!
Send us an email or call us toll-free at 1-800-490-0531 to speak with an ITTT advisor today.
Related Articles:
Check out what our course grads say in our many video testimonials!
---
---