How to Make a Living Teaching ESL Online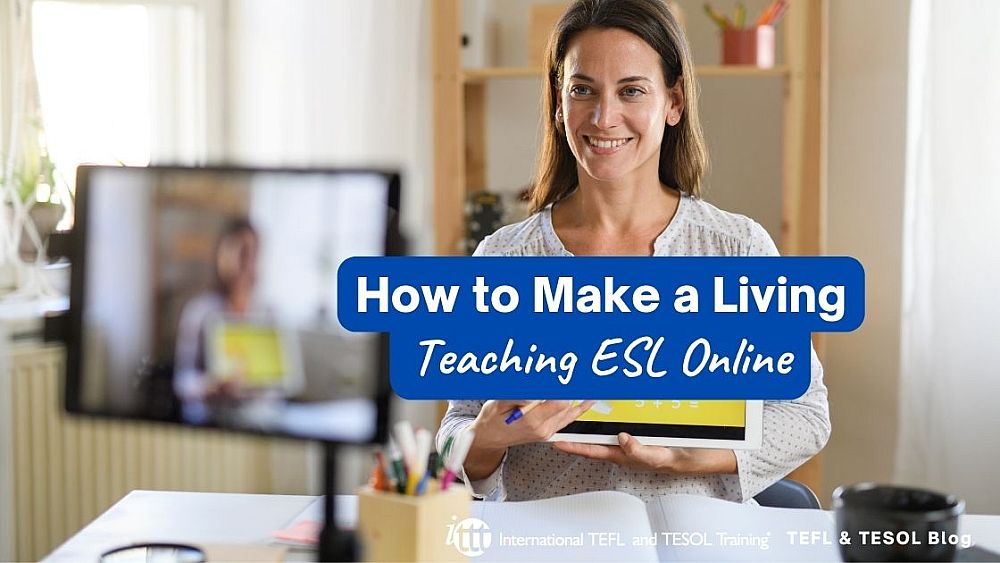 Online learning has expanded rapidly to meet increasing demand over the past decade and appears to be continuing to grow. This change is unlikely to be reversed despite future conditions changing. This being the case, we should consider that online ESL teaching will probably be the dominant teaching approach in the future and remain a good employment opportunity for many years to come.
Over the last two decades, the ESL industry has gone through major changes. From the days of a backpacker's cash-making opportunity, the industry has legitimized, become regulated (to various degrees), and moved into the mainstream of English teaching.
English has been accepted as the 'lingua franca' worldwide, particularly in the area of business, and as such, there are a huge number of English language learners. In parallel to this massive increase in demand, the explosion in online working has taken place.
In particular, online teaching has opened up the teaching world to those who do not wish to remain in one place for any particular length of time. Such employment is commonly referred to as being a 'Digital Nomad.' With a good computer, the ability to connect reliably to the internet, a microphone, and camera, you can now teach from almost anywhere in the world and find classes at any time of the day or night to suit you and your lifestyle.There are now literally thousands of online teaching companies worldwide, offering hundreds of thousands of teaching opportunities for all types of teaching situations, from kindergarten to high-level business English training.
There are a number of different types of online teaching opportunities available:
Working for a company
There are thousands of online teaching companies catering to students from kindergarten to retired people, in a whole range of situations, such as general English, young learners, and business English.Working for an online teaching company is the same as working for any employer, except it is usually possible to negotiate your own hours and holidays, and if you have some experience, even your pay rate.As with any private industry, the quality of companies varies greatly in terms of the help they give their employees, how reliable they are with pay, and in relation to other matters.
Freelancing
In this situation, you are basically self-employed and working for yourself. You will be responsible for your presence online and will need to market yourself. There are some commercial companies who will do these things for a price. This gives you a great deal of autonomy, but you should be aware there is no insurance against things going wrong. You will have to deal with all the additional tasks required of the self-employed, such as insurances, taxes, work permits, and visas, for example.
Profile marketplace
There are a number of different types of profile marketplaces ranging from those who will be involved in promoting you, helping with things such as taxes and so on, to those who are just a directory of teachers. In both cases, you create your profile and send it to the company. They then post your details on their website. The obvious benefit of a profile company is that they have the resources to boost your internet presence without you having to do all the work. You would pay a fixed sum depending on what level of marketing and other help you want the profile company to provide.
We can consider a number of pros and cons of teaching English Online.
Pros
Good pay; rates up to US$25 per hour
Flexible working is possible
It is not location-dependent (digital nomad)
Many companies provide readymade lessons and materials
You can teach many cultures without going to the country
Cons
It can become repetitive
Technology can be frustrating at times
It can be lonely at times
Time zone differences can become difficult
A large part of this market is for kindergarten (a problem for some)
Conclusion
In conclusion, the rise of online learning has revolutionized the ESL teaching industry, offering a plethora of opportunities for educators and learners alike. With its potential for good pay rates, flexible working hours, and the ability to connect with students from diverse cultural backgrounds, online ESL teaching has become an attractive option for teachers seeking independence and adventure as digital nomads. However, it's essential to be aware of the challenges, such as the potential for monotony, technological frustrations, and the occasional sense of isolation. As the world continues to embrace digital advancements, online ESL teaching is poised to remain a dominant force in education for years to come. Embracing its advantages while navigating its drawbacks can pave the way for a rewarding and fulfilling career in the dynamic world of online language instruction.
Are you ready to teach English as a foreign language?
Apply now & get certified to teach english abroad!
Speak with an ITTT advisor today to put together your personal plan for teaching English abroad!
Send us an email or call us toll-free at 1-800-490-0531 to speak with an ITTT advisor today.
Related Articles:
Check out what our course grads say in our many video testimonials!
---
---