How to Assist Students in Developing their Receptive Skills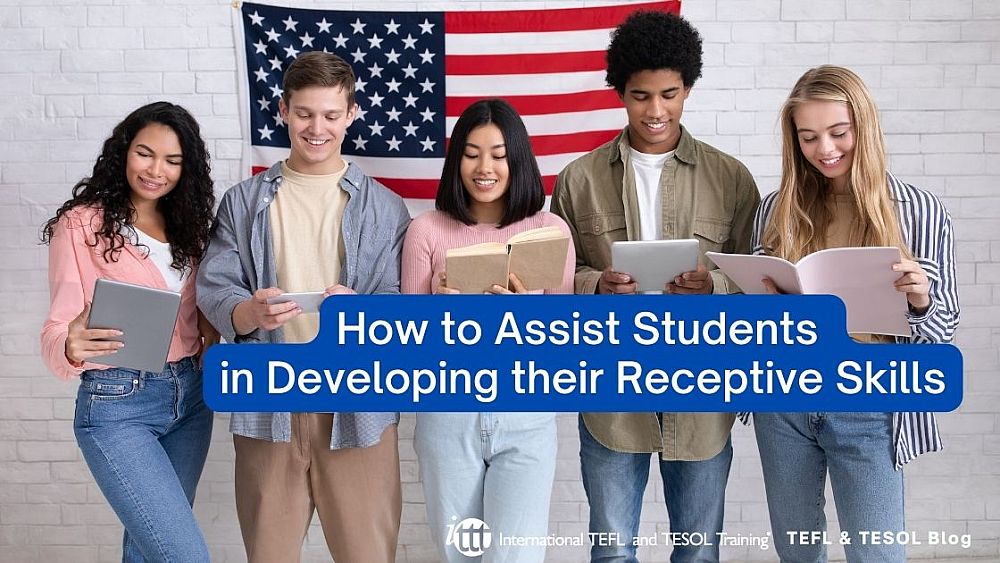 When learning any language, there are four basic skills you will need to acquire, including reading, listening, speaking, and writing. Reading and listening are known as receptive skills, while speaking and writing are known as productive skills because you will have moved on to producing the language you have learned. Usually, a learner's receptive skills will develop much quicker than their productive skills. This means that when students are learning a new language, they won't be able to actually produce, or speak and write, as much as they will be able to understand through listening and reading.
Table of Contents
Receptive and Productive Skills
Effective Vocabulary Instruction
Are you ready to teach English as a foreign language?
Check out what our course grads say in our many video testimonials!
Disclaimer: The views and opinions expressed in this blog post are solely those of the author, an alumni of ITTT (International TEFL and TESOL Training). They do not necessarily reflect the views or opinions of ITTT. The content provided in this post is for informational purposes only and should not be considered as official endorsement or representation by ITTT.
Receptive and Productive Skills
Part of learning a new language is trying to understand the meaning of what is being said through context since you won't always know every single word you are hearing or reading. It is important to let students build on this skill by pre-teaching only the most necessary vocabulary related to an activity and having them try to understand the rest through context clues. Reading will be easier for them than listening since students will have the ability to read material as many times as necessary to analyze the meaning through context. Listening gives more of a challenge since they usually will only get one chance to hear what is being said and they won't always have control over the pace at which someone will speak. Students can also have difficulty understanding through listening when the speaker has a different accent than what the students are used to hearing. They may get confused with words and sentences they already know when it is said in a different way.
Effective Vocabulary Instruction
It is important to be very careful when selecting materials to give the students to read. You want to help build the students' confidence in their skills, and to do this, you can give out real-life, authentic materials such as newspaper articles or magazines which will show how the language is really used. You want to read over the material first before giving it out and make sure the students have already learned the majority of the language they are about to read so that they will feel confident and interested in what they are reading. You need to pay attention to the topic of the reading as well, thinking about the age of the students and what you already know about them, making sure it is something that they will be interested in and have some knowledge about so they don't lose motivation. It is possible to create interest before handing out the reading through engage phase activities such as showing them images or having them try to predict the end of the story. This will also help the students feel more prepared going into the reading.
Engage Phase Activities
You can set up questions based on the material which provides students with a goal to ensure they stay focused while reading and shows you if they understood what they have just read. Send the students off into groups when they are all finished with the reading and questions so they can compare their answers with their classmates, and you can see if there are any general problems in understanding within the class. This will give you an idea of student progression and tells you what you may need to go over in the next phase or lesson.
Always encourage students to read outside of the classroom because practice is key in learning a new language.
Are you ready to teach English as a foreign language?
Apply now & get certified to teach english abroad!
Speak with an ITTT advisor today to put together your personal plan for teaching English abroad!
Send us an email or call us toll-free at 1-800-490-0531 to speak with an ITTT advisor today.
Related Articles:
Check out what our course grads say in our many video testimonials!
---
---