Exploring the Diverse Job Opportunities for TEFL/TESOL Certified Teachers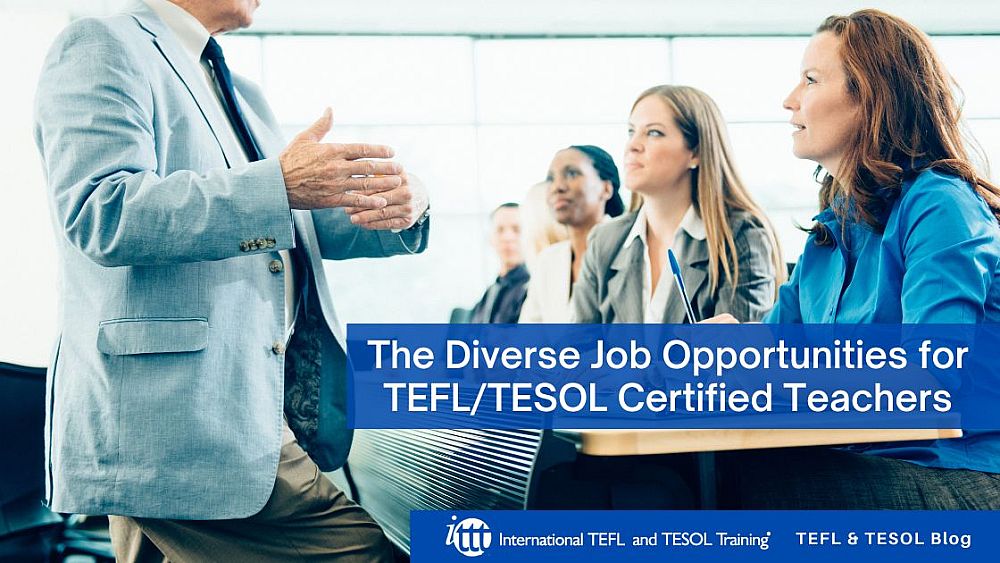 Here we will look at the different types of teaching jobs for TEFL and TESOL certified teachers, the different types of schools or workplaces where you can work after you have completed your TEFL or TESOL training.
Watch the video about this topic
1. Private language schools
The first type of school that you can work at is actually the most common type of school where most teachers will be working, which is a private language school. A private language school typically offers the most opportunities for EFL teachers globally.Private language schools are all over the world and they teach students of all ages, so there can be private language schools specifically targeted for children or adults. In these types of schools you might be teaching anything from General English lessons, to business English, or conversation lessons or even a test preparation course, for example IELTS or TOEFL.
You will typically have less vacation days compared to a public school (which we're going to talk about later) but 10 days a year plus public holidays is pretty typical. It depends on the on the school and also on the country, consider that in Germany for example, the minimum vacation annual vacation is around 30 days so if you work in a private language school in Germany you will get 30 days because that's the minimum by law. Private language schools tend to have a higher salary compared to public schools so you'll earn a little bit more than at a public school generally.
2. Government-run or Public Schools
School type number two is a government-run school or a public school. In this type of school, English is taught as a separate subject. Some schools might offer other subjects taught in English as well though this is rarer. If you're working for a public school or government run school you will be mostly responsible for teaching speaking and listening skills, but sometimes you may also are responsible for more, such as reading or also grammar. More often it is more teaching of speaking and listening skills, this is especially the case if you're working for example the JET program in Japan, or the EPIK program in South Korea which are both government-run programs that place foreign teachers into public schools. In these positions typically there will be Korean or Japanese, English teachers, at the school who teach English in their own language and explain the grammar in Korean or Japanese to the students. You then would come in as a Native speaker and take care of the speaking skills and the conversation part, listening part and so on. So you're usually working with another teacher from that country team teaching. Some schools also run programs where English is used to teach other subjects (CLIL) like math or history.
The requirements are typically a TEFL certificate and often a three or four-year university degree. This varies from country to country and school to school, but this is pretty much the standard around the world. In terms of benefits and vacation you will find that at public schools you tend to have longer vacations compared to a private school. For example in Germany there is a six weeks summer vacation. However if you're working at a public school you might be the only foreign teacher there which is something to consider and you also have fewer teaching hours compared to private language schools.
3. Private Company Schools
Next we will have a look at our third type of school where EFL teachers can work, which is a private company school. These are basically the same as the public schools but they are not run by the government but run by a company. Typically they are divided into private company elementary schools, private company middle schools and private company high schools.
They usually have the same curriculum as the government schools because they need to be on the same level; however the main difference is that, typically they have a fully bilingual program with subjects in English and the student's native language. So there's more English involved in these private company schools and some even have all instruction in English except for native language lessons.
As for employment requirements, a TEFL or TESOL certificate is needed and usually a three or four-year bachelor's degree. This varies from school to school; every school has their own requirements for their teachers, within the employment regulations of their country. Benefits typically involve more vacations per year. However because they have more English instruction you will have more teaching hours. These schools often offer higher salaries compared to public schools, making the employment market for these jobs more competitive.
4. Kindergartens
Kindergartens are very common as parents around the world want to expose their children to their peers as early as possible, especially in places like Asia. There's a high demand for English teachers in kindergartens around the world, as there are many English-speaking kindergartens or kindergartens that offer English education. Common requirements are that you will need are a TEFL or TESOL certificate and typically a bachelor's degree (a three or four-year university degree) but some kindergartens also hire people who have no degree, so it's not always required. You have fewer vacations here because kindergartens tend to not have long vacations, so you will have less compared to a public school or private elementary middle high school. Working conditions are obviously very different with the students being so young. There will be more play time involved usually so the curriculums at kindergartens usually are more play like game based. Also there will be more time spent on the arts and crafts. So it's a different kind of teaching compared to being in a classroom and you're teaching grammar. It's a different kind of teaching which can also great fun but it's not for everyone.
However you can often get higher salaries here than in a public school so but there's also a little bit more work involved and you should be aware that the younger the students, the more like additional tasks you have to do. Typically it's not only teaching them English but you also need to teach them other things like manners and how to be good humans. As there are so many kindergartens there is a huge demand for teachers, so if you like working with young children and you're not the kind of teacher who just wants to use a textbook all the time and teach grammar patterns then maybe teaching at a kindergarten would be a great thing for you. In summary Kindergartens are very common there is lots of demand and it's just a fun work environment as well working with younger children.
5. Universities
Many university students are actually required to study English as part of their degree and certain courses are often offered entirely in English targeted at international students and also foreign language majors. Universities in English speaking countries obviously do all their teaching in English and so International students there, unless they can show an appropriate IELTS or similar score are required to have English lessons as part of their course. This means that universities throughout the world hire English teachers for ESL classes.
Typical requirements that we see for these kinds of positions are a little bit higher than the other schools, so still you will need a TEFL or a TESOL certificate and then a degree or often a Master degree. It is not always needed but often preferred having a Master degree. It is also preferred if it is in English or English literature. Universities want or expect several years of teaching experience so this is a job that you could go for after you've already taught a couple of years. Universities have long vacations every year. Semester breaks are pretty long. Typically you have fewer teaching hours than in a school and the salaries obviously higher compared to public or private schools. As you can imagine competition for these jobs is very high and also because these kinds of positions are not as common, you cannot find them as much online. Targeting a smaller city with a university mean your chances are higher.
6. International Schools
International schools offer an English-based curriculum, often with a specific EFL (English as a Foreign Language) department to prepare students with lower English proficiency before they join mainstream classes. While the curriculum may be based on various national models, such as American, Canadian, or British, the requirements for teaching positions can be quite high, including a TEFL or TESOL certificate, a degree, years of experience, and a teaching license from the teacher's home country. Nonetheless, the benefits and salaries at international schools are often the highest compared to other types of schools, and teachers can enjoy long vacations. However, due to the high competition and limited job openings, it can be challenging to secure a position at an international school, and pursuing a master's degree and a teaching license may be necessary.
7. Working for Company
Some larger international companies hire their own English teachers to develop courses and teach English classes to their staff. Most of these jobs also entail additional responsibilities outside of teaching English because you are an employee at the company. You would give English classes to the local employees to brush up their English and to teach them English for business purposes. Then you would usually also have additional responsibilities which may include things like, interpreting when there's business meetings or you would have to go to business trips to other companies and act as a mediator.
Requirements really depend on the company but typically it would be a TEFL or TESOL certificate, a university degree in most cases and then also usually work experience in the field. For example, if the company you're working for is a tech company they would also prefer somebody who also worked in this field, so that you know what you're talking about and you know how to best prepare your colleagues and co-workers in that field and what kind of special vocabulary and English language they need to know for this job. Benefits and vacation, you are obviously employed like the other employees so you would have the same vacation days as the other people, which really depends on the country that you work in. This type of job usually gets higher pay compared to a private language schools for example because you also have these additional jobs. You normally have fewer teaching hours.
Competition for this type of employment is relatively high and it depends on the country. This type of work is very common for example in Latin America and Mexico where they have close ties with the USA. It is very common in Asia working for the many tech companies. Finding teaching jobs for this kind of position would require looking into the resources such as Linkedin or Facebook groups where you can find these types of jobs advertised there.
8. Private Classes or Private Tutoring
In this scenario, the teacher finds their own students to teach. You can set the price for your classes and you can teach at home at the student's home or a public space like a café. The requirements needed for the job will up to the student (or whoever employs you) they make the decision if they want to hire you as their private tutor or not. Most people will require some form of credentials and background check.
The more qualifications and experience you have the better, so a minimum would be a TEFL or TESOL certificate, and it is always great to have experience. When teaching private classes benefits may include the fact that vacation is really up to you, so you define how much you work and therefore how much you earn, how much you charge for your tutoring. Bear in mind that there may be visa regulations, so typically this is something that you can only do either in your home country or when you already have a long-term resident or work visa for a different country. You need to check out what the regulations are.
Many teachers take on a lot of different jobs, so maybe they teach part-time at a kindergarten and then the other half of the time they have private students because their visa allows them to do that. Obviously this is not going to fit everybody. In terms of teaching experience it doesn't only have to be teaching English right you also get teaching experience from teaching other things other languages, musical instruments, hobbies and many other things. It doesn't matter at all what type of teaching experience it is, this can help you when applying for jobs.
You can find private students anywhere, you can put an advertisement up on your local like community board or wherever you are. Word of mouth can always spread the word that you're looking for someone to tutor.
9. Volunteer Teaching
Volunteering is a great way to gain experience while studying or also before looking for paid positions. This experience can be fun and rewarding and could include anything from teaching new arrivals or refugees in your home country to teaching monks in Nepalese monasteries. So there's really a wide range of volunteer teaching opportunities around the world especially in Latin America, Africa, in the Middle East and in Asia. The requirements are usually very limited because organizations are just happy that you want to do this. However if you want to volunteer teach English you need to be at least fluent in English.
As a volunteer you can expect that there is typically no pay although you may receive free accommodation and a cost of living stipend or free meals and so on. The contract that you usually have is usually for a certain period of time. This is useful because most teaching contracts are usually for a year or even two years, so if you don't have that much time or you don't want to commit to that much time volunteer teaching can be a great opportunity to go abroad and teach for just a short amount of time. There are volunteer opportunities covering short term periods, four weeks, six weeks, eight weeks and three months. You should be aware that many of the better organized volunteer groups often cost money to participate in and that they can be fairly expensive.
Despite having to pay for this experience it can be really rewarding you can gain valuable experience, not only teaching experience but also for you personally. In terms of competitiveness for positions on these programs it is very low because there are so many programs so many people worldwide who need this type of assistance. If you really want to go abroad to volunteer to teach English you will always find somewhere available.
10. Teaching English Online
This is an area of teaching that has rapidly expanded over the last decade, with many hundreds of companies being created offering tens of thousands of jobs worldwide.
There are 3 main ways that you can become involved with teaching English online.
1. Freelance teacher: Here you would need to set up your own website or Facebook group or similar and promote your services online. This will take some time to build up but has the benefit of giving you a great deal of autonomy.
2. Working for an online teaching company: There are literally hundreds of online teaching companies out there. The benefit of working for them is that they provide you with students and very often with the curriculum and resources with which to teach. Typically you are paid by the hour and rates usually go up to around $25 an hour depending on qualifications and experience.
3. Working for a marketplace or profile company: In this situation you create a full bio or promotional video for a profile company who then host you bio on their site. The general population can view the bio and contact you should they decide they want you as their teacher. The benefits of this system is that it fits between the other two examples in that, you are not tied to a company, but you do not need to spend money on creating your own website and marketing, which can be expensive. It also allows you to work when you want and set your own pay rate.
Are you ready to teach English as a foreign language?
Apply now & get certified to teach english abroad!
Speak with an ITTT advisor today to put together your personal plan for teaching English abroad!
Send us an email or call us toll-free at 1-800-490-0531 to speak with an ITTT advisor today.
Related Articles:
Check out what our course grads say in our many video testimonials!
---
---