Evaluation and Testing of Students - General English Exams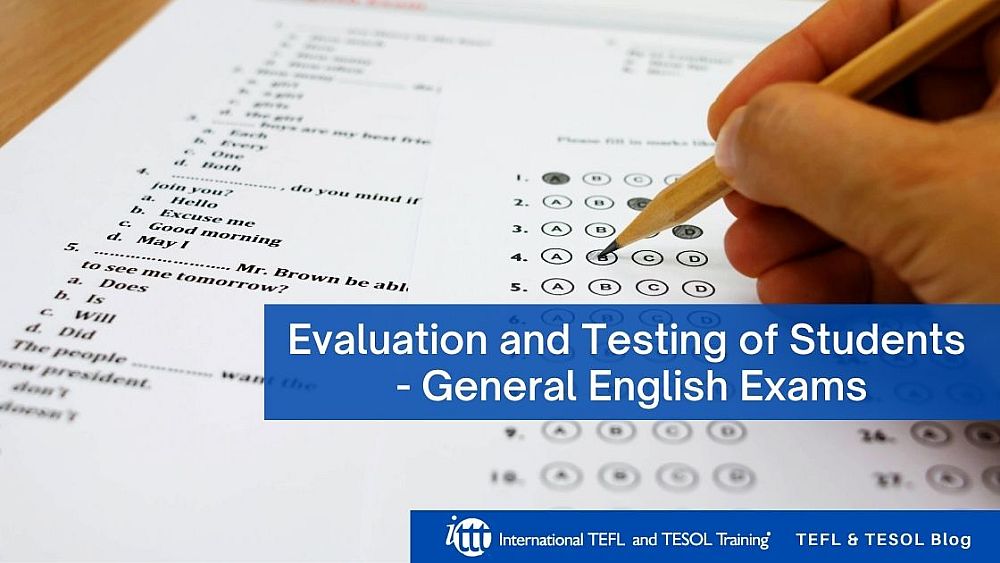 When considering General English exams there are a number of organizations or companies that offer these types of exams. Perhaps the most well-known is the Cambridge suite of examinations.
Table of Contents
Are you ready to teach English as a foreign language?
Check out what our course grads say in our many video testimonials!
### Watch the video about this topic
Within the Cambridge suite there are five different examinations at five different levels.
The entry level examination for the Cambridge suite is known as the Key English Test and it's often known by its acronym KET. This is actually an entry level examination and both this and the next level of test are really used to show that people are ready for the third level of the Cambridge test suite.
Moving on from the key English test, the second level is known by the name PET and that stands for the preliminary English test. Again the KET and PET as we've mentioned are entry level exams. In terms of the five levels that we often have in a school or language center called, Starter, Elementary and so on, then these two exams would be suitable for the starter and elementary levels, getting up to the pre intermediate level at the very most.
The next level examination is given the name, the First Certificate in English and this is known as the FCE. This level of examination is approximately equivalent to the Upper Intermediate level in a school or language center. So the FCE is at the level within the ESL teaching situation that would typically be at the highest level we normally teach.
Going beyond that level we're moving into very complex examinations in terms of grammar knowledge.The next one is called the Certificate in Advanced English. Most native speakers who have not studied formal grammar and indeed perhaps most teachers of ESL would find this examination extremely difficult. However having said that that's still not the highest level of examination offered.
The final level is called the CPE which is the Certificate of Proficiency.
The Cambridge Suite offers five different levels of examination. So one point to consider with these exams is that, if you're given a teaching situation where you are expected to prepare students for either level 4 or level 5, you need to be very careful about that.It will involve a lot of work for you to do above the level of normal ESL teaching.
There are other types of examinations, apart from the Cambridge that offer these sorts of English language exams and you should familiarize yourself with those systems also.
Are you ready to teach English as a foreign language?
Apply now & get certified to teach english abroad!
Speak with an ITTT advisor today to put together your personal plan for teaching English abroad!
Send us an email or call us toll-free at 1-800-490-0531 to speak with an ITTT advisor today.
Related Articles:
Check out what our course grads say in our many video testimonials!
---
---