English as a World Language
English is considered a universal language, mainly because it is widely spoken all over the world. English was originally the language of England. Its expansion became imperative due to the dominance in world trade, religion, technology, tourism, education and so on. UK expansion and incursion of the USA as the first world power saw the migration of the English language all over the world. About 70 countries adopt the English language as their official language and statistics have it that the English language is one of the easiest languages to learn when compared with other languages like Chinese, French, German or Spanish.
This post was written by our TEFL certification graduate Okenwa U. Please note that this blog post might not necessarily represent the beliefs or opinions of ITTT.
English Prevalence
The dominance in the English language as a world-leading language has greatly enhanced global cooperation as integration both in business, technology, and education. The world of today needs English for some of these basic needs. The internet has specifically ruled the world today. The English language is the most dominated language that rules the world of the internet. In education, most of the materials used in education are written in English. For decades, English has been an easy means of communication for people along with the globe in the educational sector. People who study abroad use English as their communication language. Other areas like tourism and business ventures use the English language as a means of communication.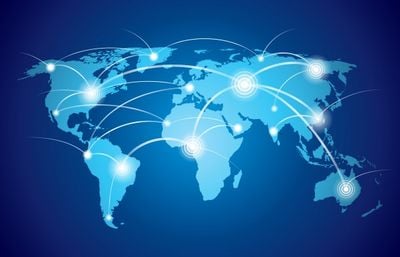 Also Read: The Differences Between Learning Your First Language vs. A Second One
English in Asia
Most countries, especially in Asia, now adopt English as their second language and a core subject in their school curriculum. Using Vietnam as a case study, since the change in their foreign policy intervention and bureaucratic centralization and in their bid to adopt a diplomatic relation among other nations regardless of political or cultural affiliation. This change saw a huge influx of foreigners especially tourist and it greatly enhanced the need for English. The English language was integrated into their system which saw a rapid movement of foreign teachers of English into the country in early1995. English is now regarded as a core subject and must pass for every student to gain admission into higher institutions. It also brought it direct investment by expanding its economy with countries like China, Thailand, and Singapore. Most countries in Asia have adopted English as their second language.
Also Read: How do I choose a TEFL course?
ESL Career Difficulties
However, teaching English as a career or profession has its challenges especially in Asian counties. The methodology used in teaching the English language in a native English speaking county is different from that of a non-native English speaking country. The teacher needs the appropriate training depending on the country he/she is required to teach. Most Asian countries require the teacher to have a TEFL / TESOL certificate. With this course, the teacher gains knowledge of the different approaches used in teaching English as a second language. In countries like Europe where English is their native language, the teacher needs his/her certificate in education and some Cambridge English assessment. These courses will help the teacher understand classroom management, how to teach young and adult learners.
Do you want to teach English abroad? Take a TEFL course!
In conclusion, in today's world of collaboration and globalization, the English language is the key to economic advancement and cooperation between countries. Proficiency in the English language helps to advance one's career path since most international company requires you to speak English.
Apply now & get certified to teach english abroad!
Speak with an ITTT advisor today to put together your personal plan for teaching English abroad.
Send us an email or call us toll-free at 1-800-490-0531 to speak with an ITTT advisor today.
Related Articles:
---
---