Creating your Own English Immersion Experience for ESL Students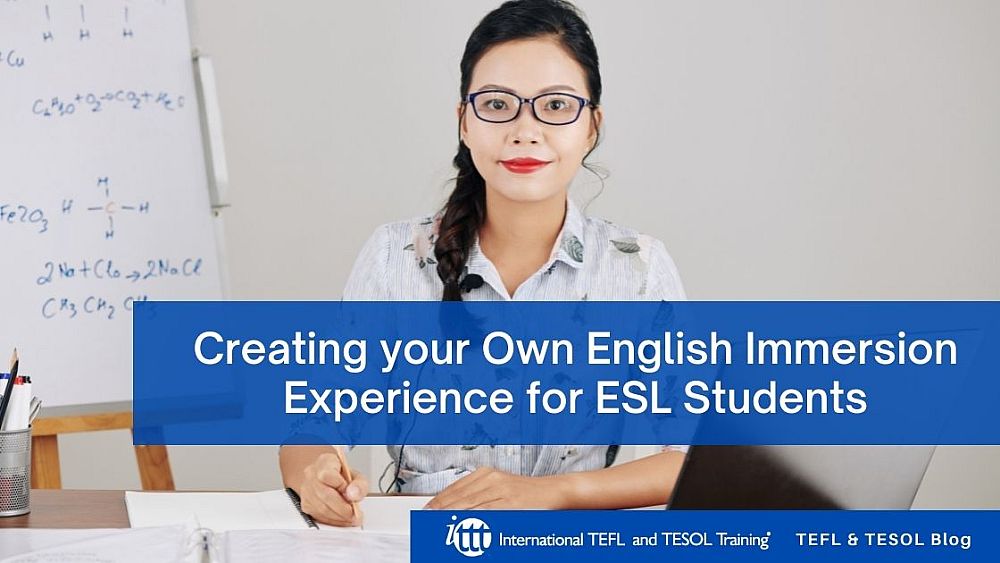 When you hear about English lessons, the first thing that comes into your mind is probably lessons taken from a book, answer lesson sheets, and talking in pairs applying a small group of vocabulary, and that's all. Let's change the game by giving a higher immersion of English to your ESL students without going to an English-speaking country to obtain more vocabulary, pronunciation, and speaking practice.
What is an English Immersion Experience?
Being immersed in English is the way of "forcing" oneself to use the language, hearing how others use it, thinking in English to give answers in English, stopping trying to translate all the time from English to the native language, and applying the real-world language skills.
The key to English Immersion is based on using the language throughout the full class, where the students must communicate their ideas in English and understand the message and answers from the teacher and their partners. The teacher has to cover the immersion on receptive skills as well as productive skills.
How could I start?
Select a topic according to your students' English level
If your students are at a beginner level, consider giving them vocabulary, phrases, and grammar of a basic level to use in a very easy topic.

If your students are an intermediate level of English, select a range of activities besides the grammar and vocabulary proper of the level and the topic. These activities could be working on teams to increase the language interchanging. Give them challenging activities but not as difficult to avoid demotivation.

If your students are at an advanced level, you can create activities based on non-authentic materials (scientific articles, newspapers, magazines, books in English, etc.), taking grammar and vocabulary from them to use in the speaking activities from the students.
Include as receptive as productive skills.
It is crucial to practice listening, speaking, writing, and reading skills with the students in an immersion lesson; otherwise, they could improve only one or two of them above the rest of the skills.
Build confidence in students
The Immerse lessons should be focused on the total practice of English, avoiding the usage of the student's native language, unless they need to clarify a few doubts individually. During the immersion, especially in the speaking practice, you have to avoid correcting the students to give them security while they apply the new grammar and vocabulary. You can consider the last 10 minutes of the class to make pronunciation practice or grammar corrections without interrupting the students.
Time to expand during the immersion experience
Besides the material, grammar, and English applications you have to organize, it is important to consider the time for each of them. You need to bear in mind how many minutes will be for listening, writing, reading, and speaking practice, which generally takes more time because you have to consider all the students' participation, as well as the feedback section, which includes pronunciation and grammar improvement.
Immersion Experience Class Example
Listening. Choose the material for each skill. First, identify vocabulary and phrases from the material you select to give them to the students before or after playing it, so they must use it during the speaking practice.
Podcast. You can plan to start a discussion about its topic.

Movies to give opinions about the characters' situation or its story. First, identify vocabulary and phrases on your own to give them to the students before or after playing them.

Cartoons. Cartoons use very basic grammar; you can select one episode to listen to with your students being sure they could like them.

Documentaries. You can choose a documentary to identify advanced vocabulary. First, identify vocabulary and phrases on your own to give them to the students before or after playing them.
Writing and Reading. Once you give them the vocabulary and grammar from the listening material, you can give them examples in a couple of sentences to adapt them in a conversation. After this, they can write five sentences more using this grammar, being sure that those sentences or phrases will be used on the speaking practice and sharing them with the rest of the group.
Speaking. Start the discussion about the listening material. You can start with a list of questions that the students have to answer applying the grammar and vocabulary that appeared on the listening material.Conclusion
Final Thoughts
There are so many topics and materials you can develop to give your students a real English immersion in the classroom. Make it enjoyable for them to overcome insecurities and exercise their mind, but the most important: Avoid their native language during this practice to apply English 100%.
Are you ready to teach English as a foreign language?
Apply now & get certified to teach english abroad!
Speak with an ITTT advisor today to put together your personal plan for teaching English abroad!
Send us an email or call us toll-free at 1-800-490-0531 to speak with an ITTT advisor today.
Related Articles:
Check out what our course grads say in our many video testimonials!
---
---