Common Learning Difficulties Faced in ESL Settings
Learning is always hard especially learning something new such as English learning. English is a different new language compared with Chinese, so when we are learning, definitely we will meet all kinds of difficulties in listening, speaking, reading, and writing.
This post was written by our TEFL certification graduate XIAO J. Please note that this blog post might not necessarily represent the beliefs or opinions of ITTT.
Most beginners think listening is the most difficult part of English learning.
Due to the lack of vocabulary, beginners can not get the main idea of a story. They usually expect to know every single word and if they miss some words, they will become extremely nervous so that they lose their confidence at all. The best way to avoid it is to pre-teach some potentially difficult vocabularies. And listening to English songs and reading the lyrics will do a lot of help. Also keeping on watching English movies is an efficient method to improve listening.
Also Read: Top 5 Most Searched English Words Online in the Recent Pandemic
Speaking can be improved dramatically from zero in a short time but it's quite difficult to speak accurately.
In class, teachers should encourage students to speak as much as possible in English and also should not correct them word by word. In my opinion, Fluency is much more important than accuracy. When students are not at the same level of English, teachers should pair the strong ones with the weak ones, because the strong students will help the weak students with new words and meanwhile the weak ones will learn something new from the strong students. To create more opportunities for the students to speak, teachers should organize more activities, the more interesting, the better. For beginners, teachers should avoid asking them questions one by one to make the atmosphere more relaxed. Pronunciation plays an important role in speaking. If students want to improve their pronunciation, they should listen more, more English songs and English news and they should pay attention to intonation and the rhythm.
Also Read: "To do or not to do?" - 6 Reasons To Take Specialized TEFL Courses
For most Chinese people, English reading is not as difficult as listening or speaking.
Chinese students are usually good at reading comprehension. They can make correct choices at the exams but as I know, they seldom read English books. When they read an English book, they will meet a lot of unknown words, and if they look into the dictionary, they will find more new words and gradually, they will lose their patience and their confidence and finally they will put the books away. Reading is a very necessary part of English, students can increase their vocabulary and at the same time build up their English feeling. For beginners, teachers should encourage them to start from something easy and interesting such as comic books and then English newspapers and then English novels.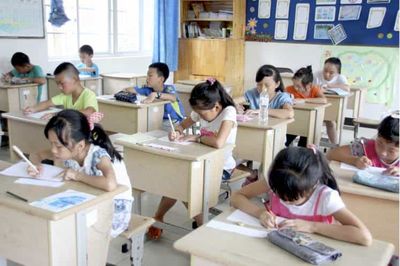 Writing is always the hardest part of English for Chinese students.
Chinese students are good at grammar and vocabulary, but they seldom read English books so when they want to put something on the paper, they will find it's difficult to express their feelings exactly or they even don't know what to say. In a class, teachers usually don't spend enough time on writing because they are afraid that the students will get bored in class. If we want to solve this problem, teachers should encourage students to write more, Writing diaries in English is a good way, from one sentence or two to a story, an essay ... and at a class, if teaches want to save time, they can ask students to make up a story orally in the group, and at the end of class, students can do the presentation in the front of a class.
Also Read: Working from Home and the Importance of Effective Communication
Students can meet a lot of difficulties in English learning. And there is a big difficulty which we can not ignore is the psychological problem. When students learn English, especially for those beginners, they always feel frustrated when they can not listen, speak, read, or write very well. They easily lose their confidence when they spend a lot of time learning but still the progress is not as satisfied as they expect. So teachers should pay enough attention to encourage those students when they feel difficult or we can set up some roles such as Study Advisors to help those students to ensure them to reach their final learning objectives.
Do you want to teach English abroad? Take a TEFL course today!
Learning is not easy, and learning English is very difficult. But if we follow those good ways mentioned above, we can go over difficulties one by one and we can get our objectives reached finally.
Apply now & get certified to teach english abroad!
Speak with an ITTT advisor today to put together your personal plan for teaching English abroad!
Send us an email or call us toll-free at 1-800-490-0531 to speak with an ITTT adviser today.
Related Articles: