Working from Home and the Importance of Effective Communication
With the advent of social distancing as a precautionary measure against the coronavirus (COVID-19) pandemic and the associated increase in people working from home rather than face-to-face, effective communication has never been more important. We share advice here on how you can improve your communication skills online. This information is especially useful for those offering online services, such as online English tutors.
Listen to this blog post:
In response to the coronavirus (COVID-19) pandemic, many companies are shutting their doors and sending their employees home in order to keep them healthy. For those who work in blue-collar positions such as manufacturing, maintenance or service-industry jobs, the consequences may be reduced pay, being furloughed (unpaid leave) or their position being terminated. For those in the knowledge and education industries, however, it can mean continuing with previous functions, but from home.
Working from home brings both opportunities and challenges. It's time to get more in touch with family and to appreciate each other, especially during these difficult times. It can also provide a positive environment to grow, learn and focus. Instead of spending valuable time traveling to and from work, you can set your own schedule.
Of course, working at home also has numerous challenges, communication with others being the major one. Distractions in your environment can cause you to lose focus. Sluggish internet speeds influence the quality of calls. Joining a meeting isn't as simple as pulling up a chair in an office or conference room. Getting (and staying) online can sometimes be a chore, and the reliance on emails and other forms of written communication can lead to misunderstanding of all kinds.
There are some simple things you can do to address many of these common problems and improve the quality of your communication when working from home. This advice will help you to improve your communication skills not only for the short term during this crisis but also when we all return to our normal workplaces.
Also read: "To do or not to do?" - 6 Reasons To Take Specialized TEFL Courses
Create and protect your own workspace
If you've never worked from home before, you might be tempted to just set up your laptop on the kitchen table. Doing this can lead to distractions from family members who use the kitchen while you work. If you are attending an online video conference, having a busy background can be distracting for other participants. A sink full of dirty dishes showing on-screen behind you appears unprofessional.
As a solution, claim a part of the house that is relatively quiet, has a neutral background, and permanently set up your laptop and other work equipment there. If this area is by a sunny windowpane, make sure your computer's camera isn't pointed where the light shines in. You will appear on-screen as a dark silhouette, which will hamper your ability to connect with others.
Become familiar with the software and hardware
While most of us check our emails regularly, not everyone is fully familiarised with their computer, smartphone or videoconferencing software necessary for meeting online. Take some time to experiment with the software, be it Zoom, Skype, Google Hangouts or other conferencing software. Make a note of keyboard shortcuts that make your user interface more fluid. If you're giving a presentation, do practice sessions on your own to make sure you understand the capabilities of the presentation application, and how you can use it to your advantage.
Speak clearly, and slowly
Because body language such as gestures and facial expressions are largely absent from communicating online, it's important to focus on your verbal message. Keep sentences short and simple. State your point without elaborate explanations, and enunciate clearly. If your company is international and you speak with clients and colleagues whose native language is not English, avoid cultural references, idioms or metaphors that might be unfamiliar to those outside your culture.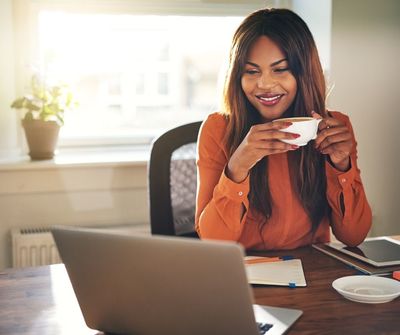 Be (inter)active
Sitting and staring at a screen while your co-workers give a long speech can be dispiriting. If you were together in a conference room, you could interact with them and your other colleagues by asking questions and providing input. This is still possible with most conferencing software, but it requires a knowledgeable and skilled facilitator to make it happen. Using chat functions, raising your hand to ask questions, and other techniques are ways to make the conversation more lively. If you are a facilitator, then keep an eye on participant engagement, ask questions and encourage everyone to provide input.
Don't neglect your written communication
Many of us think our written communication is adequate for the job. After all, we send and receive emails every day. But most of us have experienced moments of misunderstanding where we have offended or confused someone, or where our written requests have been ignored. In the conventional work environment, we can walk over to that person and explain directly to them what we wanted to convey in our email. Body language, tone of voice and the use of props and other explanatory tools are possible in the in-person environment. This is no longer the case if you work from home and if your clients are non-English speakers (as is the case with TEFL teachers) confusion levels can be greater than ever.
To solve this problem, be critical of your written communication and try to make it as clear as possible before you send it, using the aid of online dictionaries or even Google. If problems persist and the recipient of your emails seems not to be understanding your messages, then schedule a phone or video conferencing discussion with them, and plan ahead how you will better explain your points.
Understand your limitations
If you are exhausted after a typical teleconferencing meeting, you're not the only one. INSEAD Management Professor Gianpiero Petriglieri (Twitter: @gpetriglieri) has theorized that our bodies process so much context, so much information, in communicating face-to-face with others, that meeting online is similar to being blindfolded. We sense too little and can't imagine enough. That single deprivation requires a lot of conscious effort.
If you understand that interacting online is exhausting for everyone and accept it, you can take steps to alleviate it. Don't schedule online meetings back-to-back. Take frequent breaks in which you relax and walk away from the computer. Relax your eyes by looking away from any computer or mobile phone screens for at least 10 minutes every hour.
The coronavirus pandemic will come to an end, hopefully soon, and many of us will probably return to work as before. Will we see this period as a mere aberration, or will we learn from our situation and create new best practices in the workplace? Regardless of what the future holds, we can all improve our communication and, when things return to normal, continue to learn and grow from these challenging times.
Apply now & get certified to teach english abroad!
Speak with an ITTT advisor today to put together your personal plan for teaching English abroad.
Send us an email or call us toll-free at 1-800-490-0531 to speak with an ITTT advisor today.
Related Articles:
---
---