Classroom Materials: Books, Teaching Aids and Other Materials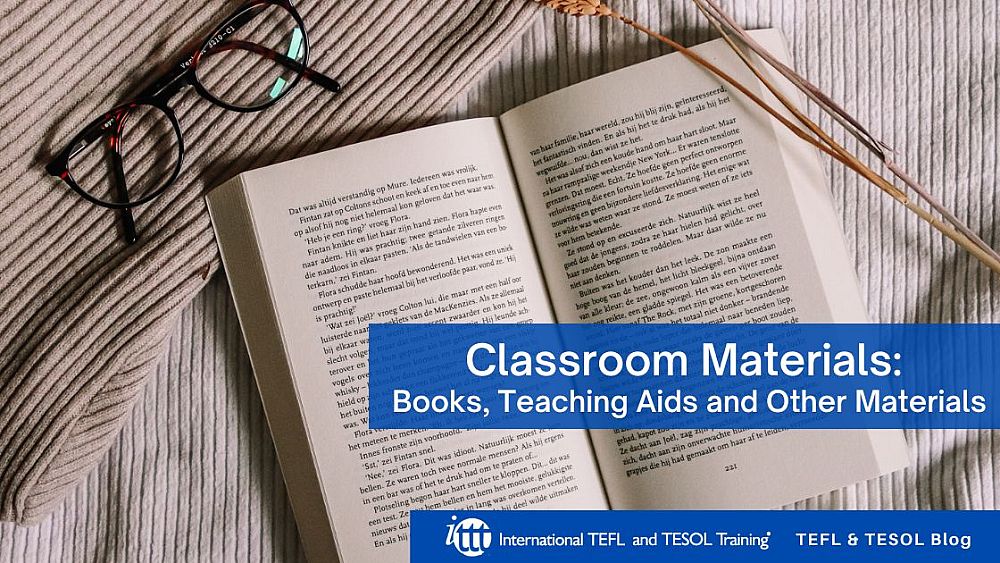 In this blog post, we are going to focus on the use of course books, materials and teaching aids.
Watch the video about this topic
There are many materials that we can bring to our classroom that will help with the teaching of our lessons and these include though they're not limited to things such as, the wipe board, various types of visual aids created or bought, worksheets, the use of cassettes, CDs and DVDs and the use of video. Also in these classroom materials we can include things such as, dictionaries and course books various types of resource book. Other materials such as a photo copiers, computers and OHP's can also be considered. We will take a general look at some of the issues relating to each of these types of material.
Next we will consider a couple of issues surrounding the use of worksheets and work cards.Firstly these types of materials can either be bought or they could be made by you. Often many of the book series, such as the teacher resource book, has worksheets and work cards which are very useful because they can act as a prompt, to introduce activities such as role plays.
One of the things you need to be aware of when making worksheets and work cards yourself is that you need to make them durable, so whenever you create a work card if you put it on some hard backing and then put it inside some cellophane or covered plastic, just to make them durable and those types of work cards and worksheets can last for years.
Other examples of worksheets and work cards that we may have in our teachers resource book are things like simple board games, an example would be, snakes and ladders, which we can use with our students to create language. So worksheets and work cards are very useful.
If we now consider what we might call the technology that we could use within the classroom then that could include things such as, cassette players (these are still in use in many countries throughout the world), the use of CDs, the use of DVD and video.
First we will consider some general issues surrounding the use of these types of technology.Try to make sure whenever you're using any of this type of technology though you know how it actually works.When using it for a listening activity for example, how long does it take for the whole tape to play through? How long does it take to rewind and so on?
Other issues that you might need to think about include, if you're using a cassette player or CD or something similar, that you set the volume level before you actually start the lesson. This is so that when you switch on the device, you don't shock everyone with a very loud sound or that they can't actually hear it.Also make sure before the lesson takes place, that the whole extract of whatever it is you're playing is actually useful and that it works. There's nothing worse than getting to the end of an extract or listening activity and the final bits of information that they need can't be heard because of the quality of the tape or whatever.
The benefits of using tapes, CDs and so on is that they have a variety of uses, good for different types of activity and they can certainly act as a prompt and create interest in a particular topic. Also because they're not used all that often, they can be very motivational. But it is important that they are used in the right way and we should make sure that whenever we use this type of material that it has some educational purpose and it's not just seen as something special that takes place during the lesson.
Are you ready to teach English as a foreign language?
Apply now & get certified to teach english abroad!
Speak with an ITTT advisor today to put together your personal plan for teaching English abroad!
Send us an email or call us toll-free at 1-800-490-0531 to speak with an ITTT advisor today.
Related Articles:
Check out what our course grads say in our many video testimonials!
---
---