Applying for EPIK in Korea? Top 4 Tips to Prepare for EPIK to teach English in Korea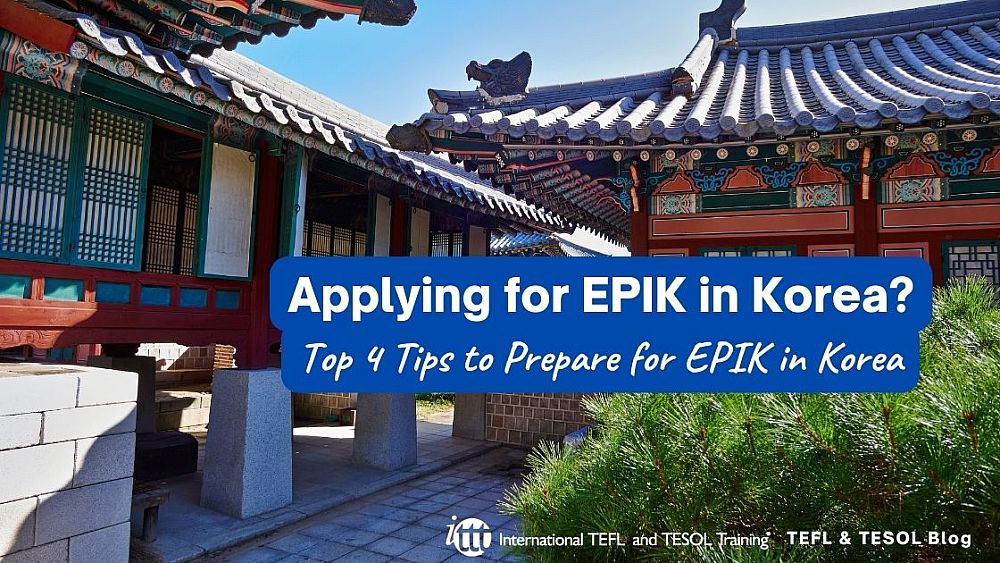 Are you considering applying for EPIK this year? If so, you're probably wondering how to prepare for such a life-changing opportunity or how to make yourself stand out as a candidate. Two years ago, I was in the same situation and unfortunately, I was not accepted. Times have changed though. This time I'm not only prepared as a candidate but also as an educator, and I would like to share a few tips that could help you in this journey.First, let's briefly go over what EPIK is. EPIK or English Program In Korea is a government program in Korea where schools hire English-speaking candidates to teach English in South Korean public schools. It's not only an opportunity to make an impact through education but also a chance to explore Korea and its culture.
With all that being said, let's move on to the tips that will help you prepare for your future as an EPIK teacher.
1. Gain teaching/educational experience.
All candidates are required to earn at least a 120-hr TEFL/TESOL certificate. It's a great start but gaining practical experience in teaching or education will better prepare you for the job.
Reach out to your local community and see if there are ESL classes available and teachers (or volunteers) wanted. I volunteered as an ESL teacher for a local church in my small town. The experience I gained from that was invaluable and I loved seeing my students learn and grow in their English skills.Another way to gain experience is by actually working in a school. For some of you, you may already have a degree in education with licensure. This will also count as your experience in education or ESL if those classes are available.
2. Work with a recruiter.
I cannot stress enough how beneficial it is to work with a recruiting agency. The recruiters are there to guide you through the process of EPIK, from application to your first day of teaching. They will also review your EPIK application and see where you need to improve or update your application when necessary. Another benefit of working with a recruiter is that their services are free and will ease the stress of applying for EPIK.
Korvia is the official EPIK recruiting agency with a positive reputation among ESL teachers and candidates. They are always up-to-date with any changes in the application or requirements to apply. There are also many other great agencies to work with such as Korean Horizons, Adventure Teaching, and Footprints Recruiting, just to name a few. Be sure to research the agencies and see which one works best for you.
3. Prepare those documents!
EPIK requires a lot of documentation. You will need two letters of recommendation, a passport photo, a personal essay, and a sample lesson plan when applying for the program. Once accepted, you will need additional documentation such as an apostilled photocopy of your diploma, your TEFL/TESOL certificate, and many others. (Check the official EPIK website for more information).
It is crucial to be proactive and get these documents on time. Some of the documentation will take a long time to process. Your personal essay and lesson plan sample will time to be written and proofread to ensure that there are no careless errors. Have a timeline of when these things need to be completed to ensure your application and placement in the program will be secured.
4. Be financially prepared!
Being an EPIK teacher comes with many benefits. You will receive a rent-free apartment, health insurance, and monetary allowances upon arriving in Korea. That sounds great but getting to Korea is an expensive feat. You will have documentation processed and sent to Korea and purchase your plane ticket. You will also need to purchase necessities for life overseas and to have some extra savings.
I suggest curating a financial plan at least a year in advance. If necessary (and possible), ask family or community members to help pitch in for your journey overseas.
Bonus Tip. Lean on your support system!
Applying for EPIK is a long and arduous process. Whether that's your family, friends, coworkers, or recruiter, knowing that somebody will be there for you from beginning to end can ease the mental and emotional stress of trying to begin your career as an ESL teacher. I hope these tips were helpful to you and I wish you the best of luck when applying for EPIK!
Are you ready to teach English as a foreign language?
Apply now & get certified to teach english abroad!
Speak with an ITTT advisor today to put together your personal plan for teaching English abroad!
Send us an email or call us toll-free at 1-800-490-0531 to speak with an ITTT advisor today.
Related Articles:
Check out what our course grads say in our many video testimonials!
---
---