A Day in the Life of an EPIK Teacher in South Korea
For those thinking of teaching English in South Korea, the EPIK program offers one of the best job opportunities in Asia. An acronym that stands for "English Program in Korea," EPIK hires native English teachers to co-teach or lead English lessons in public elementary, middle, and high schools around the country.
Listen to this blog post:
I got my start in the world of TEFL through the EPIK program and fell in love with the lifestyle of an EFL teacher in Asia - so much so I stayed for two years! The work was enjoyable, my EPIK salary went a long way, the benefits were hard to beat, and the expat community I met through it all helped foster lifelong friendships I hold dearly to this day.
So, who can teach English with EPIK?
To be considered for a teaching position at EPIK, prospective teachers need to meet a few essential requirements:
Be a native English speaker from the US, UK, Australia, Ireland, New Zealand, South Africa, or Canada
Hold a Bachelor's degree
Have a 120+ hour TEFL certificate if not a qualified teacher
Have a clean background and pass the application/interview process
If you meet the above specifications, EPIK may be an excellent fit for you!
But what exactly does an EPIK teacher actually do on a day to day basis? Here's a breakdown of what you can expect on any given day teaching English in Korea with EPIK.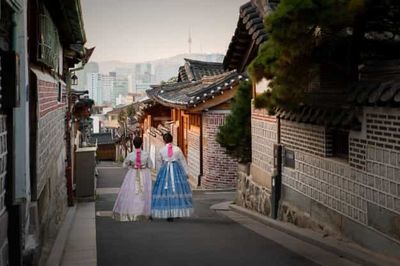 A Day in the Life of An EPIK Elementary Teacher: A Normal Teaching Schedule
7:00 - 7:30 am Wake Up + Get Ready
Rise and shine! Every school day, I'd wake up around 7:00 or 7:30 to get ready for school. Depending on how far away you live from your assigned school and how long it takes you to get out of bed in the morning, you'll probably find yourself in the same boat.
8:00 am Walk to School
Most EPIK teachers are placed at apartments that are located close to their school, which means walking or biking to work will be an option for you. Some teachers get lucky and live just minutes from the school grounds, and others may be a bus ride away. It just depends!
I personally lived just under a mile or a 20-minute walk away, so I had to make sure I was out the door no later than 8:00 am!
8:30 am School Starts
The school bell rings promptly at 8:30 am, and that's when all of the students gather in their homerooms to go over morning announcements and take care of anything they need with their homeroom teacher!
As students prepare for their lessons, I'd be booting up my computer, gathering my lesson materials for the day, and taking care of any unfinished planning before setting off for my first lesson.
As an English teacher, you'll most likely have your own desk and computer in a designated English office with the other Korean English teachers you'll be co-teaching the lessons with.
On days when I had my first period off, I'd head straight for the kettle and get a nice cup of coffee started. Your teaching schedule won't have every period of every day filled, so you'll have free periods periodically to plan and prepare for any upcoming camps, after school clubs, or lessons!
EPIK teachers are only contracted to teach 22 class hours during the week, leaving 18 hours for admin tasks and a bit of desk warming (expat slang for sitting at your desk for long periods of time, often without much to do).
9:00 am - 12:20 pm First - Fourth Periods
9:00 am First Period
9:50 am Second Period
10:40 am Third Period
11:30 am Fourth Period
Once 9:00 am comes around, the school day goes into full swing! At public schools in Korea, elementary school lessons run for 40 minutes, with a 10-minute break in between each period. Some schools have one longer 20-minute morning break too.
For anyone considering teaching older kiddos, Korean middle school and high school teachers teach 45 minute and 50-minute lessons, respectively, so their schedules are slightly different and go later in the day than for elementary.
Your exact times and breaks will depend on your school and your principal, but these times should be roughly accurate.
12:10 pm - 1:10 pm Lunch
Lunchtime! Let's make a beeline to the cafeteria and get in line for some hot Korean grub. Every lunch I'd eat together with my Korean co-teachers before heading back to the office to enjoy the rest of our break before the fifth period.
Most teachers opt to eat the school lunch since it's usually super cheap (about $2/meal) and means hot and generally healthy food without any prep at home. But if you're a picky eater or dislike Korean food, you can always skip out on school lunch and bring your own instead.
Because EPIK teachers only work an 8 hour day (8:30 am - 4:30 pm), we're not actually allowed to leave the school grounds to go out for lunch. This lunch break is built into our daily schedule without having to stay an hour later to meet 8 hours of work, so the schools (aka the principals + governing department of education) want to see teachers stick around. A bummer, but also means we get to go home at 4:30 instead of 5:30!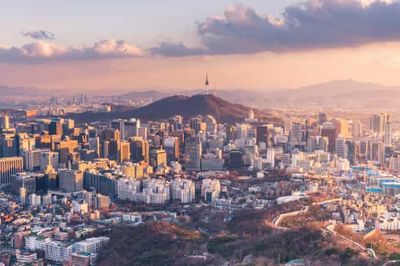 1:10pm - 2:40pm Fifth + Sixth Periods
1:10pm Fifth Period
2:00pm Sixth Period
With our tummies full, it's time for the last two classes of the day. As an EPIK teacher, your lesson topics are outlined in the school curriculum and textbooks so there's no effort needed on your part when it comes to thinking up lesson topics - it's already taken care of.
Your job, however, will be to plan and facilitate activities that help the students learn and practice these topics outside of the activities in the textbook. It's also our responsibility as an English teacher to manage the time and keep everyone focused and on track during class.
Your Korean co-teacher is always in the room with you (or technically should be), and is there to lead half of the lesson and help translate or explain things in Korean when needed.
As an EPIK teacher, my individual lessons often looked like this:
the first five minutes of class we went over any homework or reviewed new and old vocabulary
the next 15-20 minutes we'd do the work from the textbook
and for the remaining 20 minutes, we'd play a more entertaining game or activity, sometimes a role play, PowerPoint game, group work, etc.
2:40 pm Students Go Home
Once the sixth period is finished, the kids dash off to pack their bags and head home for the day!
2:40 - 4:30 pm Lesson Planning
Just because the students have left, doesn't mean we're finished with our day. In our EPIK contract, our shift doesn't end until 4:30 pm.
These last couple of hours in the afternoon are for lesson prep, or that desk warming I mentioned earlier.
I also had two after school talking clubs twice a week with my fifth and sixth graders for an hour each. I had total freedom to plan and create my own activities, so I would often let the students choose the English games so long as it had them talking and using the language. These after school teaching hours counted toward my 22 allotted teaching hours in the week.
4:30 Freedom!
We made it! Time to turn off the computer, turn off the lights, and lock up the office. Once home, kick back and relax, and rest up for another day of teaching tomorrow.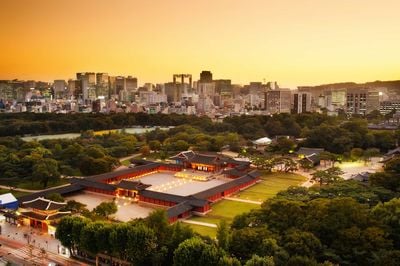 Important things to know about EPIK
As with anything, your EPIK experience may be totally different and depends on your co-teachers, your students, your school, and the education department of the city you're placed in.
But this schedule should give you a good idea of what a typical day in the life of an EPIK teacher looks like.
Before I say goodbye, here are some important things I always share with teachers thinking of applying to EPIK.
Some teachers may have more than one school placement (I had two!), so coordinating classes and transportation will look different for everyone.
Schools often host English summer and winter camps during school break, so you're still on the hook for teaching outside of regular school days.
Get used to desk warming! One con to EPIK is that even during school holidays and the absence of camps, we NETs (native English teachers), are still expected to come to school and sit at our desks unless we were using our allotted 26 days of vacation. That's how I got into blogging!
The EPIK program has built in a ton of time for lesson planning, so you'll probably never have to worry about taking your work home with you - you'll almost always have time at school to get it done.
Everyone's actual teaching experience in the classroom depends entirely on your style of teaching and your co-teacher's. Some Korean co-teachers will take over and teach most of the class, while others have a more hands-off approach and will have you lead the entire lesson. Again, it just depends!
There you have it - A typical day in the life of an EPIK elementary school teacher! Are you considering applying to teach English in Korea? Reach out and learn more about our TEFL certifications and how the application process works!
Do you want to teach English abroad or online? Take a TEFL course!
Apply now & get certified to teach english abroad!
Speak with an ITTT advisor today to put together your personal plan for teaching English abroad!
Send us an email or call us toll-free at 1-800-490-0531 to speak with an ITTT advisor today.
Related Articles:
Check out what our course grads say in our many video testimonials!
---
---