5 Tips for Effective Online ESL Teaching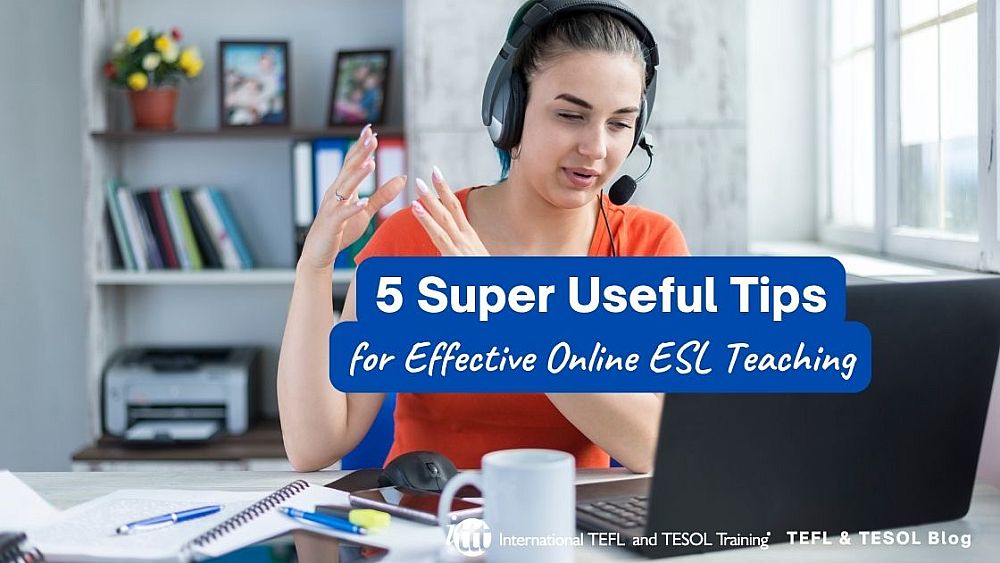 In the last few years, the world has witnessed a remarkable turn toward online schooling. With the outbreak of the pandemic, both the teachers and the students had to get used to an entirely new way of studying and teaching.
Online teaching offered students many benefits such as flexible learning time and access to training sessions around the world.
This new way of teaching brought a lot of disadvantages, as well. Consequently, many teachers have found it really difficult to cope with this new situation.
If you are one of the teachers feeling confused and lost, you definitely want to read this text. Here are five useful tips to help you improve your online teaching method.
1 Master the platform you are using
Before you start teaching online, you need to prepare and adapt to the new technology. Online teaching platforms provide us with a huge variety of opportunities that should be properly used. For that reason, you should make sure to learn how to use every tool that your platform offers. Some schools and language centers even offer training sessions which is also a great way to explore the platform.
You should be able to:
recognize a technological issue
help the students solve their technological issues when they appear
get tech support.
2 Plan your classes carefully
When working online, it is of great importance to plan the classes carefully. During the time of your teaching, your students expect to learn as much as possible. Therefore, it is very important to make the most out of your instruction time.
Be open to different methods of teaching and instructions to give every student the chance to succeed in the learning process. Your materials, objectives, and expectations should be as clear and appealing as possible. Use quizzes and games to make your lessons both interesting and educational.
Planning your classes will help you inform your students about assignments and homework due dates so that they can deliver them on time. Homework that you prepared before the class can be some additional reading or writing material. This can help your students learn outside the classes and make their progress quicker and better.
3 Understand the needs of your students
Knowing your students and their strengths and weaknesses is very important for online teaching. You should also ensure you know which materials they can access, if they can see you, hear you, and understand you.
Have clear communication with your students and find out about their needs, expectations, and goals. Some of your students may feel overwhelmed and nervous about the new method of teaching. Thus, when dealing with your students make them feel free to communicate their issues and misunderstandings. Adapt your language and instructions and make them clear and understandable.
4 Actively participate in the class
During the class, the teacher should always be mentally present and answer the questions the students ask. If you are only present passively and just responding to the questions of the students with a small amount of interest, your students will get demotivated and the progress will be unnoticeable.
Moreover, your students love relating to you, so tell them some stories that they can connect to. This will create a positive working environment and establish a good connection between you.
5 Provide and seek feedback
Getting and giving feedback is crucial for the improvement of the teachers and the students. All teachers should give and look for feedback.
The teacher should grade students' assignments timely. By doing this, the teacher has a clear insight into the students' progress. Also, the teacher can see what students' weaknesses are and find ways to turn them into strengths.
The teacher should also seek feedback from their students in a friendly and polite way. The teacher can request students to leave reviews in an online questionnaire at the end of their course. This will enable them to get a clear picture of what they are doing well and what should be worked on.
Another advantage is that this will spread a good voice about your course because people will see that you care about the quality of your classes and are constantly trying to improve yourself.
Conclusion
Even though online classes can have a lot of limitations, there are ways to organize them effectively. This planning takes a lot of time and patience in becoming a passionate and successful online tutor.
The five tips that will certainly help you become a successful ESL teacher are to know the platform you are using well, to plan your classes thoroughly, to understand and respond to the needs of your students, to participate in the class actively, and to seek and give feedback.
In order to deal with this situation you should take small steps and make this process pleasant and effective for both yourself and your students.
Are you ready to teach English as a foreign language?
Apply now & get certified to teach english abroad!
Speak with an ITTT advisor today to put together your personal plan for teaching English abroad!
Send us an email or call us toll-free at 1-800-490-0531 to speak with an ITTT advisor today.
Related Articles:
Check out what our course grads say in our many video testimonials!
---
---