3 Creative Zoom Lesson Plans for Children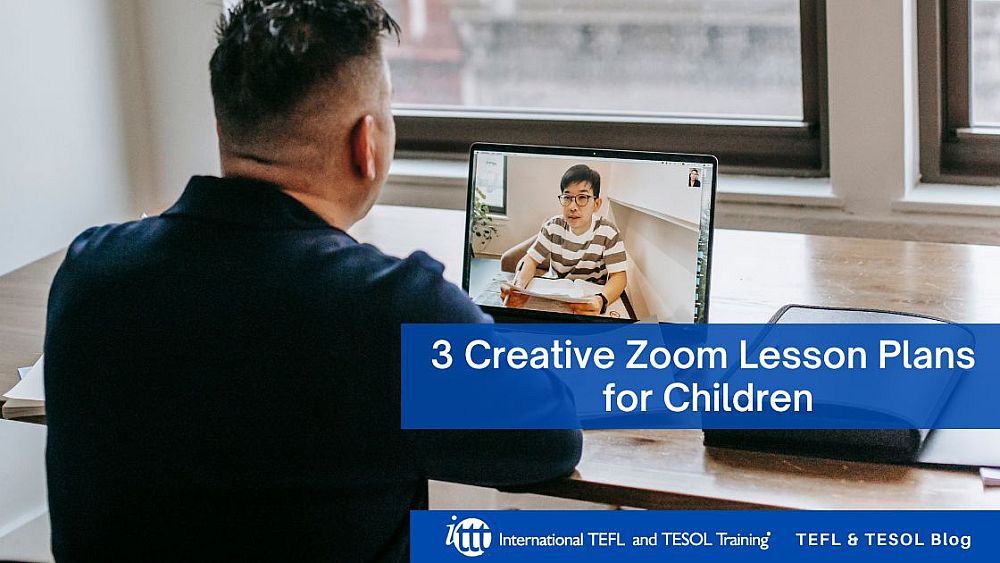 Due to the pandemic, distance learning has replaced traditional classroom instruction worldwide. Teachers in Hong Kong are attempting to find ways to instruct their students while at home under quarantine. To help you stay inspired when instructing online, I'm going to share some enjoyable games and activities to play with kids using Zoom in this post. If you've never used Zoom, you must give it a try with your students; you'll be pleasantly surprised.
Table of Contents
Are you ready to teach English as a foreign language?
Check out what our course grads say in our many video testimonials!
Because students are staying at home in a cozy environment rather than attending actual classes in schools, teaching through an online platform makes it very challenging to manage the class. Therefore, establishing ground rules before the lessons helps you better manage your class.
Starting off, morning sharing is a nice way to get your class started on a Zoom meeting. By clicking the "Share screen" button and singing the "Good Morning" song together, you can get started by warming up a little. Then, pose a question to which each pupil may choose to respond. So that students can read the question and have a chance to warm up in the morning, prepare Powerpoint slides for the sharing session.
Show and tell
Students describe to the class the lovely things they have at home. It might be one of their domestic dogs, one of their toys, or a tale from today. Since you guys are sharing your own and unique memories with others, it's a great chance to learn more about your students and the other people. Always remember to silence the entire audience before someone starts sharing to make the process easier. Having their image ready to draw for each child to take a turn might be a good idea.
Draw and guess
Kids enjoy guessing and drawing! Teachers can draw something on a whiteboard together and then invite students to guess what it is. You must first select the whiteboard and share before pressing the share screen button to use Zoom's whiteboard. There is a pencil there, along with some other drawing aids. As they take turns sharing with the class, have them guess what it is. They can each draw a section of the picture on the whiteboard that you share with them.
Board game
Play online bingo, pictionary, or other creative games. You can look up some educational video games online and screen-share with others while playing them. When playing the board games in Zoom, encourage the entire class to play it together.
Conclusion
In conclusion, teaching children through Zoom doesn't have to be boring or dull. With these creative lesson plans, you can make distance learning a fun and interactive experience for both you and your students. By incorporating activities like morning sharing, show and tell, draw and guess, and board games, you can help students stay engaged and motivated to learn. Remember to establish ground rules to better manage your class and always have fun!
Are you ready to teach English as a foreign language?
Apply now & get certified to teach english abroad!
Speak with an ITTT advisor today to put together your personal plan for teaching English abroad!
Send us an email or call us toll-free at 1-800-490-0531 to speak with an ITTT advisor today.
Related Articles:
Check out what our course grads say in our many video testimonials!
---
---