20 Best Sayings For Teacher Appreciation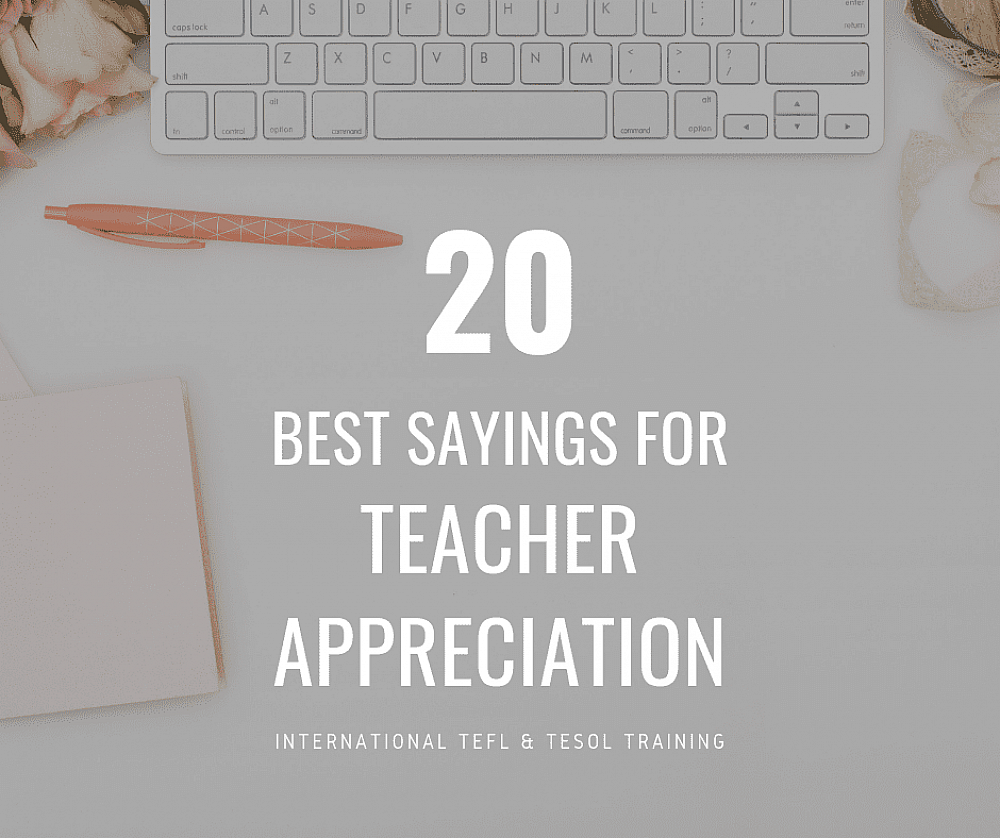 Whether it's a small present or a simple card - these cute sayings for teacher appreciation add a special touch to your gift! Your teachers will truly appreciate your thoughtfulness with these cute sayings.
Around the world, there are several holidays dedicated to celebrating your teachers. In the United States, Teacher Appreciation Week is the first full week in May. Here is a list of when it is celebrated in other countries:
World Teachers' Day – established by UNESCO - October 5
Argentina - 11 September
Australia - Last Friday in October
Bolivia - 6 June
Brazil - 15 October
Canada - 5 October
Chile - 16 October
China - 10 September
Colombia - 15 May
Costa Rica - 22 December
Czech Republic - 28 March
Dominican Republic - 30 June
Ecuador - 13 April
Egypt - 28 February
Germany - 5 October
Greece - 30 January
Guatemala - 25 June
Hong Kong - 10 September
Hungary - First Sunday of June
India - Full moon day of Ashadha (June–July), and 5 September
Indonesia - 25 November
Laos - 7 October
Malaysia - 16 May
Mexico - 15 May
Mongolia - 5 October
Morocco - 28 February
Myanmar - 5 October
Nepal - Full moon day of Ashadha (June–July)
Netherlands - 5 October
New Zealand - 29 October
Paraguay - 30 April
Peru - 6 July
Philippines - 5 October
Portugal - 5 October
Puerto Rico - 20 May
Qatar - 5 October
Russia - 5 October
Saudi Arabia - 28 February
Singapore - First Friday of September
South Korea - 15 May
Spain - 27 November
Sri Lanka - 6 October
Taiwan - 28 September
Thailand - 16 January
Turkey - 24 November
Ukraine - The first Sunday of October
United Arab Emirates - 5 October
United Kingdom - 5 October
United States - National Teacher Day is on Tuesday during Teacher Appreciation Week, which takes place in the first full week of May
Uruguay - 22 September
Uzbekistan - 1 October
Venezuela - 15 January
Vietnam - 20 November
Here are the 25 best sayings for teacher appreciation. These words of thanks and appreciation work for a variety of gift ideas and cards.
"Thanks for helping our child 'bloom' " or "grow" tag with a bouquet of flowers or growing plant

"Thanks for giving our child a hand" tag with hand lotion

"Thanks a 'latte!" tag with a gift card from the local coffee shop, special coffees or travel mug

"Thanks for a 'picture' perfect year" tag with a movie gift card or nice picture frame
5.** "Thanks for holding everything together"** tags with fun paper clips
"You are 'tea'rrific!" tag with a selection of teas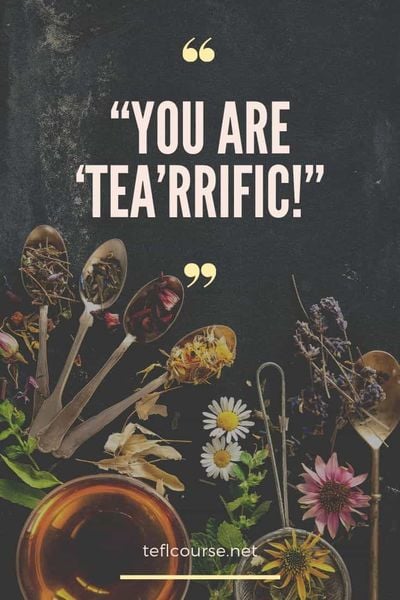 "Thanks for making our school year bright" tag with highlighters for a brilliant teacher

"Thanks for helping me grow" tag with flower seeds or a plant

"Thanks for lighting the way" or "You light up our world" with a flashlight or nice candle

"We are your biggest 'fan'!" with a cute desk fan, handheld fan or paper fan

"You have been the 'key' to our child's success!" tag attached to a key ring or pretty handmade key chain

"Thank you for quenching my thirst for knowledge" tag attached to a reusable drinking cup

"You are the sweetest teacher! Thanks for making me a smart cookie!" plate of cookies
CANDY PUNS
What does every teacher love? Puns and candy! The following sayings are perfect to add a personal touch to a simple candy bar.
"You are out of this world" tag attached to a Milky Way or Mars candy bar

"You are 'extra' special" tag attached with a pack of Extra Gum

"You're an 'amazing' teacher" tag attached to an Amazing candy bar

"You're a 'treasure' " tag with Treasures candy

"Thank for all your hard work. You deserve a 'break' today!" tag with a Kit Kat

"You 'mint' so much to us this year" tag attached to some mints

"Thanks for helping me become a real 'smartie' pants!" tag attached to a package of Smarties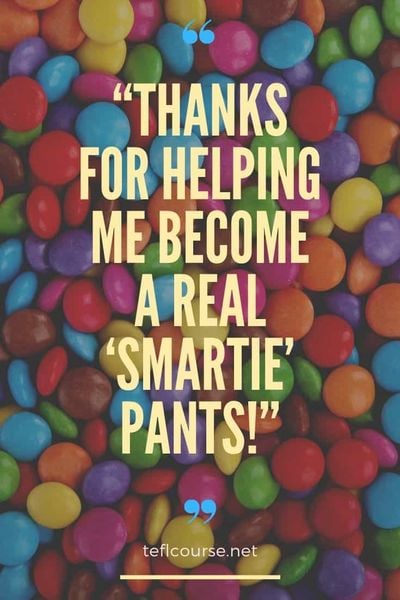 Are you ready to teach English aborad?
Apply now & get certified to teach english abroad!
Speak with an ITTT advisor today to put together your personal plan for teaching English abroad!
Send us an email or call us toll-free at 1-800-490-0531 to speak with an ITTT advisor today.
Related Articles: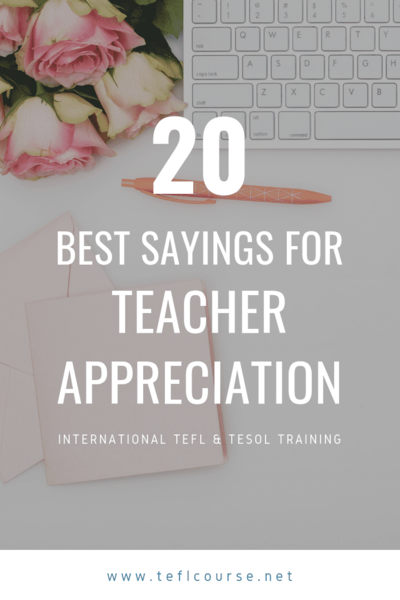 ---
---