Why Games in the Classroom are Effective
Teaching English as a foreign language with little to no experience is a daunting task and one that should be seriously considered. There are many aspects to teaching that I was expected to know and implement while teaching English in another country. I had to learn how to teach in about two weeks and although I learned many techniques and strategies, one of the most important tools and one of the most effective was including games in the classroom.
This post was written by our TEFL certification graduate Patricia C. Please note that this blog post might not necessarily represent the beliefs or opinions of ITTT.
Games as a tool for learning
I was slightly skeptical at first because, even though games are fun, I hadn't personally experienced many classes where games were included and I wasn't sure if it would be effective. However, the term began and I was encouraged to bring games into the classroom. Day one provided an opportunity for multiple ice-breaker games to get to know the students. We played a game where one person starts by saying their name and the next person says the first person's name and their own and the third continues the pattern and so on until we have completed the circle. This game can feel slightly awkward but the students responded well and it was a great way to remember everyone's name. We then played a game where we stand in a circle and toss a plush toy to different people in the circle while also saying their names. This was even better received and we were all getting better at remembering each other's name. We played a few more games and the first day was the start of me beginning to believe that games might truly have a place in the classroom.
Also Read: How to find a job teaching English in Latin America?
Applicability
It was easy to implement games in the classroom on the first day of class because the students aren't expected to learn. Implementing games throughout a lesson has been more difficult and has taken some creativity and searching online. I have noticed that the students become more engaged when playing a game and are more likely to answer a question and understand the vocabulary or grammar for that unit. One of the students' favorite games is Musical Chairs. This is a surprisingly effective game for teaching grammar as I have them complete a sentence using the grammar learned in the unit if they didn't get a seat. Another game they seem to particularly enjoy is called Board Race. This game is fairly simple and takes almost no preparation. You only need a whiteboard, some markers, and a topic. The students are split into groups and they must race to list as many words as possible that fall under the topic. I have found that this game is great for helping the students remember the vocabulary they have learned. After the game is completed, we go through each of the words they listed and I ask the group to define the word ensuring they understand the meaning of the word.
Do you want to teach English abroad? Take a TEFL course!
There are many different games available to engage students and teach them at the same time. I may have been skeptical at first but it has been my experience, while teaching English as a foreign language, that the students really seem to learn best when I include one or two games in the lesson. Most games don't take a lot of preparation, but even the ones that do are worth it because they are an effective way to teach the students and keep them engaged in the lesson. I will continue to implement games in the classroom and I encourage other teachers as well to do the same!
Apply now & get certified to teach english abroad!
Speak with an ITTT advisor today to put together your personal plan for teaching English abroad.
Send us an email or call us toll-free at 1-800-490-0531 to speak with an ITTT advisor today.
Related Articles: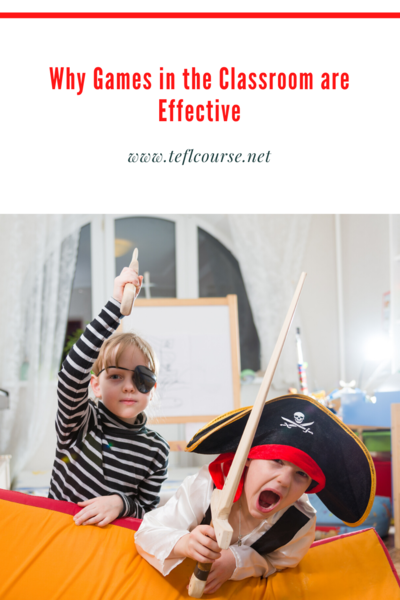 ---
---