Teaching English in South Korea and China - Alumni Report by Linda D.
TELL US ABOUT YOURSELF!
What is your nationality?
American and German
What city and state are you from?
Augsburg, Germany
How old are you?
26
What is your education level and background?
Bachelor's of Science in Management
Have you traveled abroad in the past? If so, where have you been?
Yes. Growing up in Europe with a German mother and an American father I had the opportunity to travel around Europe and the US. After studying Mandarin, I also spent some time in China.
Where did you study?
San Diego, California
What made you interested in going to teach English abroad?
Being able to explore the world and making use of my foreign language skills in Chinese.
What were some of your concerns before teaching abroad?
I was concerned about the language barrier, especially in China where English is not widely spoken. Even though I studied Mandarin, I was worried that my language skills wouldn't be good enough to be able to live in China and get by alone. However, everything went very well and I was able to improve my Chinese language skills immensely during my time abroad.
TEFL CLASS INFORMATION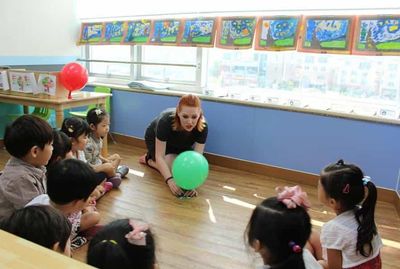 Why did you decide to get TEFL certified and choose ITTT?
ITTT had great alumni reviews and offered affordable course options.
Which TEFL certification course did you take?
I decided to take the 120-hour online TEFL course with tutor support. After completing it, I also took both 50-hour specialized courses in Teaching Business English and Teaching English to Young Learners.
How did you like the course?
I had never taken a certification course online prior to my experience with ITTT so I wasn't sure what to expect. However, the course layout was so easy to understand and all the units were perfectly presented in a way that was super easy to follow and work through. I also enjoyed the two 50-hour courses and was happy to build my TEFL portfolio.
How has your TEFL training helped you in your current teaching position?
I completed my TEFL certification course while working in China. With my certificate in hand, I was able to pursue teaching English full-time in China and later moved to South Korea, where I am still based now. I especially enjoyed the downloadable material that I can still use for my lessons today.
TEACHING ENGLISH IN CHEONGJU, SOUTH KOREA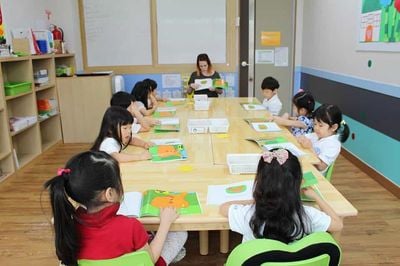 Which city and country did you decide to teach English in and why?
Changsha, China and Cheongju, South Korea
How long have you been in this country and how long do you plan to stay?
I taught English in Changsha for 1 year and moved to Cheongju, South Korea, in 2015 and have been there ever since. I am planning to stay in South Korea long-term.
How did you secure your English teaching job?
In China, I found my teaching position through networking and common friends, while for South Korea, I worked with several recruiters who helped me find a suitable position.
What school, company, or program are you working for?
In China, I worked at REA - Real Education Academy and in Cheongju, I worked for Korea Poly School.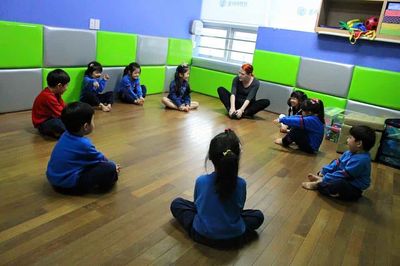 How did you obtain your work visa?
My employer helped me with the documents for South Korea and then I actually did a "visa run" to Japan for a couple of days, where I obtained my visa for South Korea. This was because I directly moved from China to Korea and wasn't able to go back home to get my visa. Therefore, the only option was to head to the Korean Embassy in Japan and get my Korean E2 visa there.
Tell us about your English teaching job!
During my first year in South Korea, I worked at a private English academy in Cheongju city in the middle of Korea. Even though the working hours were quite long, from 9:00 a.m. to 7:20 p.m., I enjoyed working with the kindergarten and elementary students there. Korea Poly School tends to have longer hours than other private schools, so it's definitely possible to find schools with different hours as well. Korea Poly School is a big English academy chain with schools all over Korea, making it a great place to work as a newcomer to Korea. You usually teach kindergarten kids in the mornings and then elementary kids from 3:00 p.m. in the afternoon.
How did you find somewhere to live and what is it like?
All teachers were provided free housing close to the school, mostly studio apartments. I only had to pay for utilities. After one year, I decided to look for a bigger apartment. In this case, many teachers receive a housing allowance from schools, which can be anywhere from $300 to $500 US.
COUNTRY INFORMATION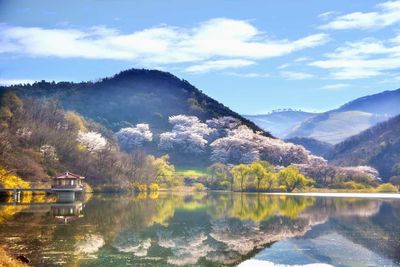 Please explain your country's cultural aspects, public transportation, nightlife, social activities, food, expat community, dating scene, travel opportunities, etc.
Cultural aspects: South Korea is a very unique country that often stands in the shadows of its neighbors China and Japan. However, the country offers unique cultural and historic attractions all over. When living in Korea, you will notice that the hierarchy system is very prevalant, meaning it is expected to show people older than you respect and treat them in a polite manner.
Nightlife: Koreans like to go out and also drink. Therefore, you can find a lot of different nightlife options no matter where you live in Korea, from night clubs to bars, pubs and restaurants.
Social activities: I signed up at the local YMCA for Korean language classes shortly after I arrived in Cheongju and started learning Korean with like-minded foreigners from all backgrounds.
Food: The food was definitely something to get used to since I had never really eaten spicy food before. However, Korean cuisine is very unique and has bold flavors and textures. Now, I am a huge fan and I have even learned how to cook a couple of my favorite meals.
Expat community: Due to the large EFL market in South Korea, there are a lot of foreign teachers all over the country. Added to that, there are millions of international students studying at universities in Korea plus US military stationed at bases around the country. No matter how small a city, you can still expect to meet some foreigners there.
Dating scene: Koreans are definitely interested in dating foreigners.
Travel opportunities: Korea has a lot more to offer than just Seoul. For example, the vacation island of Jeju is a popular destination for many. Due to Korea being a peninsula, you can also find great beaches to relax at. Korea also has 22 national parks where you can engage in all kinds of activities and hiking is considered a national sport.
COUNTRY INFORMATION - BUDGET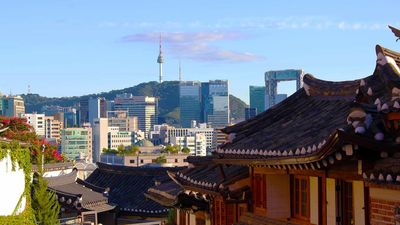 What are your monthly expenses?
Rent: This usually depends, but if you choose to live in the apartment provided by the school, rent would be free.
Food: Eating out is relatively cheap, but groceries tend to be a little more expensive than back home. You will probably need around $200 a month for food.
Social activities: This is where most of your money will go when going out on weekends, traveling, etc.
Transportation: Public transport is quite affordable at $1.20 per trip for the subway or the bus. Long-distance buses are also cheap between $5 and $20 depending on the distance.
Phone: Most teachers get a phone plan with either SKT or KT, paying around $50 a month for unlimited data.
Travel: Traveling around Korea is affordable due to inexpensive transportation. Flights to neighboring countries like Japan, China or places in Southeast Asia are also quite affordable.
How would you describe your standard of living?
Pretty much the same as back home, but living in Korea definitely allows me to save a lot more money than I would be able to back home. You can easily save $1,000 a month depending on your lifestyle.
In your opinion, how much does someone need to earn in order to live comfortably?
A salary of 2 million Korean won (around $2,000 US) with free housing is enough to live comfortably and even save some money on the side.
What advice would you give someone planning or considering teaching abroad?
Do plenty of research on where you'd like to teach to see if that destination is a good fit. Some countries have stricter regulations than others in terms of requirements for their teachers. Also, take a TEFL course a couple of months, or even a year, before leaving to teach abroad. This is because you will be busy preparing a lot of paperwork to move abroad and don't want to also struggle with working through course units, etc.
Lastly, if you're not sure when and where to teach, just do what feels right. There is unlikely to be a perfect time to embark on an adventure as big as this so the longer you wait, the more you delay an experience of a lifetime. If you'd like to read more about life in China and South Korea, check out Linda's blog "Linda Goes East".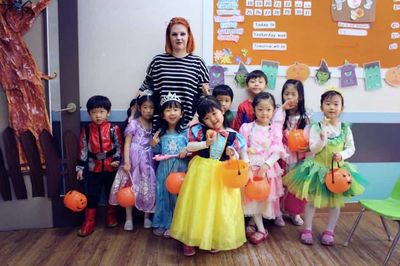 Related Posts About Teaching in South Korea & Asia
---
---