How to Set Up Your EFL Classroom the Right Way
Once you've decided on a proper desk arrangement (read the post if you haven't yet!), it's time to think about the set-up of the rest of the classroom, including the students themselves. This post explores how to set up your EFL classroom the right way to maximize efficiency and fun with your students.
The Right Student Placement
So you've got the desks arranged in one of the recommended set-ups and now you need to fill those chairs with your students. If you don't know the students or you are begining a new year or term, it's often recommended to seat the students simply in alphabetical order or in a boy/girl-boy/girl arrangement. This gives you great opportunity to maintain control over the class and allows you to get to know the individual students.
After you know the students better and feel that they have got a good sense of self-management, you can allow them to sit next to a friend. This shows the students that you trust them and give them responsibility. Should they consistently misbehave or disrupt the class because of their new seat neighbor, simply take their privilege of sitting and working with their friends away and place them somewhere else. You'll be surprised how well behaved they are once you threaten to separate them from their friends!
Should the class as a whole misbehave, take control back by changing the seating arrangement of the entire class. This also allows you to create new working patterns at the beginning of a new unit of work.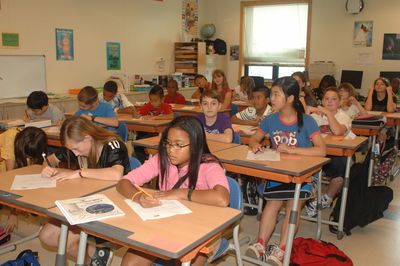 Placing Your Equipment Effectively
Most schools already have a lot of equipment and resources available for their teachers. Check with the school and make sure you have everything you need for your planned lessons ahead of time. If something isn't there, notify them and they will likely purchase it for you.
Once you've got all the teaching material together, it's time to figure out how and when you'll be using each piece of material for your lessons. Here, you need to distinguish between materials you need occasionally and those you need on a regular basis.
For example, things like art supplies and sports equipment won't be needed every single day and should, therefore, be kept out of the way for occasional use. On the other hand, things you will need every day, such as notebooks, stationery items, and textbooks or reading books should be kept out on display and within easy reach for both the teacher and the students.
Also read: The 5 Most Common Types of EFL Students And How To Deal With Them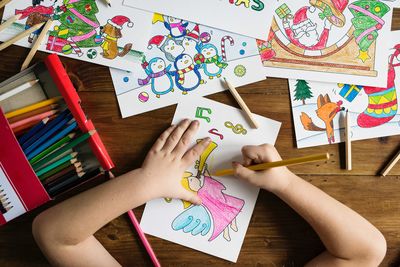 At the beginning of your teaching career, you will most likely struggle a bit with classroom management and organization but once you've got a set of lesson plans made from scratch in your personal filing system, it will become a lot easier. A teacher filing system is recommended for things like your lesson plans, worksheets, tests, assessments and any extra materials, such as visuals, printouts, and so on. The two main benefits of this filing system are that you can easily and quickly access your material and secondly, you can draw and add to the collection as you go.
Lastly, be sure to locate all electrical outlets necessary for any electric devices that you will be using in the classroom. Are they easily accessible? Also, don't forget to make sure you can access the internet when needed.
Also read: Top Online Lesson Plan Resources for New and Advanced Teachers
Decorating Your Classroom
Depending on the school you work for and the students you teach, you might also have to decorate the classroom. This is especially true when teaching young learners at kindergartens or elementary schools, for instance. A classroom that is visually appealing and stimulating benefits the learning progress of your students.
One great and efficient way to decorate your room is by using Bulletin Boards. These boards are used to illustrate instructional material in a visual and entertaining way, that is easy to understand and follow by the students.
Here's how you can use Bulletin Boards in your EFL classroom:
Permanent displays and important information: class rules, class jobs, the calendar, weather, rewards, behaviors, schedules and announcements, birthdays, and so on.
Subject-specific information: areas for maths, reading, vocabulary or even a unit of work.
Consider the size of the boards, take measurements and gather materials you will need, such as cardboard, paper, velcro, stickers, etc.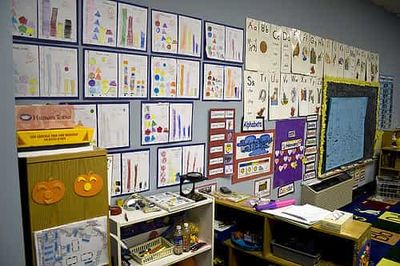 Listen to this blog post
Are you ready to teach English abroad?
When arranging and setting up your EFL classroom, you need to make sure that it meets the needs of your students and also compliments your own teaching style. Consider the tips above on how to set up your EFL classroom the right way to create an effective learning environment for your students and yourself.
Apply now & get certified to teach english abroad!
Speak with an ITTT advisor today to put together your personal plan for teaching English abroad.
Send us an email or call us toll-free at 1-800-490-0531 to speak with an ITTT advisor today.
Related Articles: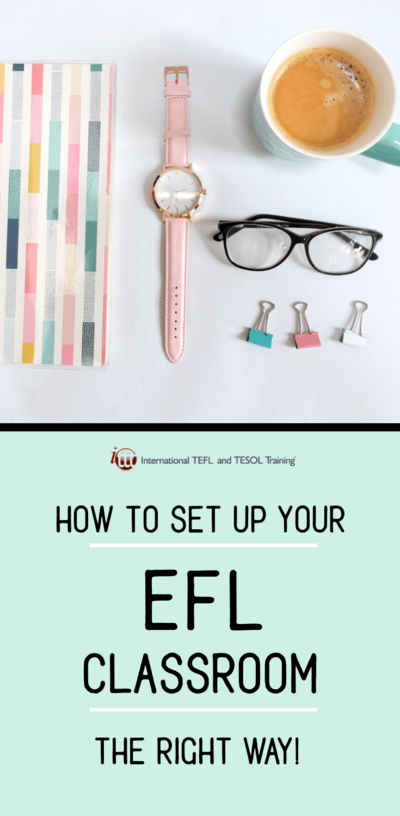 ---
---